The development of the bidet can be traced back to 17th century France, where it was first introduced as a personal hygiene appliance to accompany the lowly chamber pot. Since then bidets have become standard fixtures in bathrooms throughout Europe and Japan, where they are as common as showers and bathroom basins. In Britain, the popularity of the bidet has waxed and waned, often being considered as something of a luxury item. That is beginning to change, however, and bidets are quickly becoming standard features of bathrooms throughout the country.
What is a
Bidet?
Although a standard bidet may look like a toilet without a seat, it is actually a sink or small tub. Intended as a personal hygiene appliance, the bidet's low mounted oval basin is designed to be used for washing the lower legs, genitalia, inner buttocks, and anus. The word 'bidet' is derived from the French for 'little pony,' a reference to the way in which one sits astride the appliance when it is in use.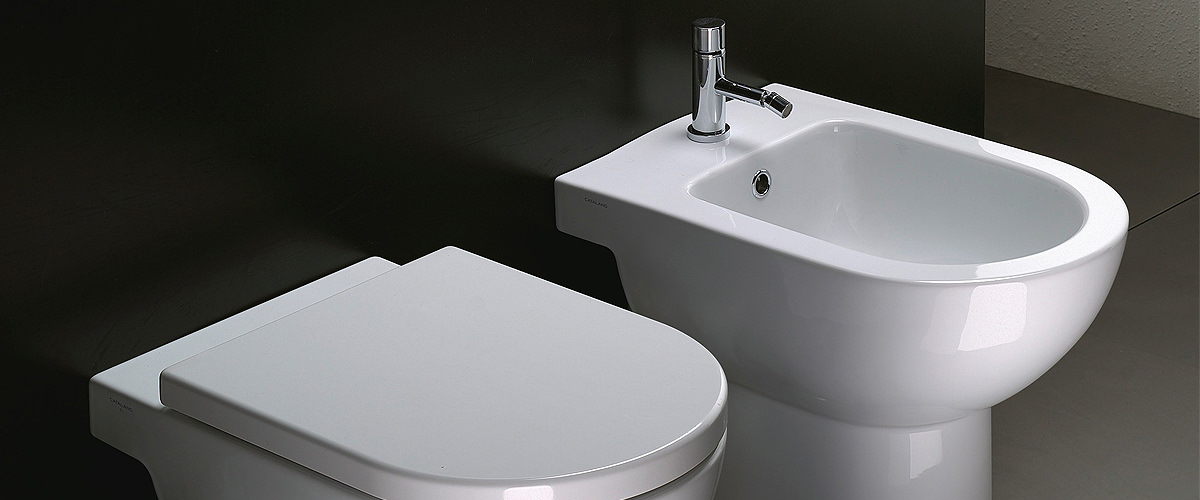 Bidets are becoming increasingly popular with British homeowners, and there are some distinct advantages to incorporating one into your new or existing bathroom.
Improved personal hygiene, even for the less mobile and elderly
Lower environmental impact due to a reduction in the use of toilet paper
Less household waste resulting in fewer plumbing problems (clogs, etc.)
Financial savings (homes with a bidet typically use less water, resulting in lower rates)
Types of
Bidet
There are a number of options when it comes to choosing the right bidet for your bathroom remodel. For those that are hampered by limited bathroom space, there are a variety of hand-held attachments and convertible bidet seats that can be used to turn a standard toilet into a functioning bidet. However, if you have the necessary room and you want to install a full sized bidet, there are two basic choices – the standing bidet and the wall-mounted or wall-hung bidet.
Standing Bidets
As the name suggests, the standing bidet features a pedestal that supports the basin. These models are typically the size of a standard toilet and can be fitted into most mid-sized or larger bathrooms. Standing bidets come in a variety of models, allowing you to choose the height and projection that best suits your bathroom's design. At AQVA Bathrooms, we carry an extensive selection of standing bidets from Heritage, Burlington, and Imperial.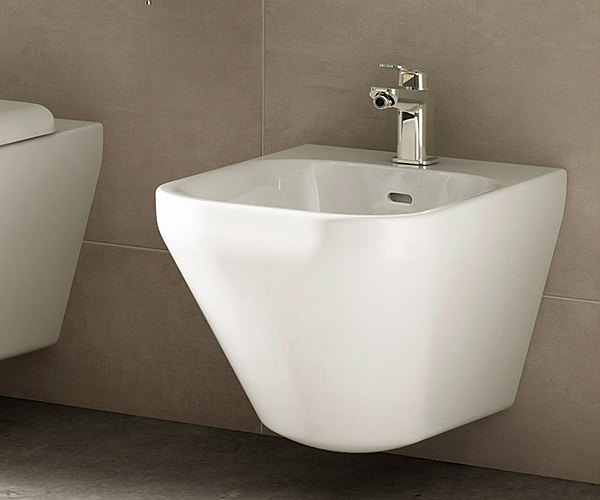 Wall-Mounted Bidets
Wall-mounted, or wall-hung, bidets feature a smaller overall profile than traditional standing models. These units are mounted directly to the wall, making for a compact installation where the pipework is concealed with the wall itself. Wall-mounted bidets are particularly well suited for smaller bathrooms where space may be at a premium. At AQVA Bathrooms we carry a wide variety of wall-mounted models from manufacturers such as Duravit, Twyford, Roca and Ideal Standard.
Whether you choose a standing bidet or a wall-mounted model, you will want to consider the direction of the water spray. Most models come with two options, vertical spray or horizontal spray. Vertical spray bidets feature water delivery via a stream from a fixture mounted at the bottom of the pan. Horizontal spray bidets feature water delivery via a tap mounted on the top of the unit.
Installing a
Bidet
When it is time to install your new bidet, there are a few key points to consider. Traditionally, a bidet is placed next to the toilet, so it will be necessary to look at your bathroom's floor plan and determine if there is room for the unit. Make certain the wall and floor are square and plumb so as to ensure proper installation. Keep in mind you will need to have a plumber in to run the hot and cold water lines, as well as the drain, to meet the specifications of your new bidet.
DIY enthusiasts and anyone else considering the addition of a bidet to their existing bathroom will find the following videos informative. Taken together, they provide a good overview of the installation, from unboxing to final install, of a standard bidet.
Here at AQVA Bathrooms, we believe that your bathroom should be equipped with the most stylish features and appliances you desire. Whether it's the WC or the bathtub, the basin or bidet, our online showcase offers a wide range of traditional and contemporary designs to help transform your bathroom, enhancing the aesthetics and improving the functionality. As one of the leading suppliers of bathroom fittings in the UK, we invite you to browse our extensive selection of bidets from some of the most recognizable names in the industry. We are sure you will find the unit that will meet your needs and exceed your expectations.