Truly close to being mistaken for a discreet designer art piece, the clean cut and sleek looking Flat Panel Radiator lends an aura of serenity to your room and is extremely popular with discerning buyers who want the comfort of cosy warmth along with an eye pleasing heating unit. When you decide to buy a flat panel central heating radiator, you must look carefully into a few factors which will direct you towards making the right decision.
Wall Heat Output
Efficiency
No matter how much the design element appeals to you, the most important aspect when finalising a flat panel radiator is the heat output. Choose those radiators where the front panel cleverly conceals the convectors, or "fins" as they are called, as this maximises the heat output without compromising on the aesthetics. An official BSRIA (Building Services Research and Information Association) certification confirms the specified heat output.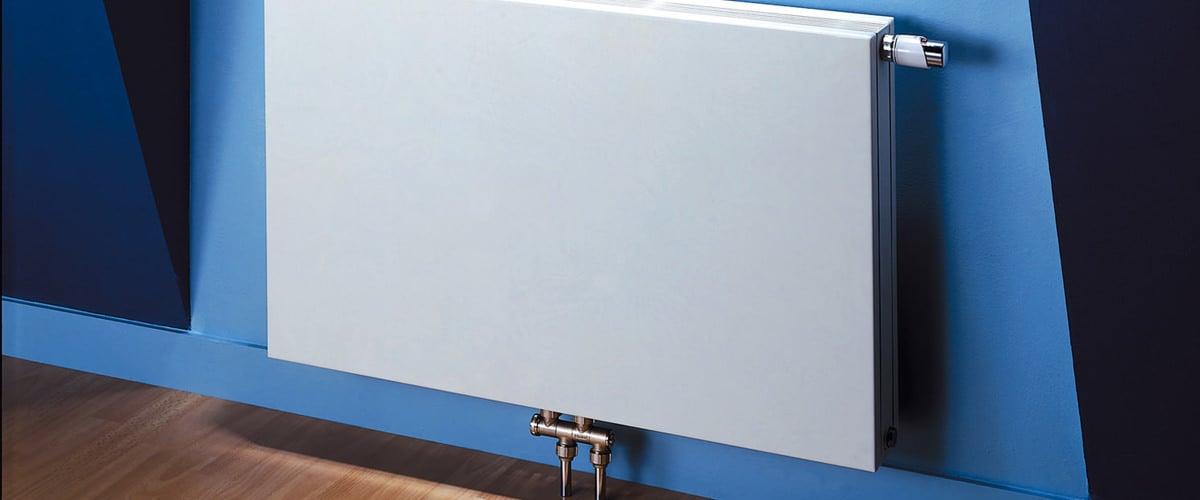 Guarantee
Assurance
If the guarantee period is anything less than five years, the welding is of inferior quality or the steel is not of the required thickness, then its prudent to stay away. Choose only a brand that offers a full 5 years After Sales guarantee.
Recognition from Independent body
Check if the radiator sports the "RAL Steel Radiator Quality" mark, which indicates that it's quality and workmanship are of considerable standard.
Wall to Front measurement.
To ensure that the radiator is not away from the wall more than necessary, choose a model which has intelligently designed brackets for maintaining minimum wall-to-front distance.
Material of
Manufacture
For buying a long life radiator, choose a brand which boasts thick grade of steel, measuring about 1.25 mm for internal construction and a minimum 1.1 mm for the front panel, with 2mm thickness being ideal.
Finishing makes a difference
A radiator finished with a single coat of paint will start looking worn-out in a couple of months. Make sure you buy a powder coated model with a semi-gloss surface look, which will keep the panel looking like new for years.
Last, but not the least –
After Purchase Service
The real test of the product begins after installation. Always buy from a reputed multi-brand outlet, preferably an officially authorised sales distributor of the brand. Insist on a manufacturer guarantee as against the dealer guarantee. If you are buying online, you must talk to their sales advisor on the phone and clarify all important points which will influence your buying decision, before adding the radiator to the shopping cart and swiping for payment.