Close coupled toilets are, perhaps, the most common type of toilets found in UK homes. Close coupled toilets consist of a cistern which is mounted directly on top of the pan which is then fitted flush to the floor. Any pipework is concealed within the casings of the toilet, and the flush buttons are located either on the top of the cistern or on its front wall. This results in a single streamlined unit that fits in well with most modern bathroom suites. The compact build and minimalist profile of the close coupled toilet make it an ideal choice for smaller bathrooms where space is at a premium.
There are a number of distinct advantages to choosing a close coupled toilet for your bathroom refit. First and foremost, they are aesthetically pleasing. Close coupled toilets are available in wide range of styles, from modern to traditional; and with no exposed pipework they deliver a sleek and clean look to any bathroom. The streamlined look is not only pleasing to the eye but easy to keep clean (which is always a consideration). Equally important, however, is the close coupled toilets overall versatility. The combination cistern/toilet bowl design makes them a good replacement for older toilets. Unlike a wall mounted or back-to-wall toilet, where the cistern is hidden behind a wall (typically requiring extensive plumbing work), close coupled toilets can be easily retrofitted to take advantage of existing plumbing in older homes.
Close Coupled vs.
Back-to-Wall Toilets
Back-to-Wall and wall-hung toilets are becoming increasing popular, particularly in newly built homes and businesses where designers are pushing for an ultra modern look. These types of wall mounted toilets are extremely compact, fitting flush against the wall and taking up very little space. The cistern (which is typically sold separately) will be hidden behind a wall or concealed by a piece of furniture. This creates a very modern and minimalist look, with a fair bit of sex appeal. However, because these types of units have a separate cistern they typically require more extensive plumbing work. This can be easily planned for a new build but can be problematical for homeowners looking to simply replace an older toilet or remodel an existing bathroom suite.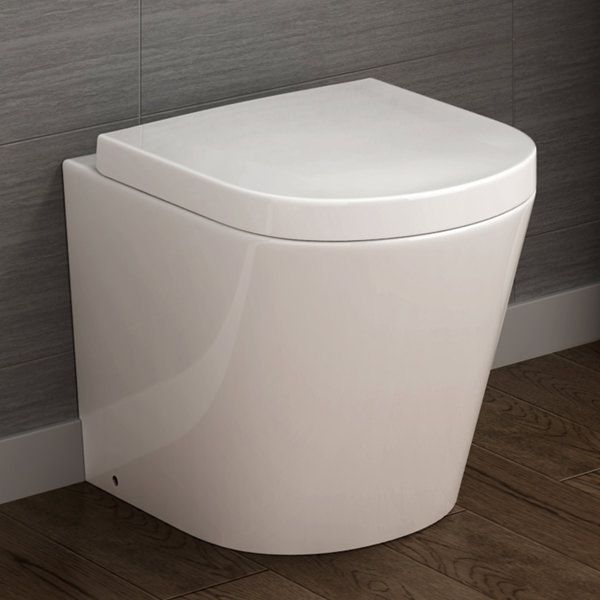 Choice of
Modern or Traditional
While all close coupled toilets share the same basic design characteristics (cistern/pan combination, compact profile, etc.), the overall appearance of the unit can vary as much as any other substantial bathroom feature. Traditional designs still hold some sway over the market, and manufacturers such as Duravit, Essential, and Ideal Standard offer a wide variety of stylish close coupled toilets that clearly reflect established trends. Subtle variations in seats, pan shapes, and cistern sizes offer homeowners and designers a healthy variety of options for finding a stylish toilet that will fit in well with most existing bathroom suites.
Of course, the bathroom has not been ignored when it comes to modern trends in design and décor, and contemporary designs from Twyford, Burlington, and Roca bring gentle sweeping lines and more subtle profiles to the close coupled toilets pan and cistern combination. This trend towards tasteful minimalism extends to the toilet bowl itself, with many manufacturers offering a rimfree pan design that is not only aesthetically forward-looking but easy to clean and maintain.
Twyford's
Rimfree Toilet
Contemporary aesthetics and modern design meet in Twyford's Rimfree toilets, bringing a new style and sensibility to the family WC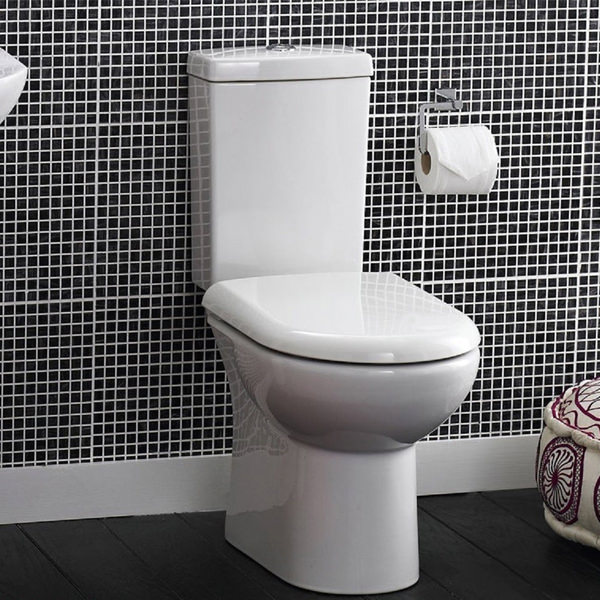 Short Projection
Toilets
Size is often an issue when it comes to choosing a new toilet. Close coupled units are, by and large, fairly compact. However, for those bathrooms and en suites that require an even greater conservation of space, a short projection toilet may be the best solution. These units, much like other close coupled toilets, fit directly against the wall. However, their space-saving design goes even further. Short projection toilets have an even smaller footprint, with a much more minimal protrusion into the room in which they are installed. This makes them an ideal choice for en suites and cloakrooms, or for installation into a recessed area of a larger bathroom.
Comfort
Height Options
When people shop for a new toilet, one of the things they often fail to consider is the height of the seat itself. Comfort height toilets are designed to be more comfortable and to provide a steadier and more secure seating position. As a general rule, a toilet that is designated as a comfort height unit will have a seat that is approximately two inches taller than a standard unit. This provides greater comfort for the user while making sitting down and standing up easier. Many leading toilet fixture manufacturers, including Tavistock and Phoenix, offer comfort height options within their close coupled toilet line.
At AQVA Bathrooms we offer a full range of close coupled toilets that offer high-end luxury at affordable prices. Our extensive selection of bathroom features helps you make the style statement you want with your new or refitted bathroom suite. The WC's that we feature in our online catalogue are expertly crafted by some of the finest names in the industry. The close coupled toilet units we currently showcase in our online shop are easy to install and simple to operate, and are guaranteed to deliver the comfort and confidence you expect in an AQVA bathroom fitting.