We all tend to take our bathroom taps for granted. As long as the hot and cold are running, we hardly spare a thought for them. Even when we move house, and are checking out the new digs, we tend to give the basin taps short shrift. Sure, we turn on the tap to check the water's running or time how long it takes for the hot water to flow. But other than that we hardly think about them at all. Still, when it comes time to remodel a bathroom, or to build new bathroom suite from scratch, we have a perfect opportunity to reconsider our faucets. These days we're spoiled for choice when it comes to basin taps. There are mixer and pillar, cross handle and lever; modern designs with contemporary lines and traditional models based on vintage styles. With so much to choose from, it can seem a bit overwhelming. To help you make your decision, we've put together some basic tips that should guide you along the path to the perfect new basin tap.
First things
First
Before buying any new faucet, it is important to check the water pressure feeding your bathroom basin. Most taps will work fine with standard water pressure, but some models (monobloc, mixer, etc) often require higher pressure to meet performance standards. If you are unsure about the water pressure in your bathroom, check with your council or call in a reputable plumber.
Basins, Spouts and
Tap Holes
The next step in selecting new taps for your bathroom is to consider the basin to which they will be fitted. If the basin you have chosen is fairly deep, you have the option of longer or deeper spouts. If the brassware will be fitted to a shallow basin you will want to look for a model with a shorter spout. The key here is to allow plenty of room to get your hands under the tap without splashing water over the sides of the basin.
Your choice will also be determined by the number of holes in the basin itself. Most modern bathroom basins come with either one or two tap holes. If your basin has a single hole then your likely choices will be either a monobloc or single-lever brassware. Single-lever models consist of a single spout topped by a lever which controls the flow of both the hot and cold water. Monoblocs also utilize a single hole, but unlike single-lever taps they come with two handles to allow you to independently control the flow of hot and cold water.
If your basin has two tap holes, you'll want to consider pillar taps. These consist of two separate spouts, each with an independent control for the flow of hot and cold water. When opting for pillar versions, you'll have a wider choice of handle types including standard knob, lever or cross-shaped.
Styles
There is a wide variety of styles to choose from when it comes to basin taps, and it will help to be familiar with the different models before settling on your final choice. Most are available in a variety of finishes, including black, gold and chrome, making it easy to match the brassware to the overall décor of your bathroom suite. The following short-list of styles will give you a good idea of what's available through AQVA's online showcase.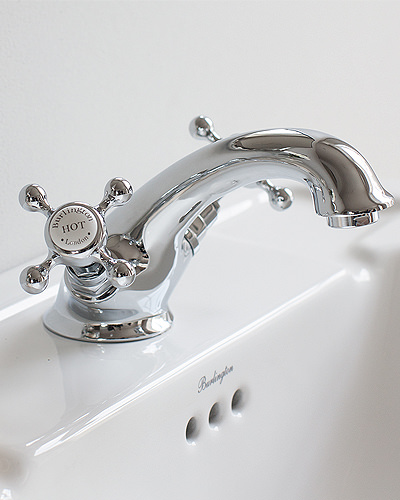 Mixer Taps
Mixers consist of a single spout with one or two handles which control the mix and flow of hot and cold water. Handle styles are either lever or cross-shaped, as well as plastic grooved dome. The latter is a good choice for children and the elderly as they provide a firm grip. Mixer taps are available in a variety of finishes, and are an ideal choice for smaller bathrooms with a minimalist or contemporary design.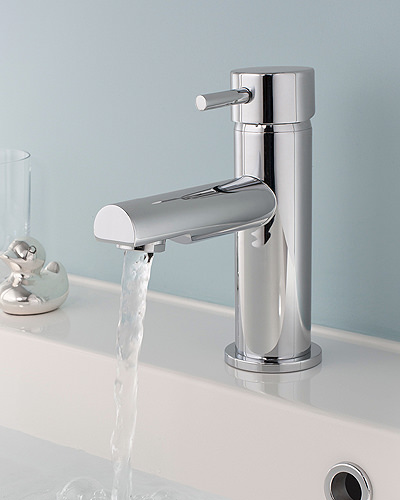 Monobloc
Monobloc taps are controlled by a single lever attached to a single spout. These require a strong and steady water pressure for optimal performance. Such faucets add to a minimalist bathroom profile, and are suitable for smaller bathrooms and en suites. At AQVA Bathrooms we carry a full line of such models from leading manufacturers including Twyford, Mayfair and Phoenix.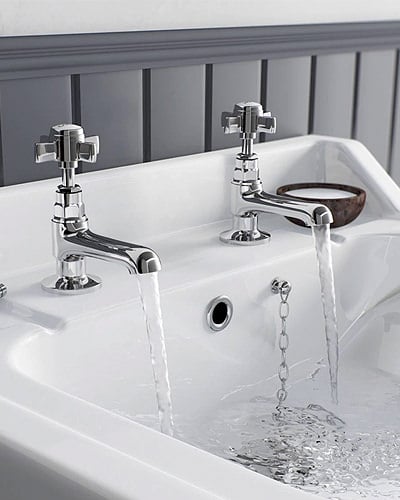 Pillar Tap
This is one of the more popular choices with homeowners. These require two holes for fitting, and are available in wide range heritage inspired and contemporary styles. The choice of handles (lever, cross-shape or button) gives greater flexibility for designers and homeowners, and greater ability to be matched with an existing bathroom suite's décor. AQVA'a range of Pillar Taps includes models from Bristan, Crosswater, Deva and Grohe.
Installing Your
New Taps
In most cases, plumbing and installation of bathroom taps is best left to a professional. Still, if you're a dab hand at DIY and you want to save a bit on installation costs it is possible to handle the install yourself. As with any DIY project make certain you have all of the necessary tools (standard spanner and tap spanner) as well as all of the necessary parts (washers, nuts, etc) to fully complete the installation. The following short video will give you a good idea of what a DIY faucet installation encompasses.
Your choice will add a distinct element of style and functionality to your bathroom suite. AT AQVA we have taken care to source the finest in basin taps from manufactures like Twyford, Burlington, Deva and Vado. Our aim is to offer the finest line of bathroom fittings in the UK market, and we work closely with all of our showcased manufactures to bring you the finest fittings at the most attractive prices in the industry.