A shower tray is an essential feature in your bathroom since it is designed to catch water and channel it towards the drain, keeping your floor from getting wet. Unless you have a built-in shower, a shower tray is an absolute necessity. With so many different makes and models on the market, choosing a shower tray can be confusing, unless one knows with certainty what one wants. There are a couple of things that one needs to take into account when making a purchase.
Shape &
Sizes
Traditionally, shower trays are square, which is a convenient shape to place just about anywhere in the bathroom. The other common choice is quadrant, which is shaped like a quarter of a circle and fits only into corners. There are other options, with rectangular trays becoming increasingly common. Firstly, one needs to ensure that the tray is going to fit in your bathroom. Although the disadvantage of a rectangular tray is that unless you have an extremely powerful shower or two shower heads, the water spray often will not cover the whole area of the rectangle. This wastes space, but can also make your showering experience colder, since there will be more cold air in the cubicle with you. A newer tray is the "slim line" tray, which has a lower profile. The step up into a slim line tray is often only about five centimetres.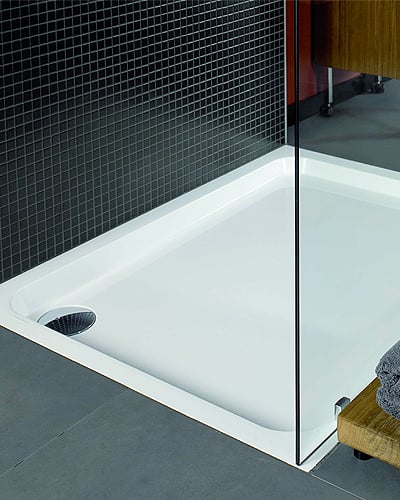 Material
One also needs to consider material. There are two kinds of materials used in shower trays. One is Stone Resin, which is made up of shards of stone and glue which is poured into a mould and then polished. This is quite slippery when wet, so stone resin trays usually have inbuilt anti-slip features, which can be difficult to clean. Acrylic is also a popular choice. Older acrylic models were known to be fragile and to split and break easily, but advances in technology mean, that modern acrylic is almost as hardy as stone resin.