Before purchasing any shower enclosure, there are a few key points to consider. While quadrant shower enclosures are smaller, and easier to install than their more traditional counterparts, there are still some basic guidelines that should be followed.
Space – Quadrant shower enclosures are designed to get the most out of a smaller bathroom's limited space, but the size of your bathroom will still have an impact on your choice of cabin. Consider height as well as depth when making your final decisions. The size of your bathroom will largely dictate whether you opt for a standard or offset quadrant enclosure.
Positioning – When it comes to quadrant enclosures the positioning of the unit comes down to a choice of corner. If you are replacing an existing shower, it is generally best practice to put your new cabin in the same place as the old. This will require less plumbing work, making the project easier and less costly overall.
Types of Glass – Toughened safety glass is recommended for all shower doors and walls. It is long lasting and easy to clean. 8mm or 10mm is standard, although, if cost is a driving concern 4mm or 6mm will serve nicely. Keep in mind that the frame of the new enclosure needs to be compatible with the thickness and type of glass you choose.
Tray or No Tray – In almost all cases a quadrant shower enclosure requires a tray. As a general rule of thumb, it is best to buy the enclosure and tray together to ensure a water tight fit that prevents leakage.
Left or Right-Hand Fitting – As you browse through AQVA's selection of quadrant shower enclosures you'll notice that they are typically referred to as "left-handed" or "right-handed". At first, this may seem confusing, but it is really an easy distinction to understand. Once you have decided which corner will be home to your new shower stand with your back to that corner. If the door is going to open on the left-hand side, then you will be looking to purchase a left-hand enclosure. If it needs to open to the right, you will be looking for a right-hand enclosure. Other options, such as twin doors or sliding doors, can also be considered. One point to keep in mind, however, is that you should first take stock of any windows, doors or other obstructions that might impact your final decision.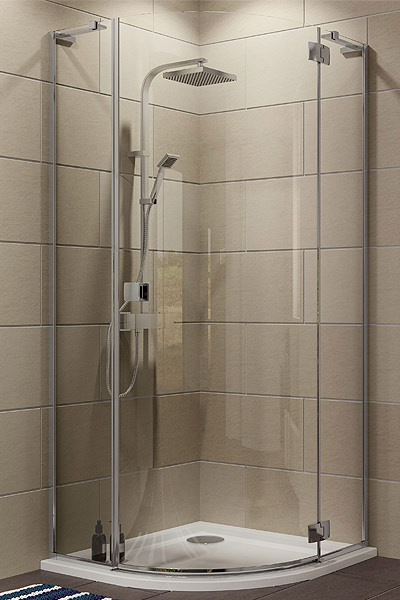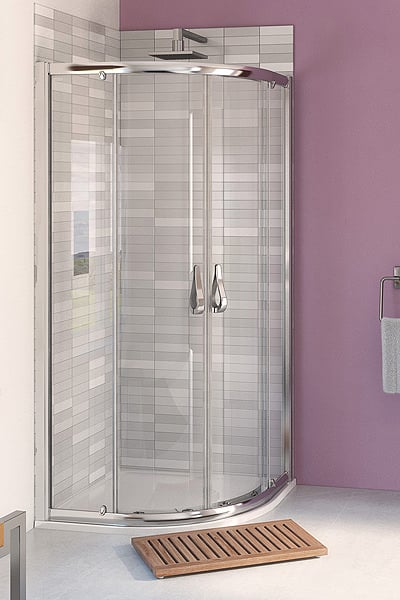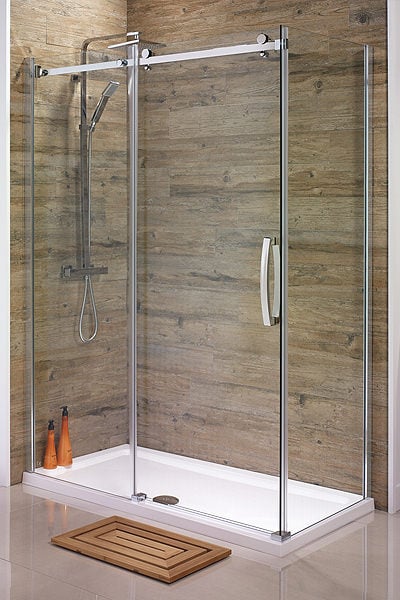 Offset or
Traditional?
Quadrant shower enclosures come in two basic types, traditional and offset. The traditional quadrant enclosure fits tightly into a corner and has a curved trap and frame. These are surprisingly compact, with interior dimensions 800mm x 800mm or 900mm x 900mm, and are a common choice for those with particularly small bathrooms. At AQVA we carry an extensive line of standard quadrant shower enclosures from top brands such as Showerlux, Aquadart, and Simpsons.
Offset quadrants have one side longer than the other, with interior dimensions typically ranging from 1200mm x 800mm or 1200mm x 900mm. While these types of units still fit nicely into a bathroom corner, they allow for a bit more space within the enclosure giving bathers more room to move around. Offset quadrants are available in a variety of styles, and we currently carry a diverse selection from manufacturers like Twyford, April, and Aqualux.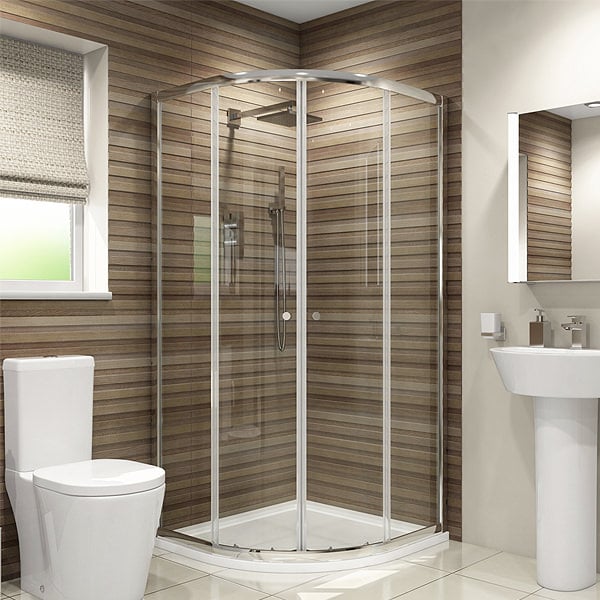 Installing Your
Shower Enclosure
Whether it is a DIY project or a full scale remodel, the installation of a new shower enclosure should be approached carefully and with an eye toward detail. Getting the installation right the first time will prevent any headaches down the line. The video below is a short primer that outlines some of the key features of installing a new shower enclosure and will guide you through some of the basic techniques to follow and pitfalls to avoid.
AQVA's Complete line of
Quadrant Shower Enclosures
At AQVA Bathrooms we offer a full line of standard and offset quadrant shower enclosures to suit every taste and budget. Our line features a wide variety of sizes and finishes, making it easy to find a shower enclosure to suit your bathroom's dimensions and design. With select models from a diverse range of manufacturers including Twyford, Aquadart, Phoenix and Merlyn you're bound to find a new shower enclosure to transform your bathroom into the sleek and stylish space you desire.