A kitchen sink not only enhances the beauty of the kitchen, but it also ensures hygiene is maintained in the kitchen which is the hub for food preparation. While the sturdiness of the sink is a basic requirement, what adds to the kitchen brightness and aesthetics is the material from which the sink is made. The three most preferred choices are Stainless Steel, Composite, and Ceramic. Below, we have listed a range of stainless steel kitchen sinks and their functionalities.
The kitchen is a continuous hub of activity thus equipping it with proper paraphernalia is essential. Stainless steel is the first option that springs to mind when one thinks of durability. No wonder there is a wide range of stainless steel sinks available in the market today. Above we have showcased a series of stainless steel kitchen sinks from some of the most renowned manufacturers that are the final word and authority on kitchen sinks. These sinks are available as insets or under-mounts, with or without drainer, with 1.5 bowls or single bowl, with or without a reversible design for left or right-hand configuration and in a choice of finishes such as silk and brushed steel.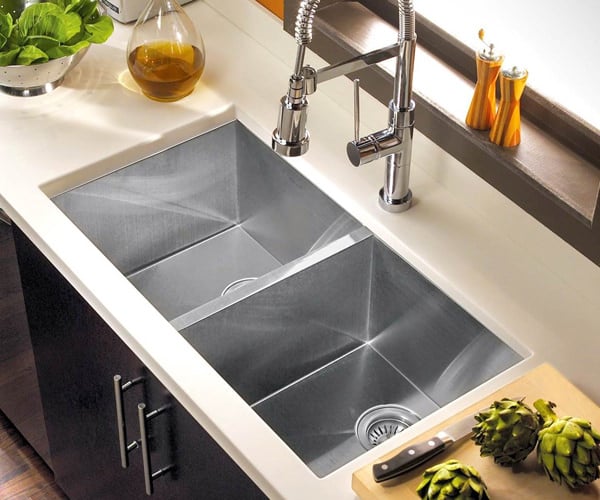 At Aqva Bathrooms, one can now own a stainless steel sink at extremely competitive prices. Depending on the gauge of a sink, the price of it varies. The fantastic prices supplemented by the strong visuals and toughness make these sinks suitable not only for homes but also for business and commercial establishments such as restaurants and hotels. Stainless steel kitchen sinks are impact resistant and can easily stand the test of time. Its ease of maintenance and robustness makes stainless steel the ideal construction material for kitchen sinks. The reason why stainless steel kitchen sinks are all the rage is because they are incredibly hardwearing, and they do not stain or dent easily.
Other Advantages of Installing
Stainless Steel Sinks Are
It has the advantage of being resistant to corrosion. Also, it does not absorb dust.
Stainless steel does not allow the surface to be marred by smudges and fingerprints, and it is also more resistant to bacteria and germs compared to other materials.
Besides being easy to maintain and keep clean, stainless steel integrates perfectly with other utensils/dishes in the kitchen.
Stainless steel is also the ecologically preferred material as it can be easily recycled and repurposed.
With so many plus points, is it any wonder that stainless steel sinks have become the preferred choice of homeowners, restaurants, and commercial kitchens