Simply put, a shower valve is the control mechanism for your shower. It allows you to control both the flow of water coming out of the head as well as the temperature of the water itself. There are a number of different types of valves. Some models allow you to fine-tune the water flow, dialing in either a gentle spray or a stimulating pulse of hot water. There are also models that feature optional diverters, making it easy to direct the flow of water to a secondary shower head or another bathroom accessory.
These accessories are also used to control the water temperature. Manual valves, as the name suggests, gives you total control over the water temperature, allowing you to dial in your preferred setting. On the other hand, the more modern thermostatic valve regulates the temperature automatically, protecting you from unwanted scalds or sudden bursts of chilly water.
As you can see, there is a lot to think about when choosing a shower valve. So let's take a closer look at your options and consider some key points.
Concealed vs.
Exposed
The first decision you'll have to make when shopping for shower valves is the choice between concealed or exposed. Concealed valves are just that, concealed from view. These are hidden behind the tiling or wet wall of your shower enclosure. This gives your space a clean, streamlined, look, and is a popular choice for many homeowners. However, it is important to consider the recess behind your wall and whether or not there is ample room to install a fully concealed valve.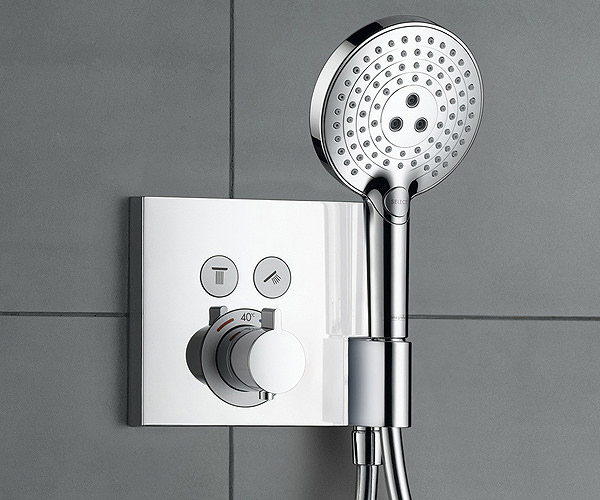 Concealed Shower Valve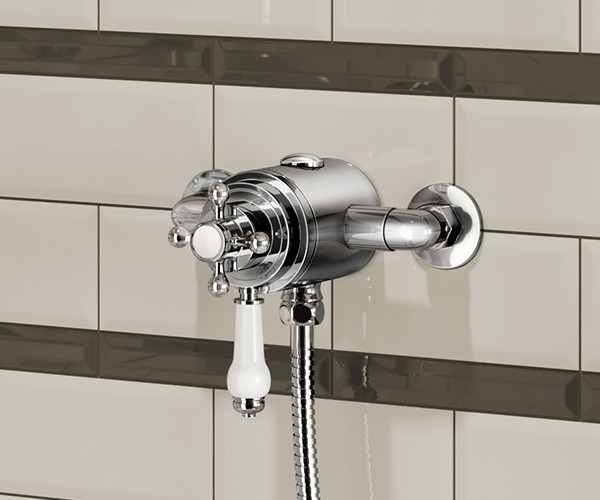 Exposed Shower Valve
The alternative option is an exposed version. With these units the valves and pipework are entirely visible, standing out from the enclosure's wet wall. These types are most commonly used in bathrooms with solid brick walls where concealed pipework is not an option. They are also less expensive than concealed models, so are a good option for those working to a strict remodeling budget. While the pipework remains exposed, these do not have to be an eyesore, and properly fitted can instill a unique style to any bathroom.
Manual vs.
Thermostatic
Once you've made a choice between concealed or exposed, it's time to start thinking about manual and thermostatic options.
Manual shower valves typically have a single handle which is used to both as turn on mechanism and adjust the flow and temperature. These are a great low-cost option if you are remodeling your bathroom. However, there are a couple of caveats. First, there is no built-in regulator with a manual unit, and that can mean that water temperatures fluctuate while you are taking a shower (particularly if a tap is turned on in another part of the house). Also, because the temperature settings are set manually scalding can be a concern in households with small children or infirm adults.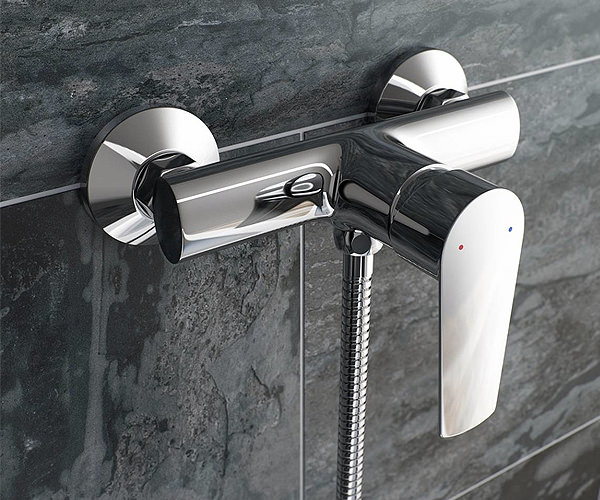 Manual Shower Valve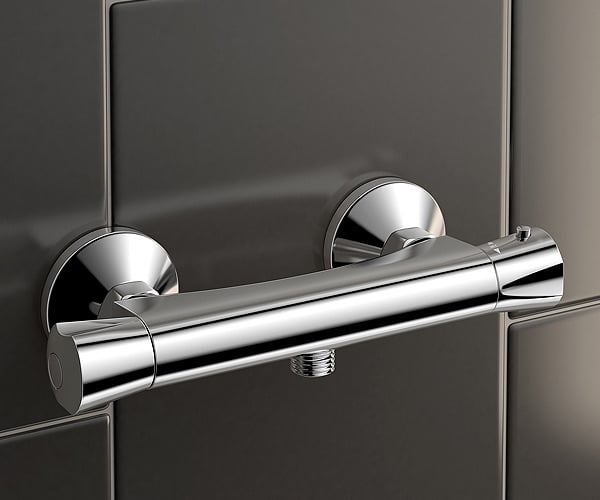 Thermostatic Shower Valve
Thermostatic ones are more expensive than manual models, but their overall performance more than makes up for the added cost. These usually have two handles, one to control the temperature and the other to turn the water on and off. Once the temperature handle has been set, it can be left in the desired position, so you only have to turn the water on and off when taking a shower. Designed to maintain a constant water temperature to avoid fluctuations of temperature even when other appliances are used. Moreover, most models feature an anti-scald device, ensuring that the water temperature never exceeds a certain level. This helps to protect children and other family members from potential accidents in the shower.
At AQVA Bathrooms we carry an extensive line of manual and thermostatic shower valves. Whether you are looking for a concealed model or an exposed unit, you will find a wide selection of stylish units from which to choose. We have sleek contemporary styled units from a wide array of manufacturers including Burlington, Adobe, and Crosswater. If your tastes run to something with more of a traditional look, we have exciting selections from Bristan, Vado and Ideal Standard. When it comes to refitting your shower AQVA Bathrooms has a selection of fittings and features that are second to none.