AQVA Bathrooms has enjoyed a reputation for supplying only the highest quality accessories designed for the modern bathroom. From enclosures and showers to bespoke toilets and baths, we are a one-stop-shop for products that help you embrace a unique sense of beauty within the bathroom. We are also able to provide a wide selection of basin mixer taps to the discerning customer. Let us take a look at the selection that you can enjoy.
Brands
We believe that these accessories should be as beautiful as they are functional. Hence, we bring you the best with our selection offering flowing lines, a clear design and a wide variety of finishes to choose from. The variety is so impressive that we enable users to choose the make and model which best suits their requirements. As should be expected, AQVA Bathrooms offers only the most expected brand names in the industry. A handful of examples here include (but are not limited to):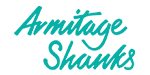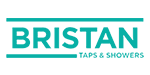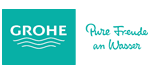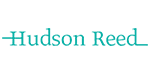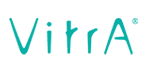 Both high- and low-pressure water systems are supported within this selection, so there will never be any issues about finding the right tap for your bathroom.
A Scintillating
Beauty
Our basin mixer taps are much more than pieces of hardware. On the contrary, the hard work that has gone into their design enables them to mirror works of art. This quality is further refined thanks to a selection of finishes such as chrome, gold, and black. Matching these faucets with existing bathroom interiors has therefore never been easier.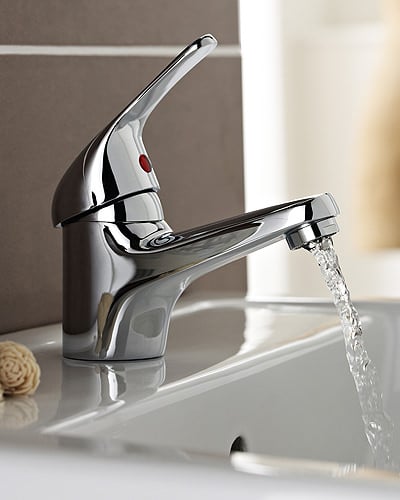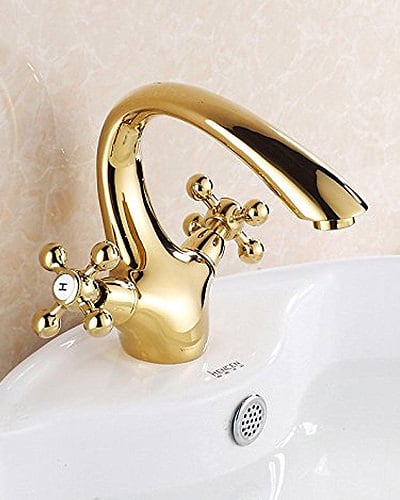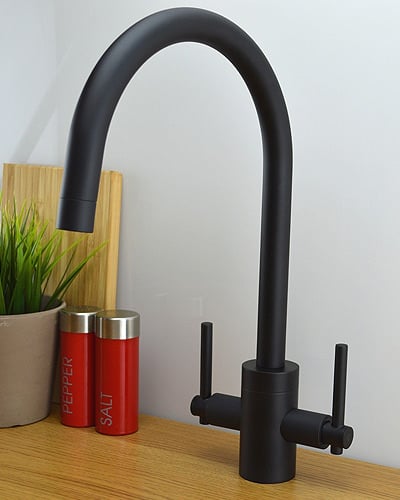 As should be expected, AQVA Bathrooms provides a nearly limitless number of designs; more than 800 in total. From the smooth and flowing curves of mono mixers to the bold angles and refined edges which espouse a more "sexy" appeal, visual luxury has been taken to the next level. It is, therefore, simple to encounter the basin mixer that is the most appropriate for your needs. However, the allure of these basin mixer taps is more than skin deep.
Design
Options
As mentioned previously, we have gone to great lengths to provide functional elements that are a cut above the rest when compared to generic mixers and taps. Pop-up designs, metal mixers, dual-handled configurations and open heads which provide a cascading waterfall effect are some examples to choose from. Recessed heads, bold arches, and free-standing units are additional possibilities. "Monobloc" taps, two- and three-hole variants and single-lever action varieties are all only moments away.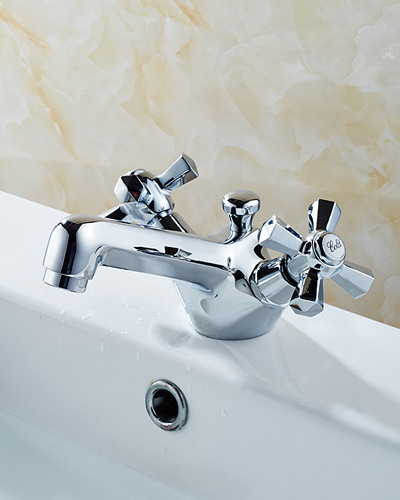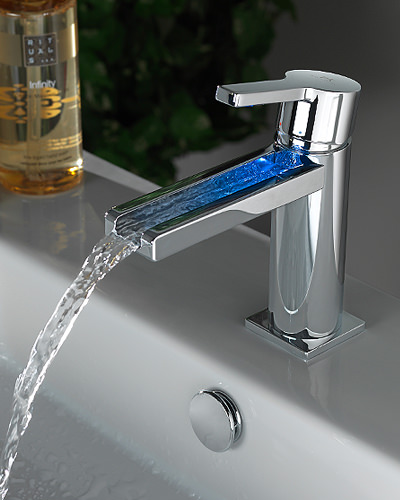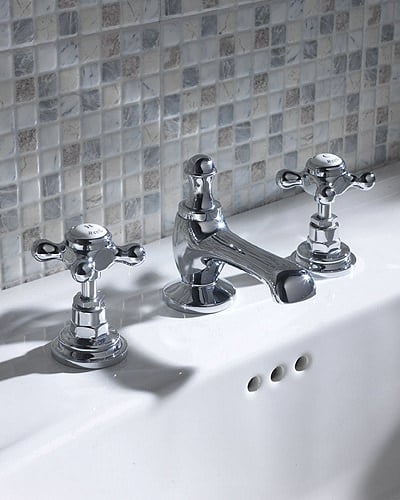 We can also cater to those who desire a traditional edge to their faucets. Certain taps are designed with Victorian and Edwardian themes in mind (such as can be seen in our Old London series). However, these traditional designs are complemented with modern features that are just as important. Thermostatic Basin Mixer taps can provide exact temperature control without compromising on water flow. The bottom line is that there is no such concept as "one size fits all" in terms of the basin mixer and variation in the key.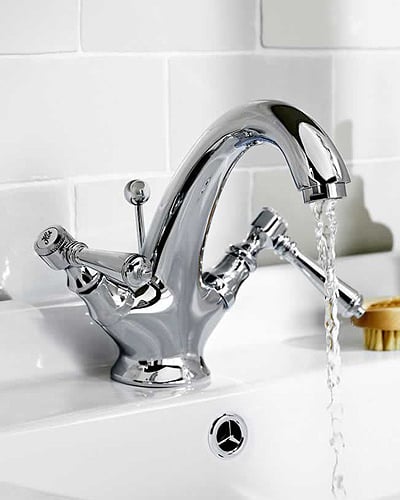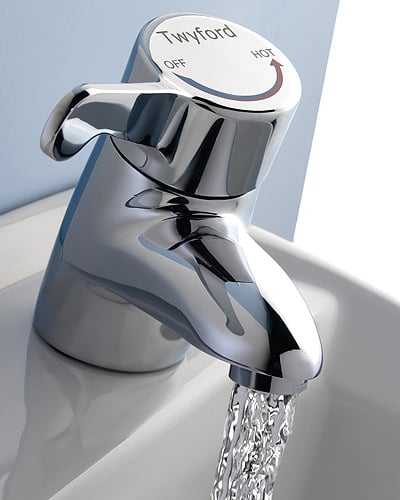 To fully appreciate what is offered through AQVA Bathrooms, please have a detailed look at our section specifically devoted to mixers and taps. However, such a kaleidoscope of options can also prove to be a bit challenging in regards to the style choices that you have. Let us take a look at some suggestions which can help to take the guesswork out of the equation.
Your Basin Mixer
& Tap Style Guide
It is always best to try to match the style of basin mixer to the existing decor of your bathroom. However, there are some other concerns to address. The tone of these mixers is important. Chrome tends to be used when trying to achieve a more contemporary appeal or if there is only a limited amount of space (this finish will reflect ambient light). A black basin mixer boasts a sleek and elegant appeal, ideally suited for the contemporary bathroom or when trying to achieve a minimalist appearance. Mixers exhibiting a gold hue are excellent to add a luxurious flavour to the room. Ultimately, it is a good idea to employ the same finish that these taps and mixers display throughout the bathroom to create a uniform and balanced appearance. When you are planning to invest in taps, always look for quantity over quality. Purchase with the brand name and its reputation in mind. Investing in a good quality tap will not only give you the benefit of using it for a longer period but will also give you peace of mind as you have invested in a good product.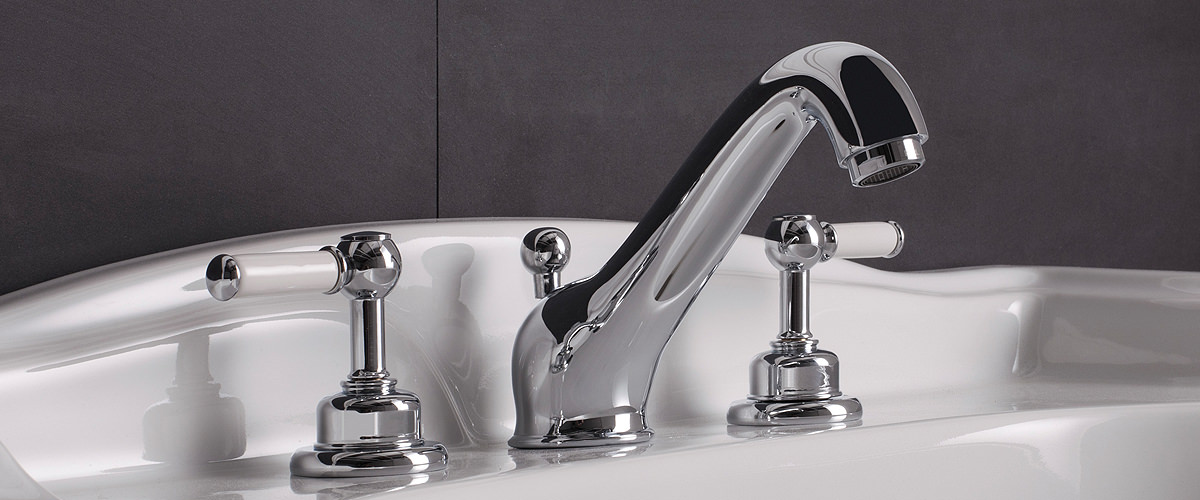 The Professional Edge
We are so confident with regards to this line of basin taps that we provide robust guarantees alongside a 30-day return policy. Whether you are captivated by a modern appeal, or you have been searching for a basin mixer with a traditional edge, there is no doubt that you will find what it is that you desire. Please have a further look within this category, and if you have any additional questions, a customer service representative will be more than happy to help.