---
Bathroom Colour

and How it Affects Your Mood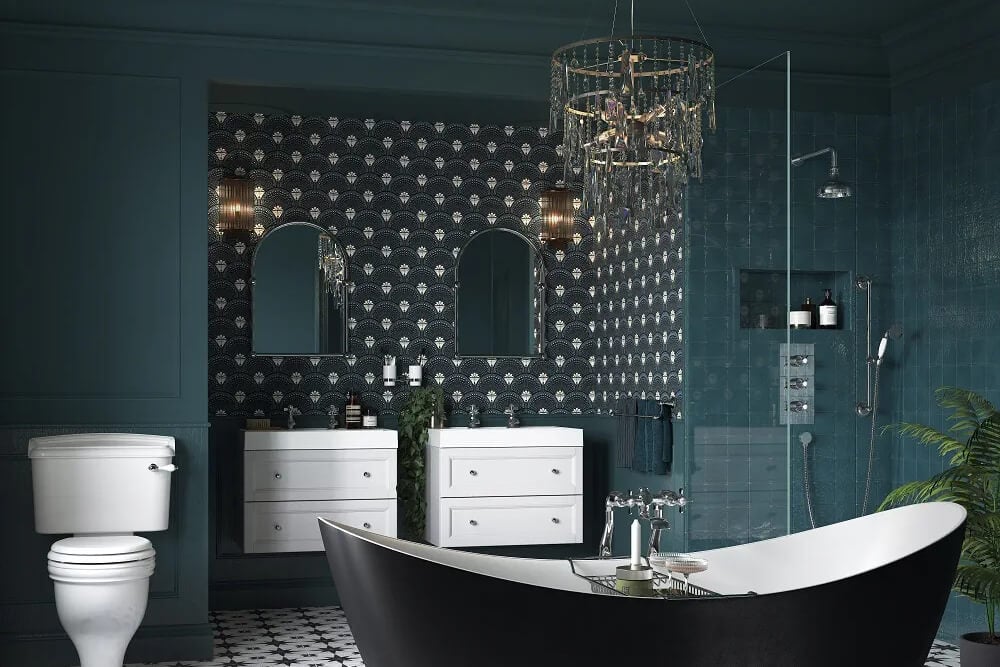 When you're remodelling a room, careful consideration of the colour is crucial. Most of us won't repaint for many years, particularly if it's the bathroom. So, picking a colour you're comfortable with and will enjoy for a long time is key.
Bathroom Colours all have their own special meaning and summon up certain emotions in whoever comes into the room. Bathroom hues are no exception to this rule. Carefully choosing the kind of bathroom colour scheme that says what you want it to say, conveys the right emotional state, and makes the best use of the proportions of your room means you'll be happy with your newly painted space for years to come.
Particular colours and groups of colours have been shown to produce markedly similar reactions in disparate groups of people. Although it can't quite say how, extensive research has definitely shown that colours can boost our moods, make us calm down, and even trigger aggressive or depressed responses. Naturally, we'd like to avoid the latter as far as possible! Especially in our bathrooms.
---
Implementing
Colour Psychology
Colour is a lot more than just a visual experience. It's also a classic method of communication that can give visitors a sense of who you are. All while setting the tone in your bathroom and creating a particular mood at the same time. Our individual reactions to colour can vary because they will be subjective, but there are a few basic rules you can follow.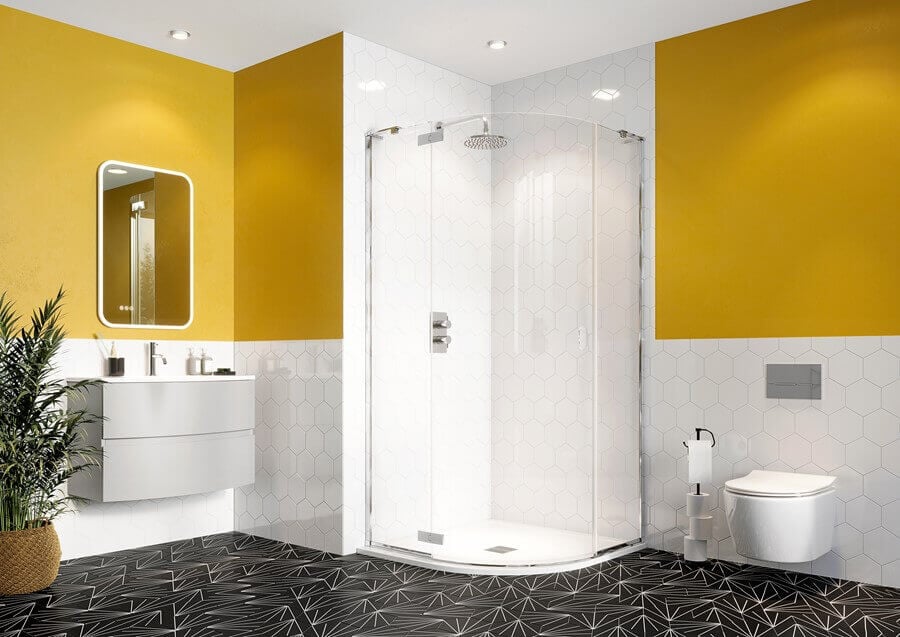 Warmer tones, like orange, red, and yellow can lift people up, boosting the mood and energising everyone who comes into contact with them. If you are looking to create a feeling of calm and relaxation, it's recommended you focus on shades of blue or light green. White colour schemes convey feelings of cleanliness, purity, and space.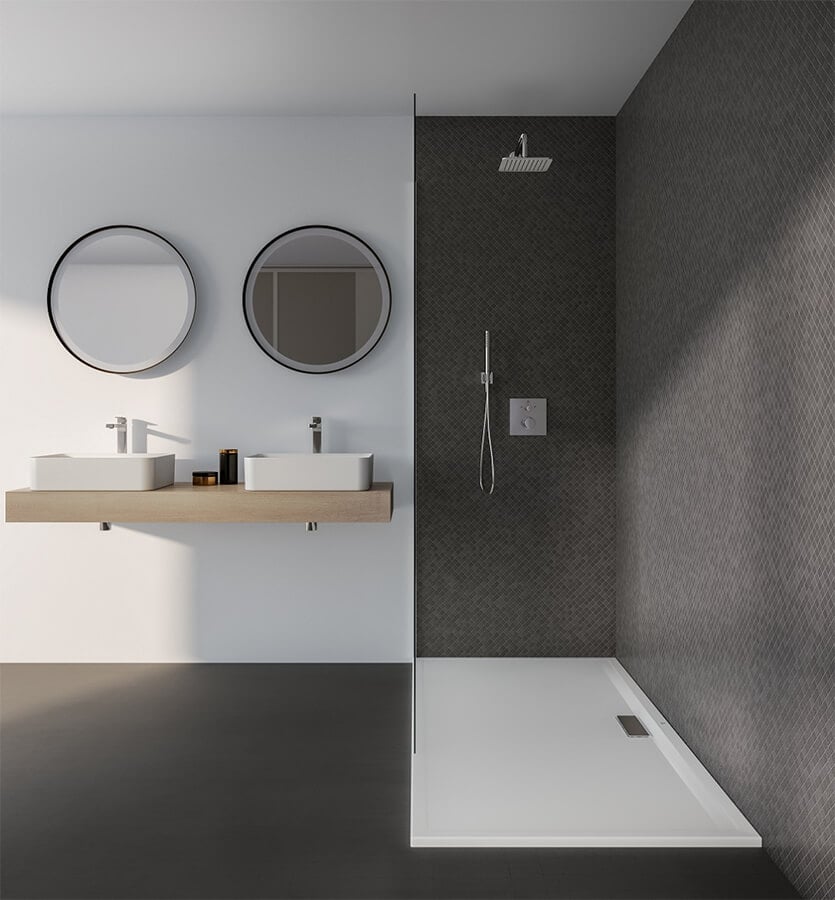 Mixing and matching, as in the case of a black and white colour palette is also popular and can bring the best qualities of each hue into play. Professionals recommend using three different colours when you're designing your bathroom. One neutral, one rich colour, and one accent. Getting this system to work means you must have a clear system of proportion in place.
But many people nowadays lean towards a more minimalistic setting, and for these using just one colour is advised. If your dream bathroom features row upon brown of white tiles, a white bathtub, and chrome accessories, fear not! There's an easy way to get this look without compromising your mental health.
---
Colours and Metallics

Versus All-White Schemes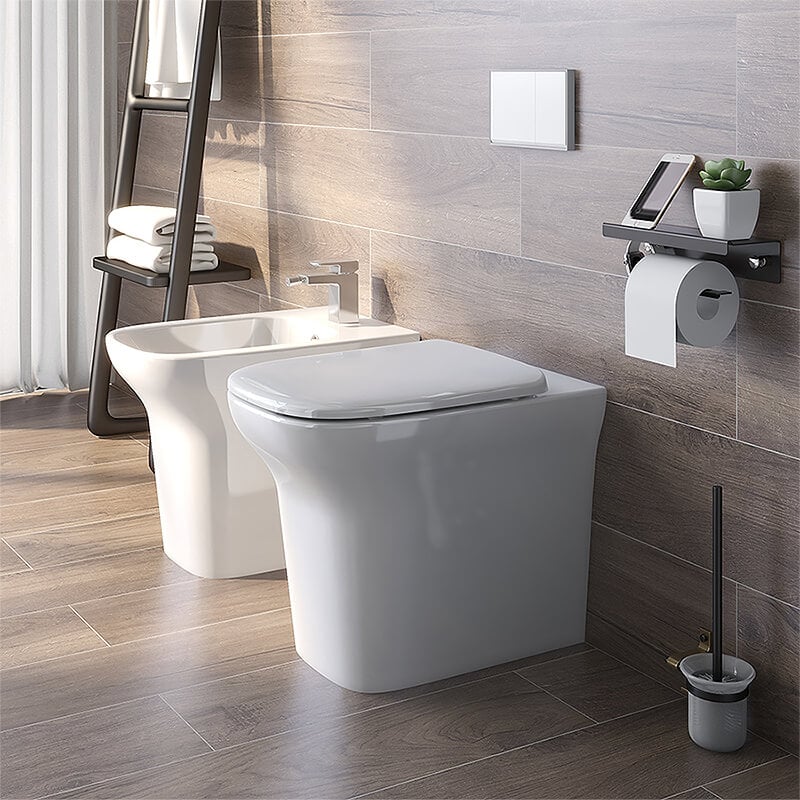 Nowadays, more and more people are opting to incorporate colour and metallics into their bathrooms rather than keeping things totally white. One of the main reasons for this is that there's just so much more choice available now.
Because the option to use an array of different colours and incorporate different materials and textures is now possible, people have started experimenting with new combinations. Recent popular trends like wood-effect tiles and feature walls are also inspiring a lot of people to challenge their traditional ideas of what bathroom styles to look like, and which colour schemes work.
---
Choosing
Colours That Won't Date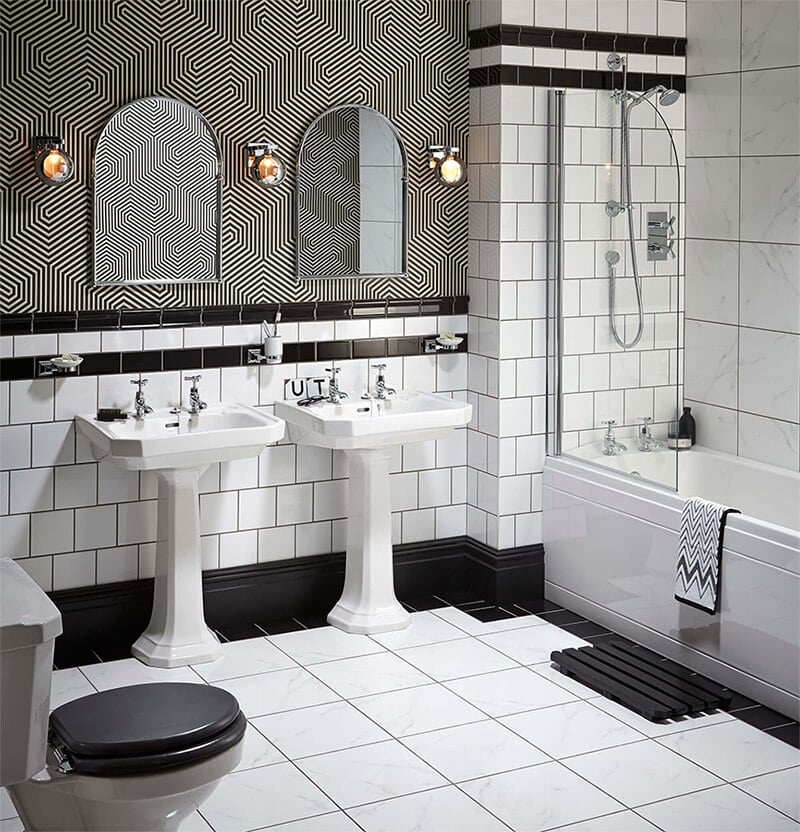 Not only should you select the proper shade to create the kind of mood you want to enjoy when you're renovating your bathroom, but you should also pick colours that aren't subject to the whims of fashion.
Black and white is a perfect example of a bathroom colour scheme that has definitely stood the test of time after surging in popularity in the 1920s. And with so many people still admiring it, it's almost guaranteed to stay popular for a long time to come.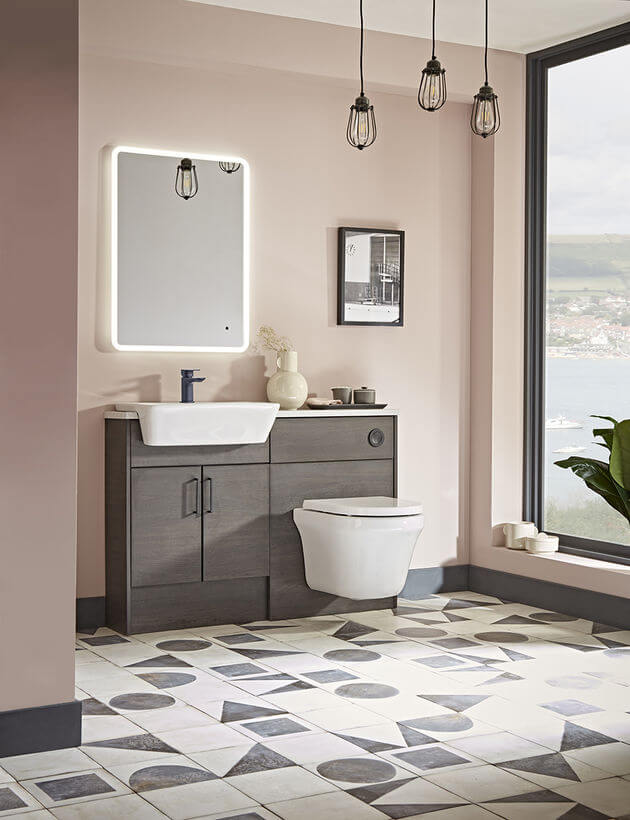 A great way to determine what mood particular colours and colour combinations put you in, and to spot timeless trends, is to look at modern and traditional bathrooms you like. See which colours feature in both. You'll find that pastels and neutral shades don't date quite as quickly as their brighter counterparts.
---
The Best Ways to Use
Colour in Bathrooms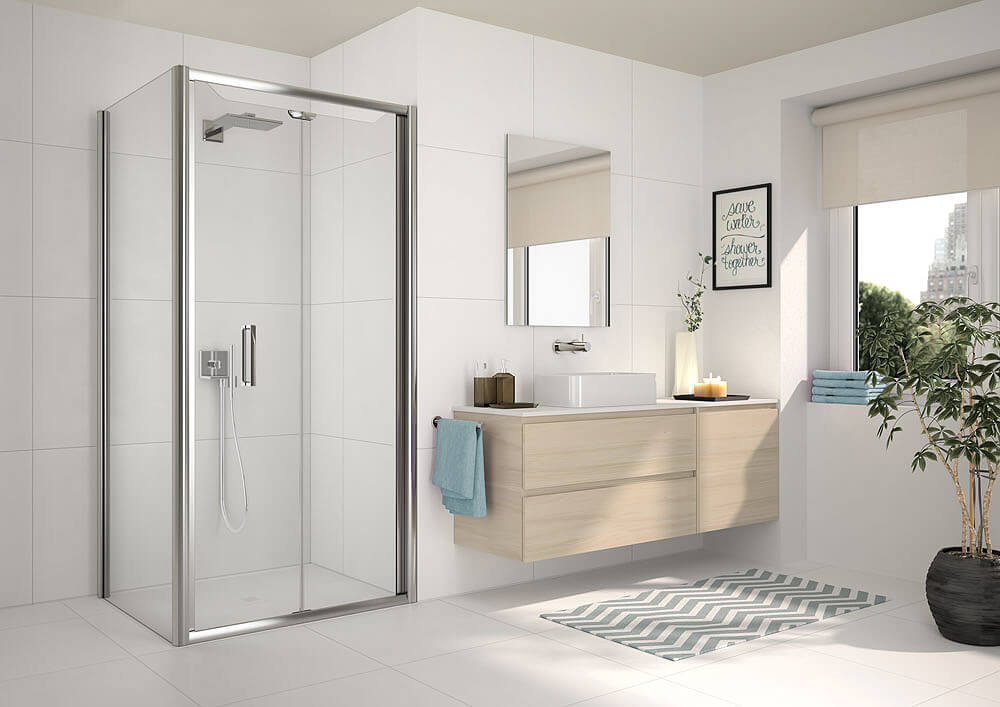 The particular way that you end up using colour in your bathroom will depend on what kind of style it is that you are hoping to create.
If you like the idea of creating a pop of colour in a predominantly white space, appropriately coloured towels and the right accessories can do the trick. This will evoke feelings of controlled energy and calm.
To keep the tone of the room more serene, think about adding plants. Not only do they bring glorious colour to our surroundings but having a little bit of outside inside is good for the soul.
---
Warm Tones for
Energy and Confidence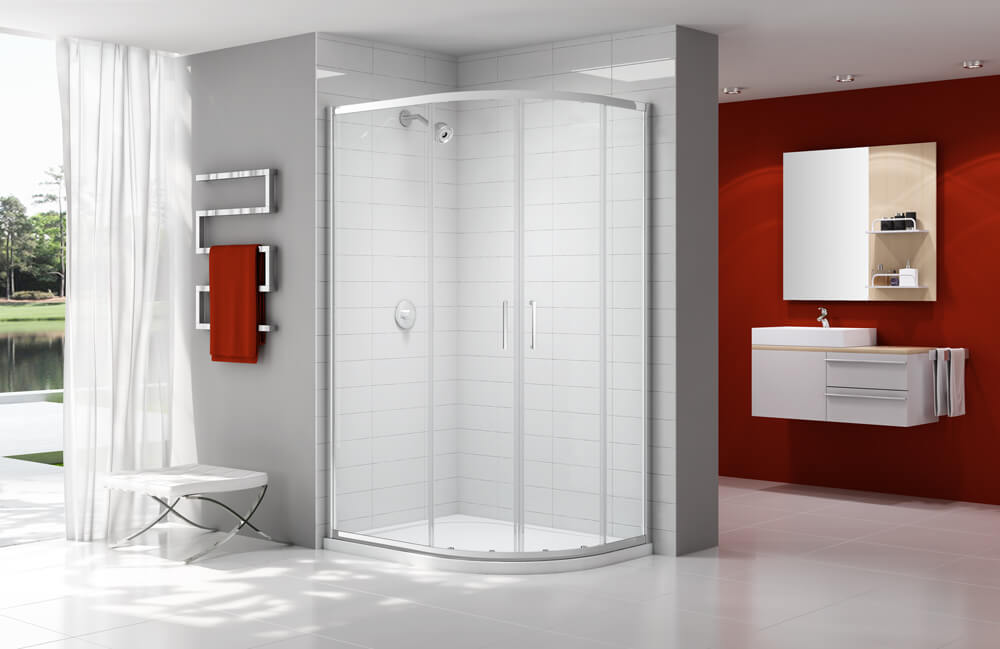 Yellows, reds, and oranges will not only bring some warmth to your bathroom space, but also evoke feelings of vitality, vigour, and self-confidence. This makes them a great choice for the bathroom if you struggle to wake up in the morning and get your day started on a Can-Do note.
Be aware, however, that longer periods of exposure to these hues may make you a little irritable and will increase your levels of aggression. That's why it is a good idea to limit these shades to pops of colour like red storage boxes, yellow towels, or orange bathroom accessories. By doing this, you get the right amount of pep in the room without the energy becoming overwhelming, leaving you more tired than you were before you went in.
Working these warm tones into your bathroom will give you the right kind of stimulating boost you need first thing in the morning. Plus, it won't exhaust you, even more, when you're back home at the end of a long day.
Because these colours seem to advance, they make smaller areas appear cosier and larger ones more intimate. Always bear the total space you have available in mind before you choose them.
---
Relaxing in the
Green Room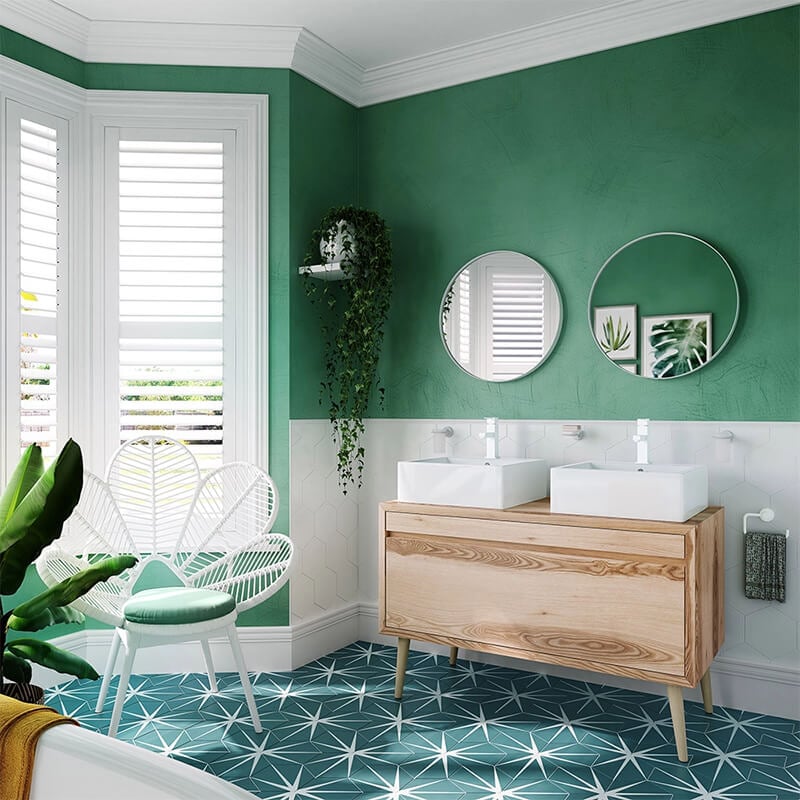 Green is one of the predominant hues in nature and is great to instil feelings of calm and tranquillity in a bathroom. It is said to be one of the most relaxing colours, and may induce feelings of comfort, happiness, and hope. Again, sticking to accents rather than overwhelming the eye is suggested, perhaps in the form of a green wall or shower enclosure.
---
Get the
Blues in a Good Way
Blues and aqua colours that mix in a little green are an excellent choice for people who want their bathrooms to be a place of refuge. These shades are ideal for a space where you can centre yourself in the morning and relax and unwind at night. When it comes to helping us incorporate more stillness and mindfulness into our busy lives, this kind of space can be just the thing to stay calm in the middle of a frenetic lifestyle.
Cooler colours like these that retain an element of brightness can rouse feelings of self-assurance. They also convey the message that you're capable of handling whatever the day throws at you.
---
Clean White Spaces to
Boost Your Mood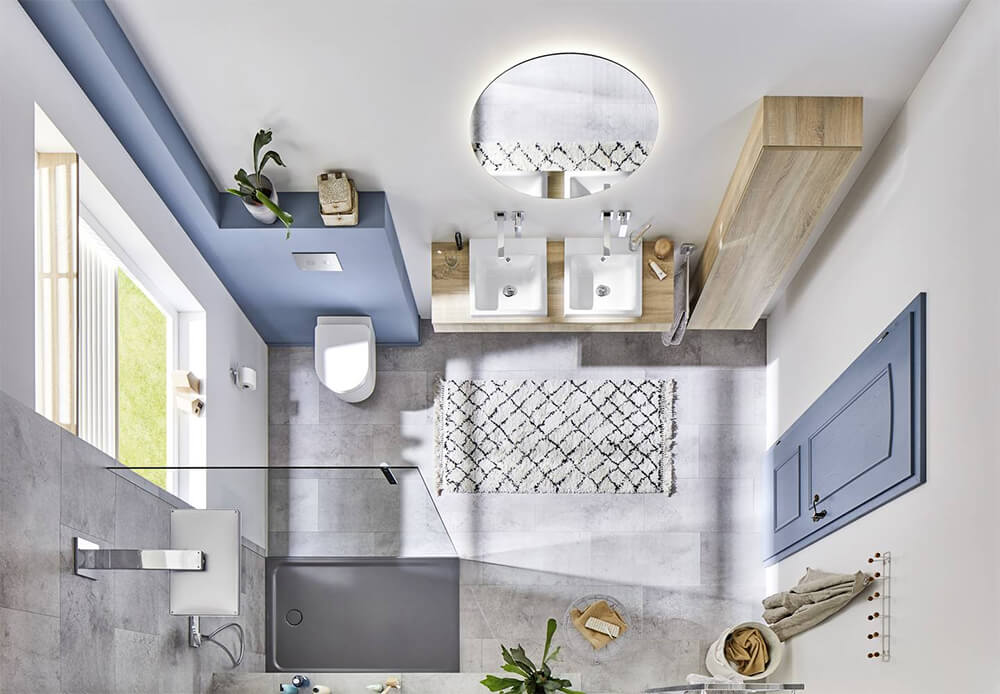 Although white is often seen only as a neutral colour choice, its importance cannot be denied. Even in just this capacity, because it will determine the balance of your bathroom. A great way to tackle a renovation is to start off with what areas and items are going to be white, since the change in energy as you add other colours is easy to track.
Pristine all-white areas can be very energising, and this hue is also an excellent substitute for natural light if there isn't enough of it available. Crisp, pure, and clean palettes can have a powerful effect on your mind, helping you clear out mental and visual clutter and pave the road to total relaxation.
---
Further
Considerations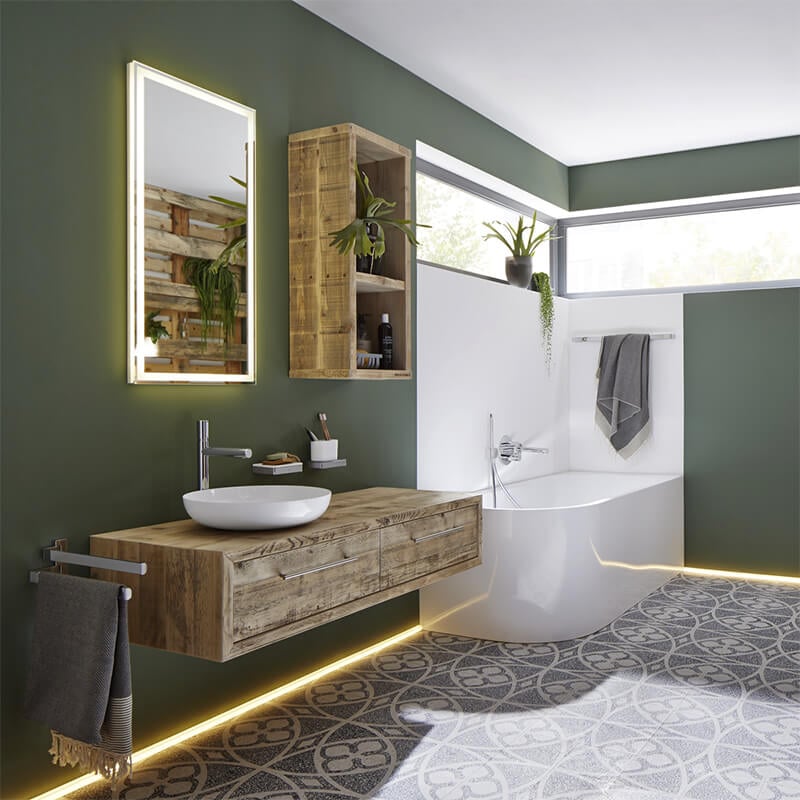 The last thing to think about before you start your bathroom overhaul is which particular shade you feel most drawn to. If you have a personal connection with a certain colour, that should come into play, alongside an awareness of the mood you'll be creating when you use it. It is a space you are going to have to live in, after all, so much sure that the colours you choose create what feels like home to you.
The size of your bathroom will have a major impact on how well the colours do what they are supposed to do. So, keep this in mind before you begin.
Lighter shades will make smaller spaces seem bigger, but they may create a clinical feel in a big bathroom. Bright shades can be warm and engaging in larger rooms, making them feel that much more snug, but could end up overwhelming you if the space is too small.
---
Ready-Made

Colour Schemes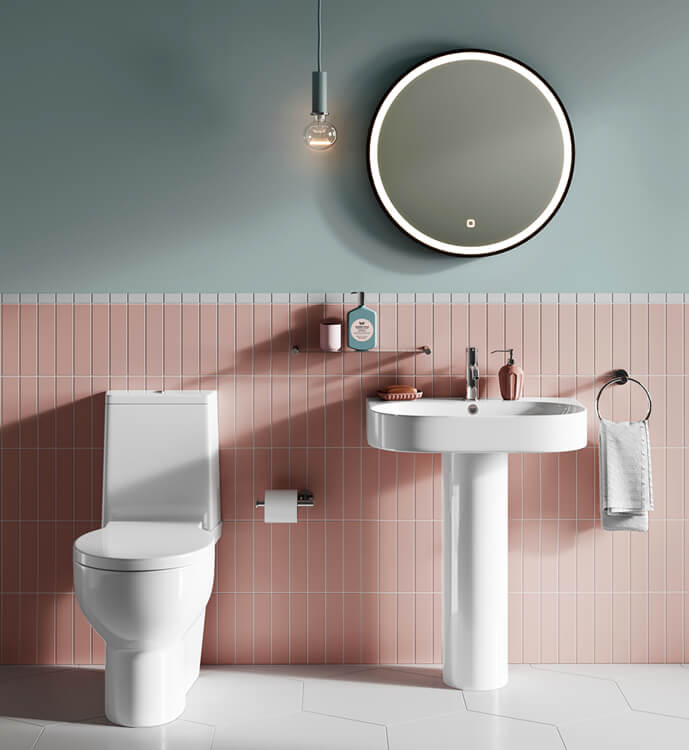 Analogous designs are very popular in bathrooms. This is due to the feeling of serenity they can invoke by incorporating different hues of a particular shade like blue-violet, blue-green, and blue.
Complementary colours see you pairing shades with their opposites. While the end result will be spectacular, this could be dramatically bad or eye-catchingly excellent. This approach is very hit-and-miss, so be careful.
For example, a pairing of bright red and bright green is hard on the eyes, but a cool green with a pale pink is gorgeous. In the same vein, blue and orange are not a great mix, but peach and royal blue are magnificent. Have some fun with this approach and be prepared to think outside the box.
Monochromatic colour schemes are the perfect fit if you have a penchant for retro designs, with similar shades dominating the whole interior. Choose rich materials, don't forget your neutral colours, and work at blending the hues.
The Triad Colour Scheme means that you focus on three distinct colours that are at equal distances apart on the colour palette. The two most basic are the blue, red, and yellow primary colours and secondary shades of purple, orange, and green.
---
Don't Forget to Incorporate
Texture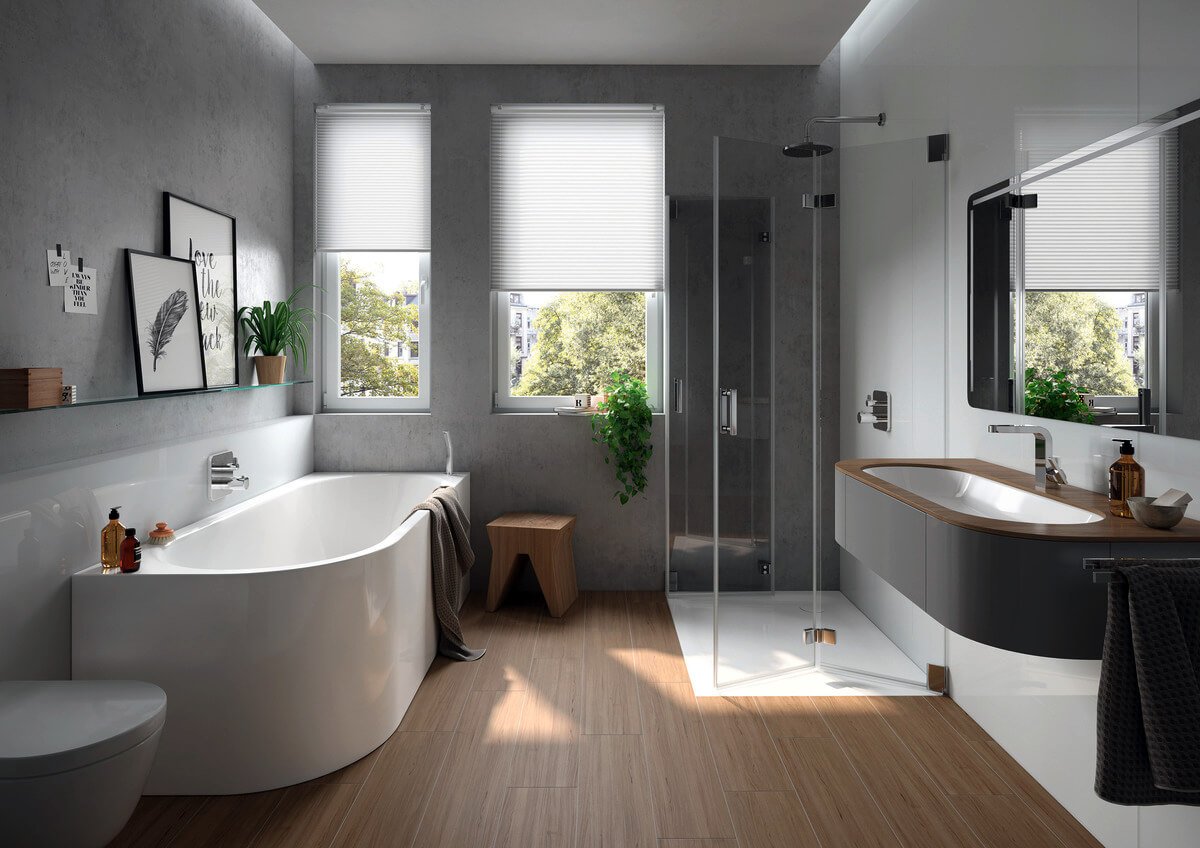 A light-coloured shower enclosure or curtains can really add to the feeling of space in a small bathroom, but white cabinets can make it seem even more compact. Think about bringing in soothing natural tones in wooden materials to offset this and make you feel like you're outside.
If you're leaning towards an overall colour scheme of cooler tones, including a natural stone countertop and wooden accessories is great for the same reason.
If you've kept things mainly white, you've also got some room to be dramatic if you want to! Big splashes of bright reds in these kinds of spaces can inject some much-need humour and ensure we don't take ourselves too seriously, no matter where we are.
---
It's All
Up to You
Now that you know more about the rules, feel free to forget them as you design and outfit your dream bathroom.
Bend the colour rules as you see fit. The only non-negotiable is that you end up in a space that you're happy with and enjoy being in.