Few Checks Before Purchasing a
'Bath'
Not all bathrooms nowadays can accommodate both a bath and a shower, due to space constraints. But if you have enough room in your bathroom to install a bath, then you should opt for one to grace your bathroom interiors. There's nothing nicer than a long relaxing soak in the bath to melt away your stress and worries after a hard day's work. If you are thinking about buying one, then there are a few things that you need to consider before purchasing the right one.
Shapes
& Sizes
The shape and size of a bath can be determined by the space available in a bathroom. Traditional tubs like the roll tops take up a lot of room. Space-saving baths are available, though they are often not large enough to stretch out in, and corner baths can be a good option for those who want to purchase a tub which maximizes available space by making good use of tight or unusable spaces. Also, if you fit a new bath, ensure that the floor is strong enough to support the weight of a tub full of water, particularly in older houses.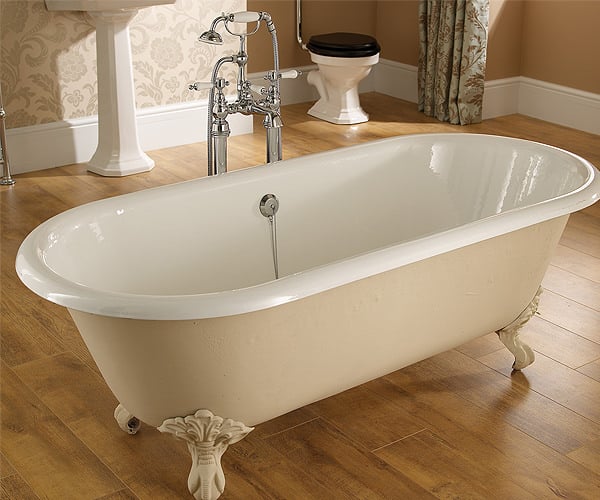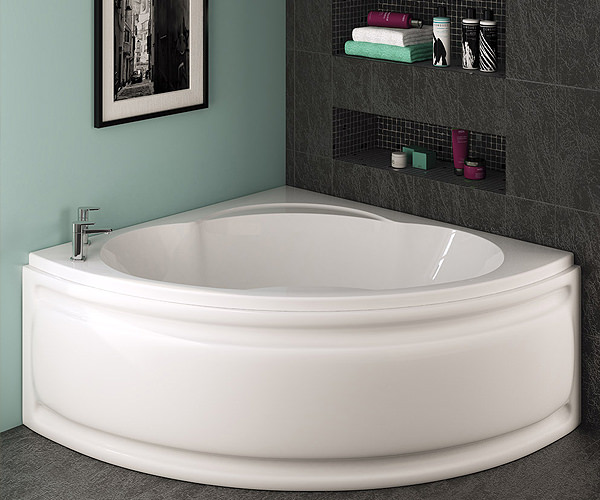 Installed or
Free-Standing
An installed bath is fixed and mounted inside your bathroom. This unhindered positioning makes it easily accessible and effortless to clean and integrates seamlessly into the décor of the room. However, it needs to be fitted flush against the wall and thus offers little by way of flexibility in location. A freestanding tub can stand anywhere, but tends to be more expensive than traditional tubs and are not available in the same variety. Freestanding taps or wall mounted taps can accompany the freestanding bath, some freestanding baths come with pre-drilled holes for taps or mixers.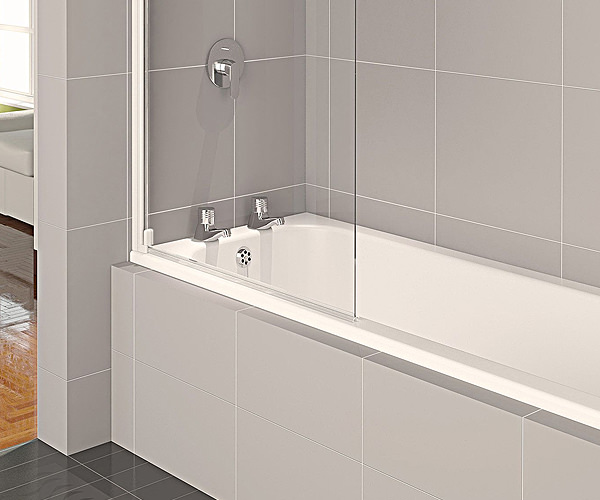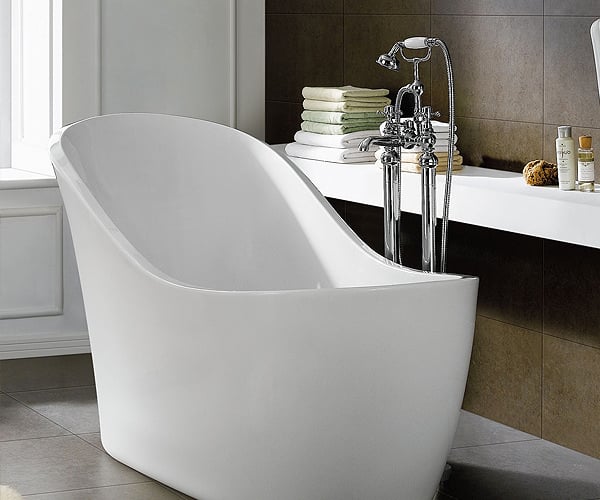 Material
Most baths are made from acrylic, making them hardy and easy to clean, though they may not be as aesthetically pleasing as non-acrylic models. The other frequently used material in bath construction is enamelled steel, particularly for free standing baths which need to be stronger as they support the whole weight of the water. The drawback of using enamelled steel as a construction material is that although it looks neat, it is difficult to clean and is prone to chipping. Vintage cast iron is timeless and used to fashion baths even today. Some of our cast iron baths wear an external coat of grey primer giving you the flexibility to paint them to perfectly match your colour scheme.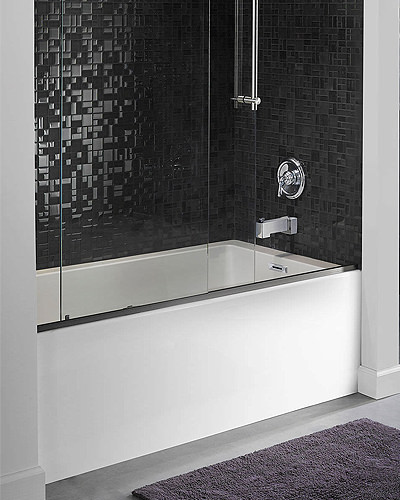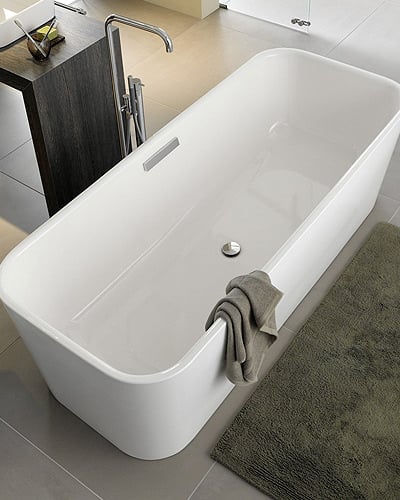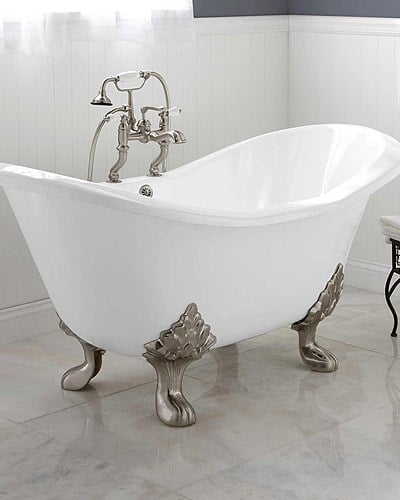 ---
Steel Baths
Buying Guide
A great bath is a key to a stylish and comfortable bathroom. And for many people, a steel bath is the best option. Today we're talking about considerations that you need to keep in mind when buying a steel bath.
Why Steel?
There are a couple of advantages to going for a steel bath. They are far more durable than standard acrylic baths. Steel baths can be scrubbed, and they rarely get scratched, though if the steel is covered with enamel, you may occasionally encounter chipping or cracking if the tub is not of high quality. Plus, steel is a great choice for hygiene, since it will not allow germs or bacteria to breed. A steel bath will retain heat in water longer, meaning that your bath stays warmer longer and doesn't require additional top-ups.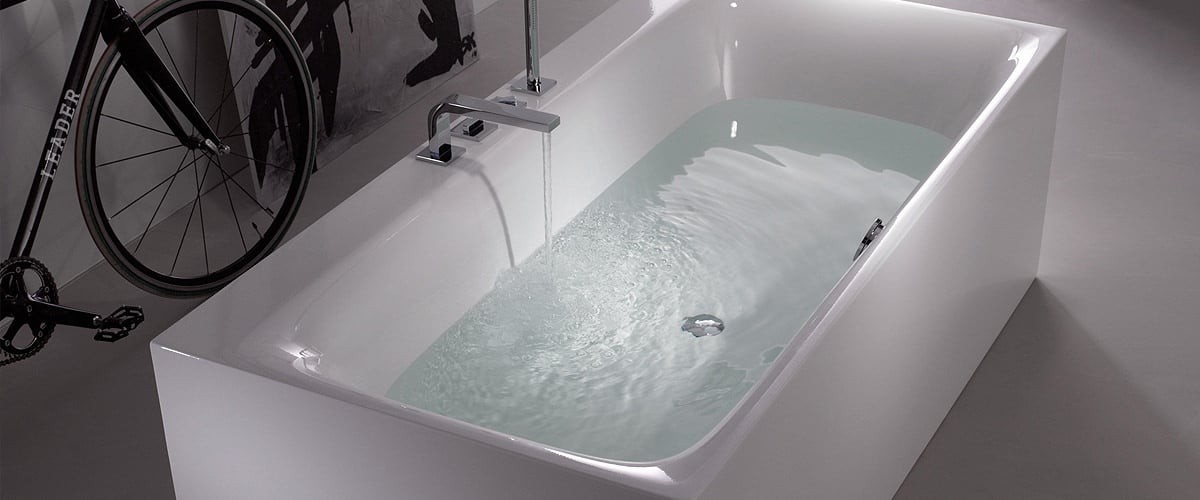 All about
Weight..
By far the most important consideration when choosing a steel bath is weight. Steel is, of course, far heavier than acrylic, and that means that you'll need to ensure that your bathroom floor is capable of supporting the weight of the steel tub. A steel bath filled with water is extremely heavy, and it may be necessary to brace the floor of your bathroom to ensure that the bath doesn't come crashing through the ceiling below when it's filled. Steel baths often tend to have bigger capacities than traditional baths, making them heavier since they contain more water.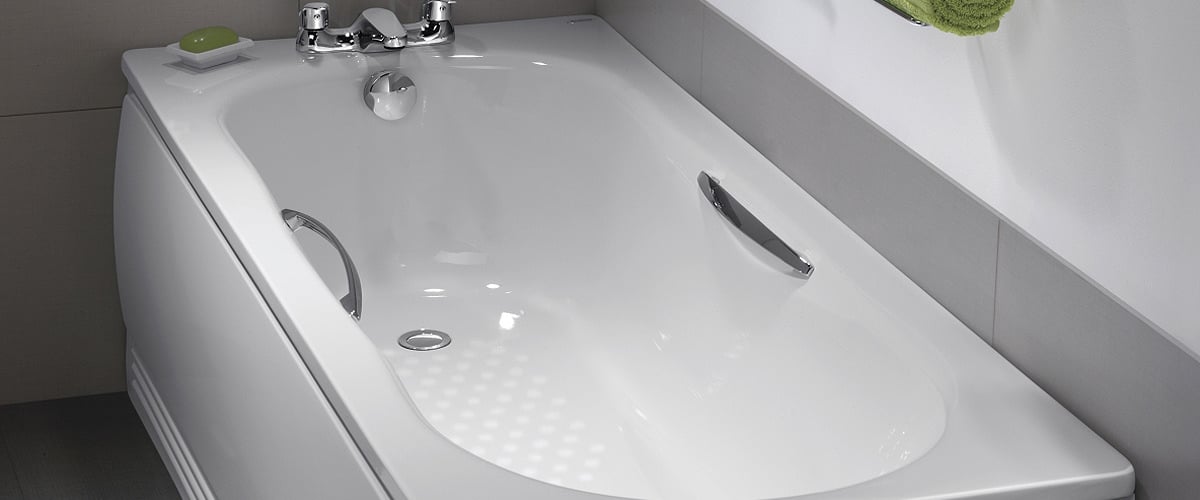 Style
Because of the complications of moulding steel into shape, steel baths tend to be simple, and you won't have much more than a traditional tub shape to choose from. Since style isn't a factor in your decision, you should instead go for the best quality steel that you can afford. And remember that while a steel tub will be more expensive than an acrylic one, it will also last far longer.
---
Buying Guide for
Whirlpool Baths
Whirlpool baths are structurally different from regular bathtubs as they come with inbuilt rows of jets which offer invigorating spa-like massages in the bathtub itself.
A whirlpool bath can add a touch of elegant luxury to a bathroom, as well a class resource for easing, sore or aching muscles, but before one purchases a whirlpool bath, there are a few things that need to be considered.
Sizes &
Location
The location of the tub determines how large a bath is required, so measure carefully. Additionally, if a bathroom is on the second floor, do not forget that a large bath can be filled up with more water and, therefore, can be heavier. Sometimes, it is necessary to add extra floor support before installing a whirlpool bath to make sure that the weight of the full bathtub would not cause it to crash through the ceiling.
Design
The shape of a bath, square, semi-circle or rectangular will mostly be determined by how much space one has to spare. However, there are other considerations. A recessed bath is designed to be fitted into a niche or alcove and is, therefore, finished on only one side. A freestanding model is finished on all sides and can stand anywhere in the bathroom. A drop in bath is designed either to be recessed into the floor itself or to have a tiled wall built around it. Finally, a corner bath fits into a corner and is finished on both sides.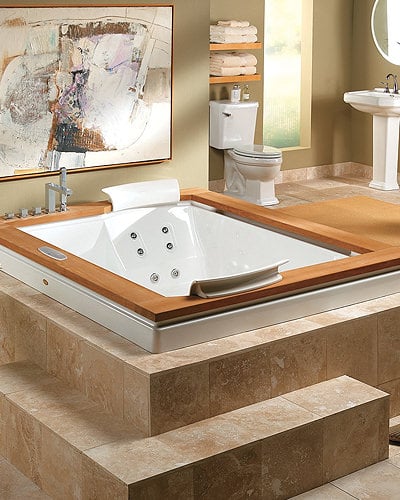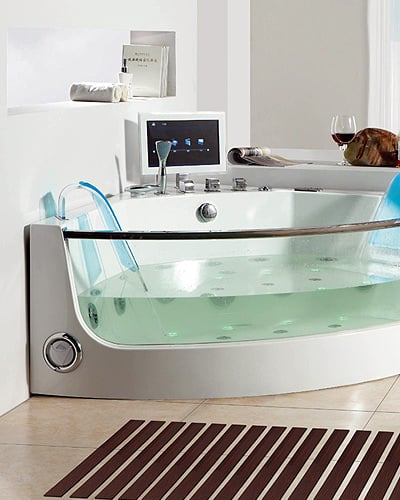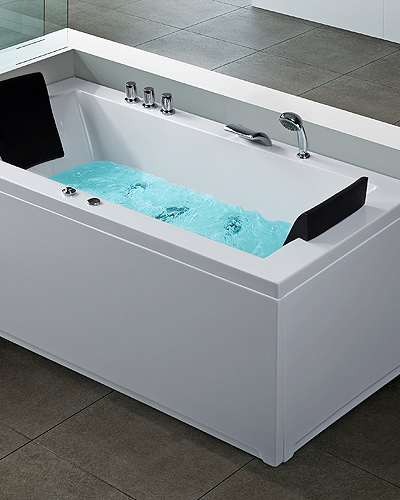 Material
Most whirlpool baths are made from acrylic, which is the best material for a bath. There are enamelled steel models available, which look fabulous. However, enamelled steel is noisy and tends to chip.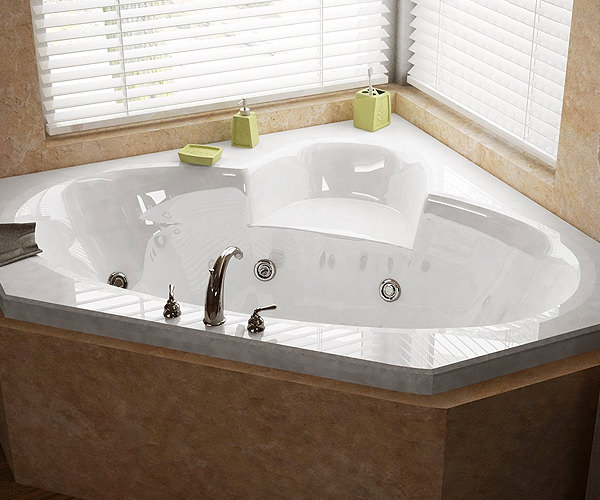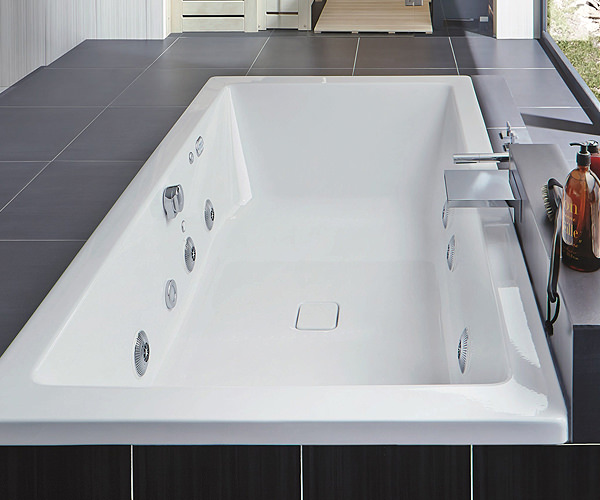 Number of Jets
Whirlpool tubs offer the user the double benefit of cleaning as well as a Jacuzzi-like experience. The number of jets varies in different tubs which are placed at various points to target different muscle groups. Some baths come with jets that can be redirected as required to reduce stress levels and offer extreme relaxation. The jets use water or air or a combination of the 2 for thrilling extravagant bathing.
Special
Features
There are a number of distinctive features available on whirlpool baths to meet varying needs. However, one delightful addition that one should look out for is thermostatic temperature control, which mixes the water to a certain temperature before one enters the tub. Since whirlpools tend to have a massive water capacity and can be difficult to run to exactly the right temperature, thermostatic control bath mixers can be a handy addition.