A sink is an integral part of your new kitchen. And choosing the right sink can be difficult because there are an awful lot of options in the market. So, make an informed decision when selecting your kitchen sink by considering the following points.
Material
Traditionally, modern sinks are made out of stainless steel. This is a good combination of material that is lightweight, affordable and durable. Cast iron sinks are another popular choice, though the enamel can be easily chipped, and the weight of cast iron means that installation is not possible for all kitchens. Cast acrylic is a very affordable option, but you won't get the same durability with acrylic as with stainless steel. Finally, composite sinks are another option. The quality of these sinks varies depending on how much granite is used in the composite material; more granite means more durability, but also more weight.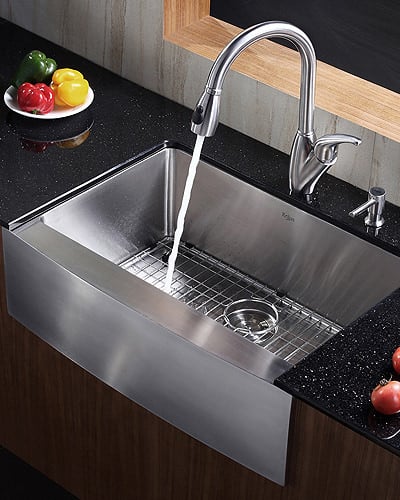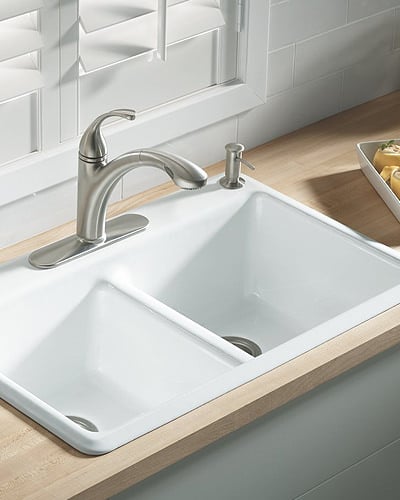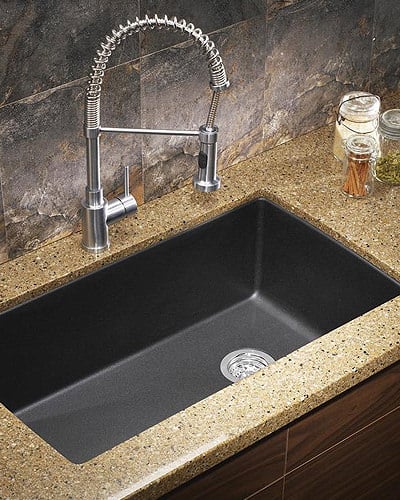 Configuration
Next, you'll have to think about the bowl configuration of your sink. There are plenty of options here, from single bowl sinks, to double bowls, or draining board and bowl combinations. Your choice depends on how you use your sink, so think carefully about your washing up habits while deciding the best configuration for you.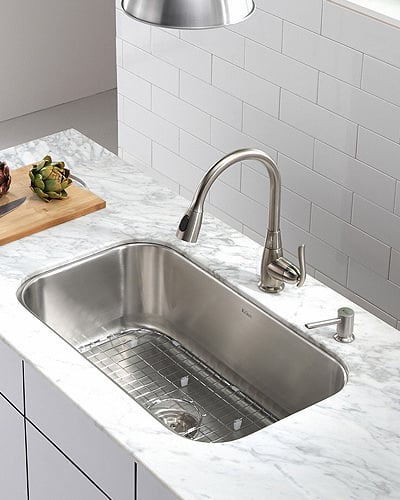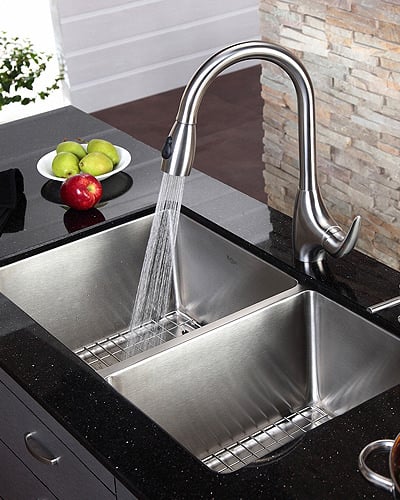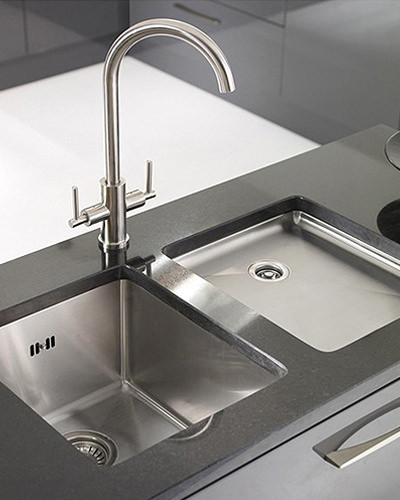 Installation
Generally, sinks are either drop in or under mounted. Drop in is best for lighter weight materials, while heavier materials such as cast iron usually need to be mounted from underneath to support their weight. The installation method you choose will depend on what kind of sink material you choose, as well as the material your kitchen surfaces are made of. If in doubt, it's best to consult a kitchen fitter to make sure that your sink is installed in the correct fashion.
---
More Info on
Stainless Steel Kitchen Sinks
A kitchen sink not only enhances the beauty of the kitchen, but it also ensures hygiene is maintained in the kitchen which is the hub for food preparation. While the sturdiness of the sink is a basic requirement, what adds to the kitchen brightness and aesthetics is the material from which the sink is made. The three most preferred choices are Stainless Steel, Composite, and Ceramic. Below, we have listed a range of stainless steel kitchen sinks and their functionalities.
Stainless steel is the first option that springs to mind when one thinks of durability. No wonder there is a wide range of stainless steel sinks available in the market today. Above we have showcased a series of stainless steel kitchen sinks from some of the most renowned manufacturers. These sinks are available as insets or under-mounts, with or without drainer, with 1.5 bowls or single bowl, with or without a reversible design for left or right-hand configuration and in a choice of finishes such as silk and brushed steel.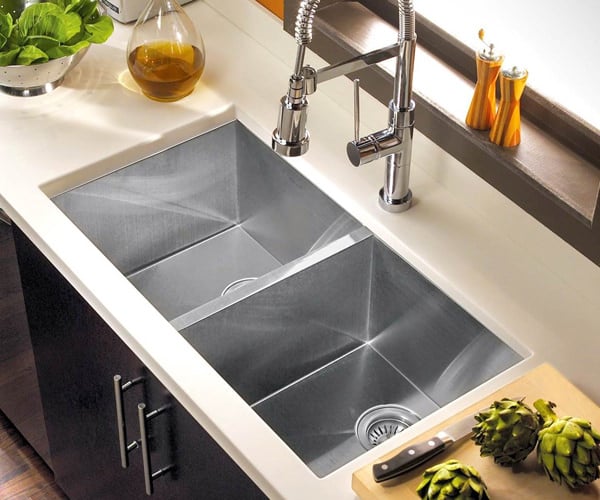 Other Advantages of Installing
Stainless Steel Sinks Are
It has the advantage of being resistant to corrosion. Also, it does not absorb dust.
Stainless steel does not allow the surface to be marred by smudges and fingerprints, and it is also more resistant to bacteria and germs compared to other materials.
Besides being easy to maintain and keep clean, stainless steel integrates perfectly with other utensils/dishes in the kitchen.
Stainless steel is also the ecologically preferred material as it can be easily recycled and repurposed.
With so many plus points, is it any wonder that stainless steel sinks have become the preferred choice of homeowners, restaurants, and commercial kitchens
---
More Info on
Granite and Quartz Kitchen Sinks
Granite Composite: Granite oozes elegance, style and a singularity of form. The high density of granite makes the sink more scratch, heat and chip resistant. This chic and stylish material is fast becoming the choice of the discerning buyer for their kitchen sinks. Granite composite, it may be mentioned, is deemed as one of the most durable composite sink materials in the market today.
This material which is resistant to household acids has the feel of natural matte stone. Its composition is: 80% granite and 20% acrylic resin. This material is not only smoother with a silken sheen but also more durable than quartz composite. Though granite composite sinks generally come in dark shades, one can also find them in an array of custom-made matte colours. An enduring quality of these sinks is that they will not fade even when they are exposed to high heat. Hot pots and pans will thus not affect its appearance. In fact, granite composite is capable of resisting heat up to 535 degrees Fahrenheit. Granite composite sinks have become synonymous with a kitchen's beauty, splendour and sophistication.
Quartz
Composite
A quartz composite sink comprises 70% quartz and 30% resin filler. Quartz composite sinks are capable of resisting day-to-day cuts and scruffs, besides withstanding harshness of the regular cleaning materials and liquids. These are also heat resistant, thus piping hot pots and pans will not tarnish their appearance.
They are a notch below granite based sinks in performance as far as wear and tear are concerned but are equally capable of withstanding the rigours of daily use. Due to the richness and depth of colour are capable of retaining their brightness and shade throughout their lifespan.
---
Explore
More!
Complementing the black in a contrasting style is the white finish. From off-white to stark white, ceramic sinks have made a huge comeback with the top designs. From straight lined perfect squares in under-mounted situations to the 1.5 rectangular inset basins and still more variety as rendered in the incomparable round sinks and drainers, can now be purchased directly from our on-line store.
The materials and themes have been revamped and redesigned in a contemporary manner in keeping with modern styles and trends. Ceramic sinks are not only pretty, but they are also strong and sturdy. Resilient to scratches and cracks but also impervious to heat, you can toss heaps of hot pots and pans in them without worrying about damaging the surface. These sinks also do wonders to enhance the look and feel of your kitchen. Food items can be washed in these sinks without the fear of contamination.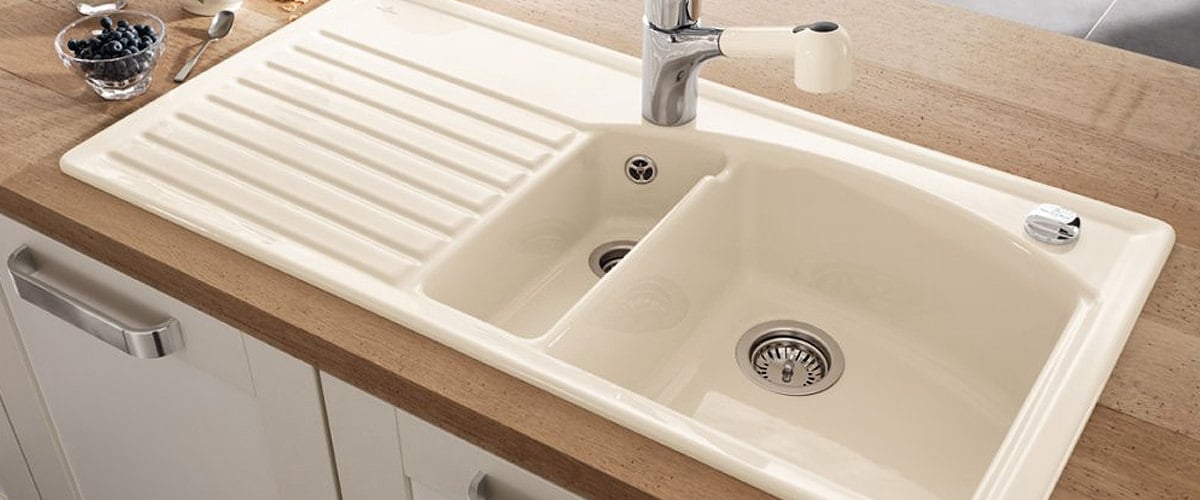 Ceramic, which is impervious, is smooth and warm to the touch. Additionally, it is also tough and capable of withstanding the harsh effects of household chemicals. However, using abrasive cleaners may discolour, and it may lose its sheen. The other nifty advantage of having ceramic sinks is they are incredibly easy to clean. All you need is a damp cloth. Wipe them clean, and they are as good as new!