What do you
Need to know?
We all know that welcoming feel of a hot or warm hotel after stepping out of a shower or bath on a chill, winter day. That's why towel warmers are a necessary piece of heating equipment in every home across the UK. Besides offering hot towels, they also heat up the bathroom. Towel dryers are made from different metals such as steel, stainless steel, or aluminum and occasionally of brass or copper. Before making your final decision, there are a few things that need to be considered.
Electric or
Hydronic
Electric towel warmers plug directly into a socket and provide excellent energy efficiency. However, Hydronic versions are filled with hot water from your house's hot water system, are even more efficient and cheaper to run. The problem with these water-run towel rails is that they need to be installed by a professional, and may require the re-routing of pipes. Installation needs to be part of the original construction of a home.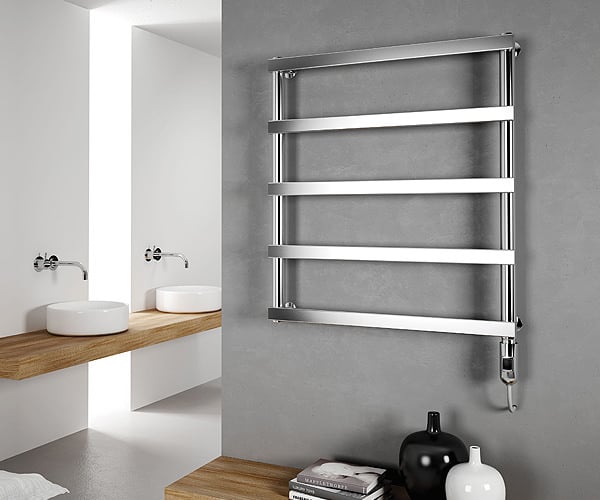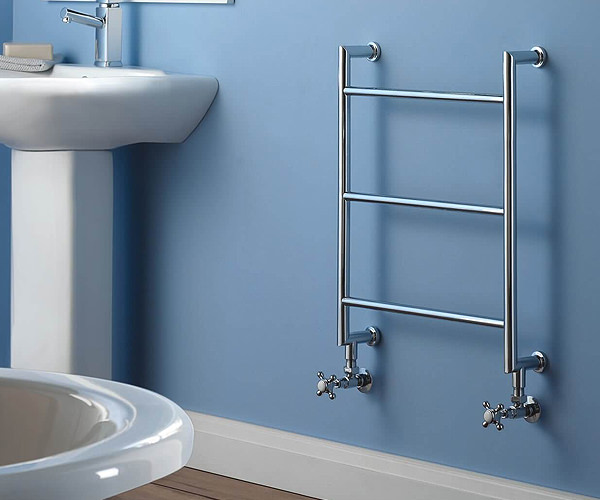 Wall Mounted or
Free Standing
Wall mounted towel rails are attached directly to a wall, saving floor space and making them stable. While the Freestanding ones do use up floor space, but can also be taken along when one moves, or can even be removed from the room completely, and they save you time and money required for installation.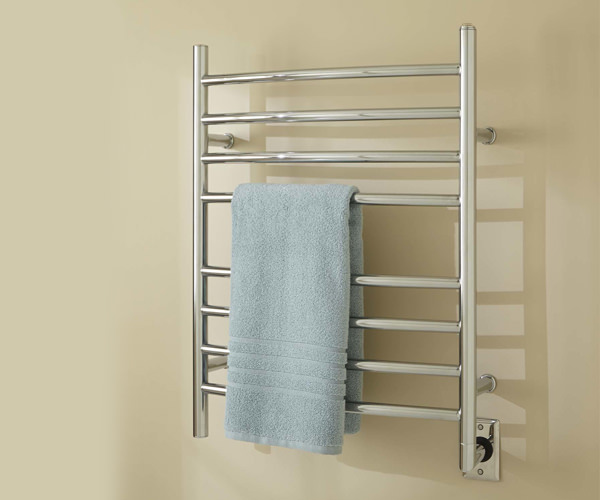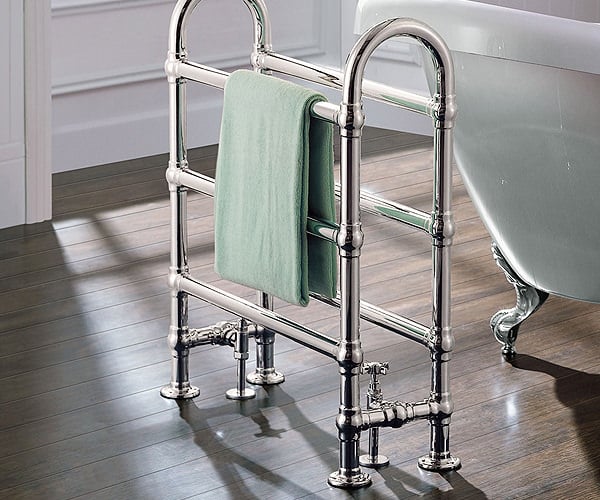 If you decide on an electric towel warmer, you can choose between a plug-in model that plugs directly into a socket, or a hard wired version that is permanently wired into the electrical system. The only real difference between these is that a hard wired model must be fitted by an electrician.
Timers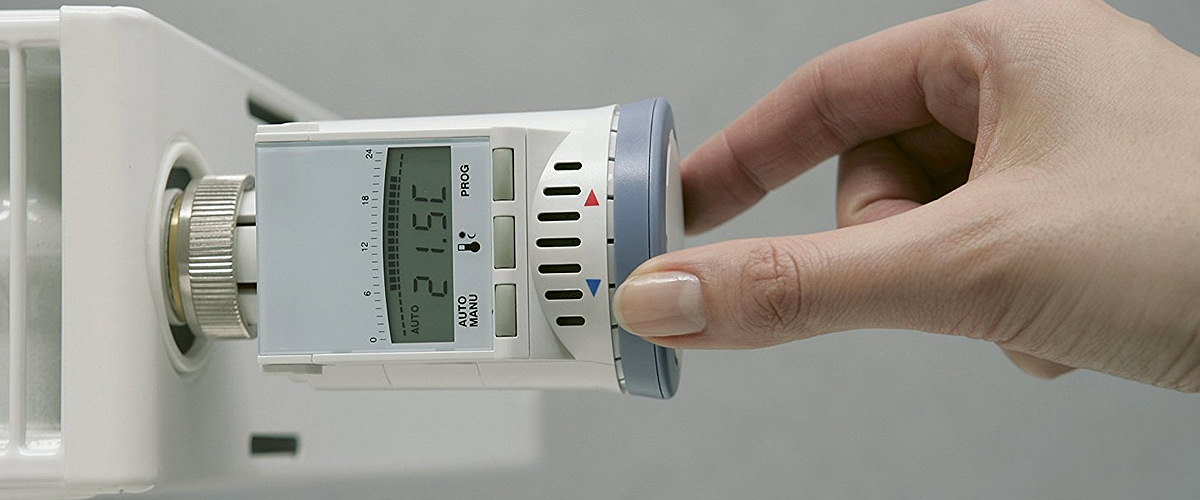 A timer is not standard on all models of towel warmers but is a nice feature to have. Because bathrooms are rarely used and it can be easy to forget to switch off a radiator, a timer will allow you to set when the device turns on and off, saving on running costs.
---
Buying Guide for
Designer Radiators
Buying a designer radiator is a terrific way to add a touch of style to your home, and to avoid plain old standard heating appliances. However, anything designer will naturally come with a designer price tag. Therefore, there are some things that one should take into consideration before you make your purchase.
Class &
Style
Obviously, designer radiators are designed to be one of a kind with tons of style and glamour. The choice of designs and form is unlimited. Vertical radiators are becoming immensely popular and are a terrific way to save wall space. However, keep practicality in mind. If you often hang things over your radiator, remember that a vertical radiator has less hanging space. There can also be problems getting enough pressure into a vertical model to let it heat up properly, and it is extremely crucial that you have a professional install it. Retro column style radiators are also a growing trend and have all the convenience of a traditional-style radiator with a retro twist. Of course, there are plenty of other designs, from circular radiators that look like pieces of art to wood covered heating to blend in with your home's decor. Just ensure that the radiator fits your space and that it will heat your home.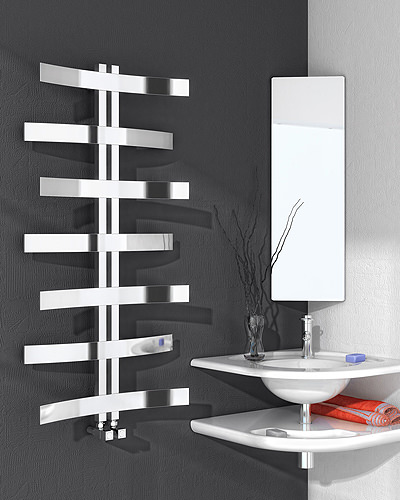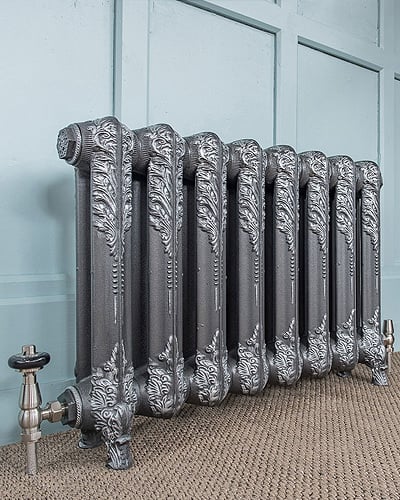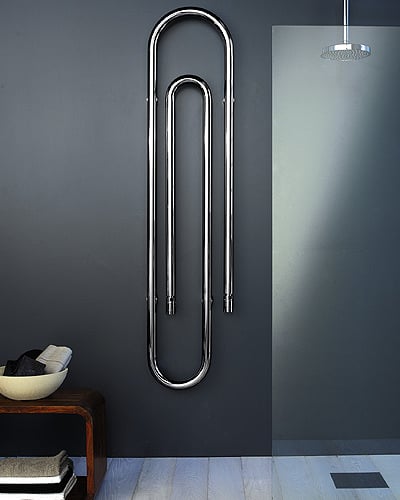 Practicalities
A radiator above all is designed to heat up your home. As beautiful as a circular wall mounted model may look, it may not be sufficient to heat the area that you have in mind. A general rule for checking how much heat you need is to take the volume of your room in metres (that is the length times the width times the height of your room) and multiply that number by 153. This number should be compared to the BTU rating of the appliance in question. The closer the two numbers are, the more suitable the radiator is for your room.
---
Buying Guide For
Flat Panel Radiators
Truly close to being mistaken for a discreet designer art piece, the clean cut and sleek looking Flat Panel Radiator lends an aura of serenity to your room and is extremely popular with discerning buyers who want the comfort of cosy warmth along with an eye pleasing heating unit. When you decide to buy a flat panel central heating radiator, you must look carefully into a few factors which will direct you towards making the right decision.
Wall Heat Output
Efficiency
No matter how much the design element appeals to you, the most important aspect when finalising a flat panel radiator is the heat output. Choose those radiators where the front panel cleverly conceals the convectors, or "fins" as they are called, as this maximises the heat output without compromising on the aesthetics. An official BSRIA (Building Services Research and Information Association) certification confirms the specified heat output.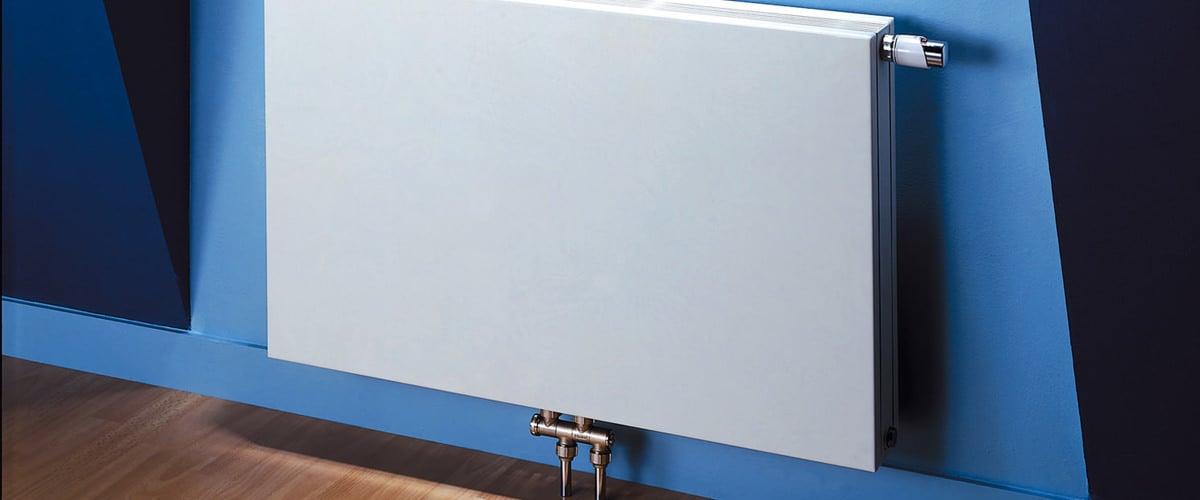 Guarantee
Assurance
If the guarantee period is anything less than five years, the welding is of inferior quality or the steel is not of the required thickness, then its prudent to stay away. Choose only a brand that offers a full 5 years After Sales guarantee.
Recognition from Independent body
Check if the radiator sports the "RAL Steel Radiator Quality" mark, which indicates that it's quality and workmanship are of considerable standard.
Wall to Front measurement.
To ensure that the radiator is not away from the wall more than necessary, choose a model which has intelligently designed brackets for maintaining minimum wall-to-front distance.
Material of
Manufacture
For buying a long life radiator, choose a brand which boasts thick grade of steel, measuring about 1.25 mm for internal construction and a minimum 1.1 mm for the front panel, with 2mm thickness being ideal.
Finishing makes a difference
A radiator finished with a single coat of paint will start looking worn-out in a couple of months. Make sure you buy a powder coated model with a semi-gloss surface look, which will keep the panel looking like new for years.
---
How to Select the Right
Radiator Valves?
If you're buying new radiators, the chances are that you're going to have to buy radiator valves. Radiator valves control the heat that comes from the radiator and generally come in pairs, with one valve controlling temperature, and the other "lock" valve sealing the system. You do have a few important considerations that you need to keep in mind when choosing the right kind of radiator valves.
Straight or
Angled Valves
Valves are either straight or angled, and the kind of valves you need depends on the radiator that you have; if the valve connections are on the side of the radiator (as is traditional), you'll need to get angled valves. If you have chosen a more unusual design of radiator, particularly heated towel rails that are common in bathrooms, you'll need to take a look at the connections. Connections that are underneath the radiator will need a straight valve for where the pipe comes out of the floor and an angled valve for any pipe work that comes out of the wall.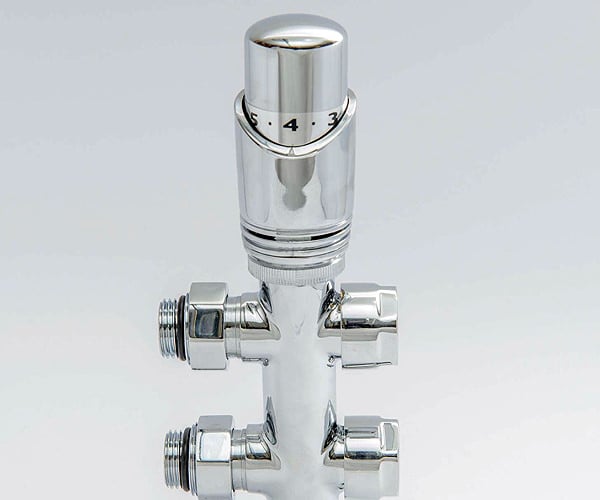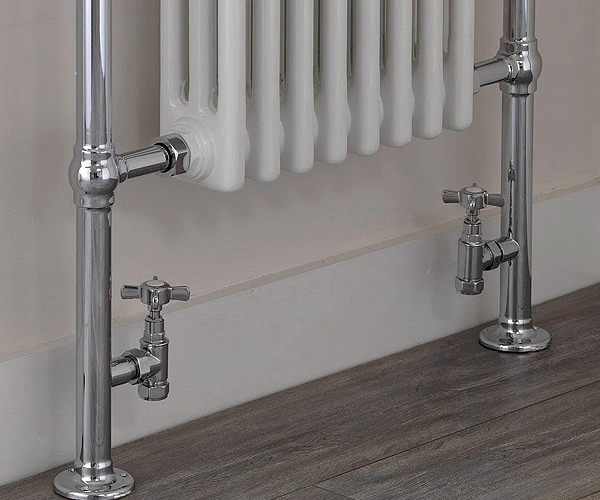 Thermostatic or
Manual Valves
You'll also need to think about whether you want to opt for thermostatic or manual valves. Manual valves control the temperature of the radiator manually so that you can turn the heat up or down with the valve. Thermostatic valves contain temperature sensors. This means that you can set a certain temperature, and the radiator will then regulate itself automatically. If the room heats up from direct sunlight, a thermostatic valve will automatically lower the radiator's temperature to keep a constant ambient temperature. This makes thermostatic valves a better choice. It's also worth remembering that building codes for new buildings also often require the use of thermostatic valves in most cases, so you should check this out if you're building a new house or extension.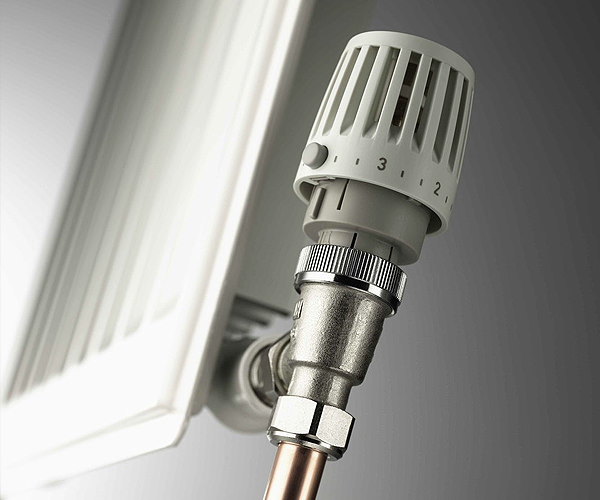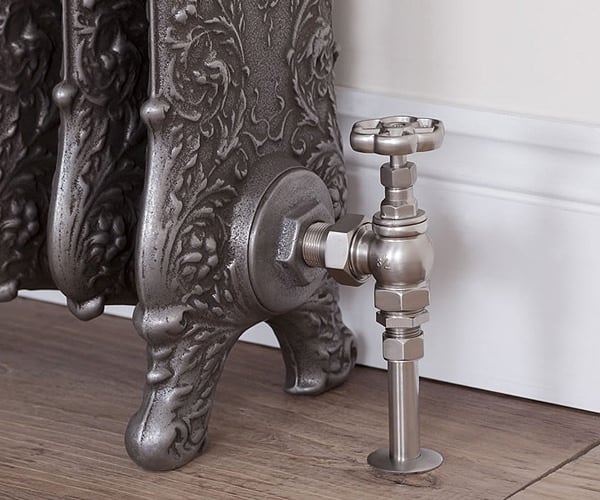 ---
Additional Accessories
When Buying a Radiator

?

Radiators are an essential part of the heating system in most houses. However, simply buying a radiator isn't enough; there are additional accessories that you will need to think about. Today we're talking about all the things you'll need to have your radiator successfully installed.
Wall Brackets...
Many radiators will come with wall brackets, but not all will, so you'll need to check. Wall brackets are used to mount the radiator to the wall, so are an absolute necessity. If you're buying, brackets make sure to first measure the fittings on the radiator to avoid buying the wrong size.
Valves
Valves are not commonly supplied with radiators, so you will almost definitely have to buy them yourself. Radiator valves are sold in pairs, with one valve being the temperature control and the other being a "lock" valve that seals the radiator system. There are different valve styles to choose from, and you must check your radiator to see whether it requires straight or angled valves.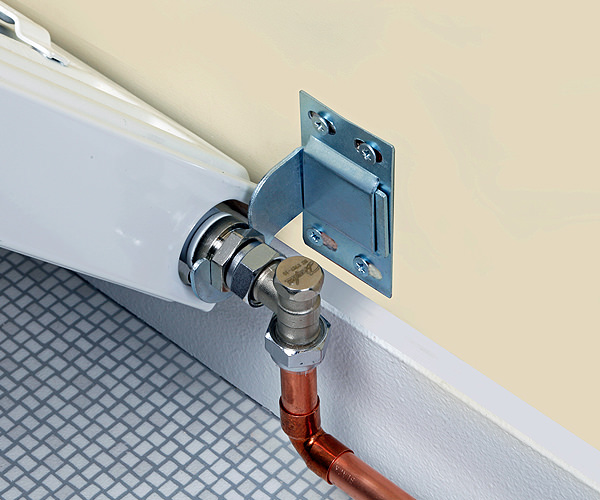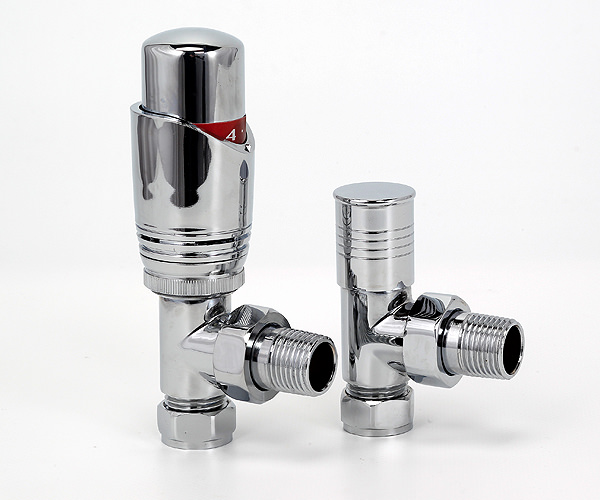 Optional
Extras
There are a couple of things that you might want to think about buying, but that are not compulsory for fitting your radiator. One is a thermostatic valve. This kind of valve has built-in temperature sensors, and will automatically regulate the temperature of the radiator depending on the temperature in the room. This can help save money on heating bills. You can also get towel rails that fit onto radiators, which can be a good option for bathroom heating. Pipe covers can be used to change the way radiator pipes look, and to coordinate them to your decor. Finally, there are several style options for valves and stoppers on your radiator that can give your central heating a touch of elegance.