Sky rocketing residential towers coming up at almost every available urban open space have shrunk the size of modern day apartments. Implicitly, compact houses naturally accommodate smaller bathrooms and remodeling them is quite a challenging task. The focus should be on achieving a sense of functional spaciousness, combined with a little creativity that can turn your cramped bathroom into a beautiful, comfortable, elegant and private enclosure.
It's time we realised the importance of the space we use day in and day out. Yes, we're referring to the bathroom space which is as important as any other room in the house, but, very seldom one pays as much attention to it as he/she does, if it's about any other room, particularly, when it comes to remodelling or redoing the aesthetics of the space. There's isn't much focus regarding the improvement of the space. Even the kitchen is on top of the priority list, but not this which happens to be one of the most functional areas of the home. Why is this space lost in oblivion?
Interestingly, a little or minor changes can bring in dramatic difference in the bathroom space; only the intention matters.
Color plays a vital role in a small space design. Opt for pastels, neutrals and classic whites for background, while using bright shades to accessorize. This neutral color palette is very much in vogue and will also not let your bathroom date.
Choose a light color natural stone tiles for flooring and walls, with same or contrasting color for the vanity counter, if space permits you the luxury of one.
The most crucial aspect is about creating space, especially, in the sphere wherein you find cramped apartments, or even if it is about holding back when it comes spending more time and money in creating a larger space for the bathroom. In such cases, particular amenities and merchandises that fit the setting and create space out of the available area space can be brilliant ideas. They can be perfect even if it's a shared room. Proper fixtures, furniture, bigger baths, shower rods that are curved, quality vanities and mirrors can be great options. Particularly, larger mirrors can create outstanding impressions in the bathroom, by magnifying the image and the look of the space, making it look bigger than it actually is.
Replace your bathtub with an elegant and spacious shower enclosure. Using glass wherever possible adds a touch of sophistication as well as space to your bathroom. Clear or frosted glass looks chic and classy as a shower screen. Install glass corner shelves at the shower area and vanity counter. Essential storage cabinets should also be covered with glass panels. If your bathroom is smaller than a 6'X8' size, a glass panel door covered with a design film looks amazing!
Strategically placed mirrors immediately create an illusion of space directly double to what is actually available. Install an extra large mirror at your vanity area framed in a subtle finish, depending on the style of décor. A mirror placed on the wall opposite to the same will give a more spacious and intriguing look, as mirror will reflect all the light in the room, and pick up the color and pattern.
Brighten up the room with loads of natural light. Install a sky light if possible or simply enlarge the existing window. Create visual magic with artificial lighting and transform your small bath into a cozy retreat. Use focused or recessed lighting that is easily concealed in the ceiling, and can add drama to the bath décor with a directional focus. Recessed lighting below vanity counters creates the perfect ambience. Wall sconces installed at vanity mirrors are functional accessories that instantly enhance the mood.
De-clutter your bathroom. There is nothing like clutter to make a smaller space seem more small than it's actual size! Furthermore, apart from glowing, the recessed light can exude warmth in the bathroom, giving a soothing comfort. A skylight can bring magnificent changes in the setting, warming up the space and giving that impact of natural sunlight, during the day time. Also, smaller lamps can equally complement with their brightness and can be ideal for reading purpose.
Choose your accessories wisely. Use one large floor rug and use one functional accessory instead of many small ones. Do not overdo the artwork. Cut down the art selection to one against a collection of many pieces. For example, one arty metal plaque with robe hooks is a great, functional accessory, and it also serves an art piece. Delicate floral arrangements in high visibility bright hues create an exotic and vibrant atmosphere.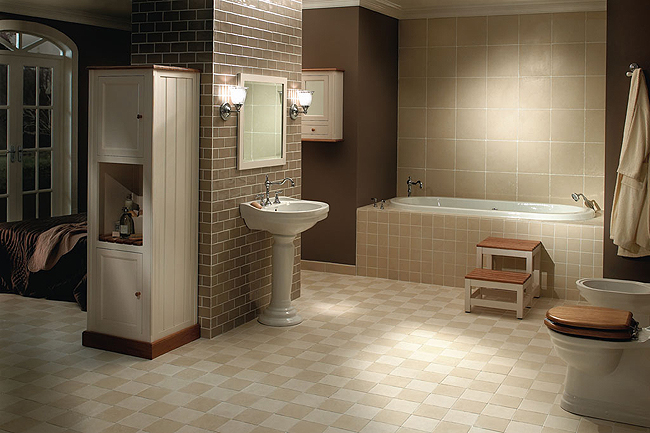 Thus, such minor changes can enable you redeem your ideas of creating a colossal difference in the small bathroom space; also, letting you relive your desire and aspiration of having a larger bathroom