Your home is so much like a blank canvas for you to create a unique and stylish area that is tailored to your individual style and needs. And the bathroom is one area which presents a tremendous opportunity for designing with the right components. One of the most important aspects of this is the WC or the toilet.
Did you know that 75% of your household water is used in Bathrooms, out of which 40% is used in toilets alone? If your toilet is a decade old, there's a good chance that you are flushing down money along with water. Replacing it with a modern toilet could cut down your water consumption by 25% or more, leading to a lower water bill. Along with saving water, modern toilets come equipped with advanced flushing technology, which improves their performance and minimizes the flushing sound.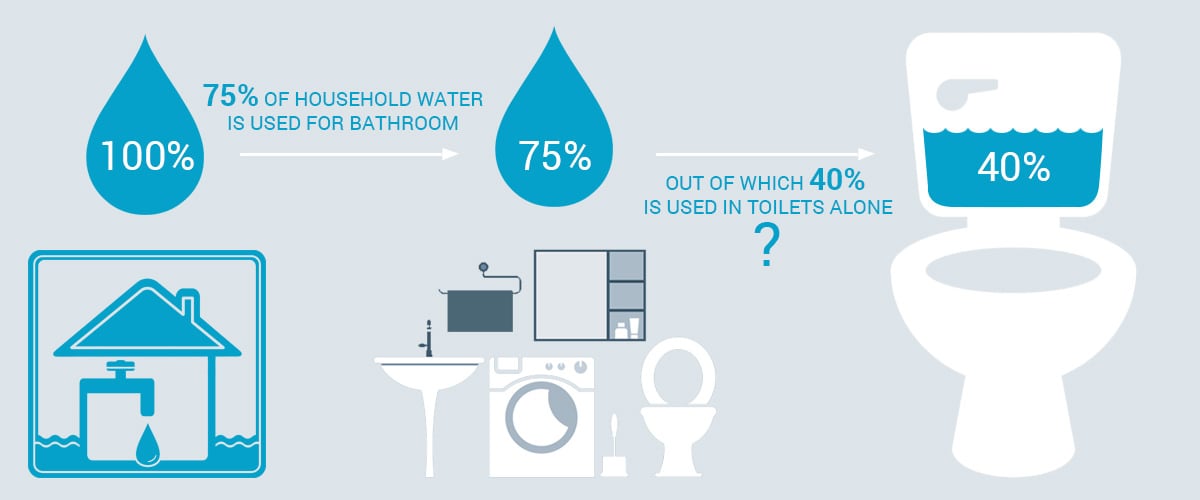 Efficiency
Besides the physical characteristics of the toilet, its efficiency of water-use is also a deciding factor for some users, especially the green enthusiasts. Statistics state that approximately 40% of the water used up each day in an average home goes into the toilet. Many consumers who are conscientious of their water usage opt for a low-flush model or a dual flush one versus the standard old-style single flush toilet.
What you need to look for
in a Toilet?
Toilets come in various styles, size, and finish. Apart from size, you also need to decide if you are looking for a unit that is more traditional or modern in approach. Shapes may be straight or rounded with luxurious curves. Whatever you decide, you will want to make sure the toilet correlates with the other pieces in your bathroom such as the bath, basin or towel rack—one of the key considerations when choosing which WC is best for your bathroom is comfort. The bowl shape can affect the comfort of the user greatly; choose from a round, rectangle-shaped bowl or an elongated one. Another consideration relates to the height of the WC with a slightly higher WC unit allowing increased comfort to the user.
Another thing to consider is the height of the toilet bowl, especially when you have an elderly person at home. A higher bowl is recommended for older and taller people and may ease the pressure on backs and knees. These, however, may be harder for kids and shorter members of the family. But, if you have both short and tall people in the family, you can opt for a bowl of medium height for optimal ease of use for all.
Cost
From a Standard WC to a stylish, luxurious wall hung model, your budget will be the number one deciding factor for your purchase. Costs also ensure quality and guarantees to a great extent.
Different Categoris
for a Toilet?
There are many different types of toilets available in the market such as close coupled, back to wall, designer, floor standing and traditional style models.
Wall Facing Toilet?
This type of toilet sits flush against the bathroom wall. It is a recent modern type of toilet in which the pipework and cistern are completely concealed within the bathroom wall. This gives it a sleek, stylish look and makes it quieter in operation than other standard toilets. Such a toilet is a great space-saving option.
Close Coupled Toilet?
Fast replacing the traditional design, the close-coupled toilet has become a popular choice for toilets across the UK. In such a design, the cistern sits directly above the toilet pan without the connecting pipe. It may be slightly uncomfortable to clean such a toilet.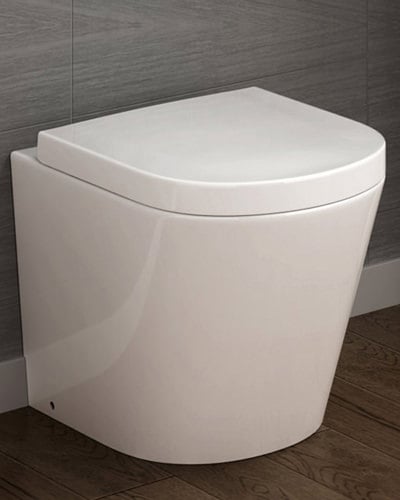 Back to wall toilet
Such a toilet is fixed to the surface of a bathroom wall, and the cistern is hidden behind a furniture unit or stud wall. Perfect for modern-day toilet interiors, this type is space saving, easy to clean and maintain.
How to Select the
right Toilet?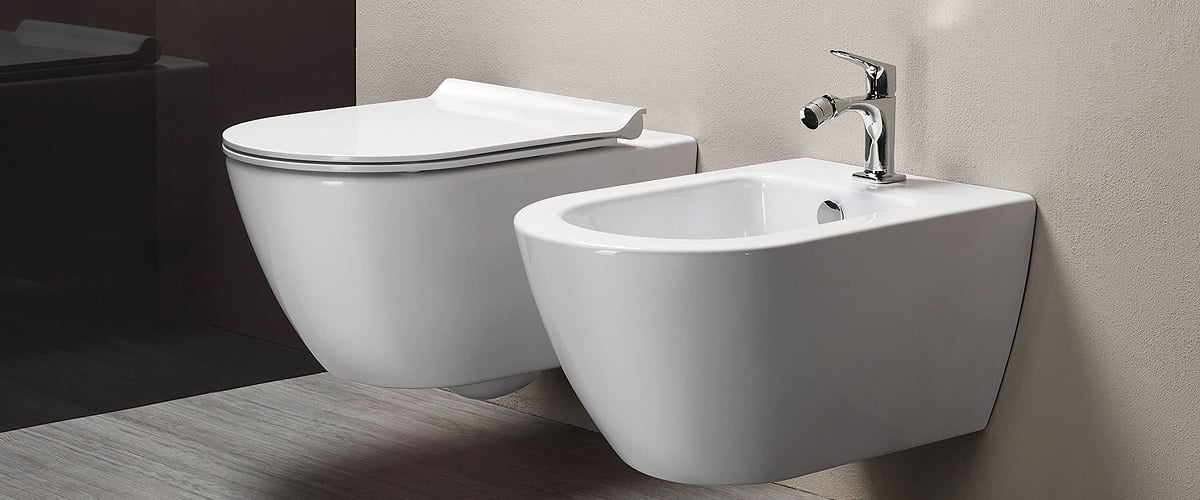 The distance from the bowl front tip to the front wall determines whether one should select an elongated bowl or a round-front bowl toilet. A one-piece (close coupled) WC looks compact and is suitable for compact bathrooms. Two-piece toilets, on the other hand, are more comfortable, and look beautiful in large bathrooms. Performance and flushing capability are the two decisive factors when choosing a toilet.
---
What is a
Close Coupled Toilet?
Close coupled toilets are, perhaps, the most common type of toilets found in UK homes. Close-coupled toilets consist of a cistern which is mounted directly on top of the pan which is then fitted flush to the floor. Any pipework is concealed within the casings of the toilet, and the flush buttons are located either on the top of the cistern or on its front wall. This results in a single streamlined unit that fits in well with most modern bathroom suites. The compact build and minimalist profile of the close-coupled toilet make it an ideal choice for smaller bathrooms where space is at a premium.
Aesthetically pleasing, close-coupled toilets are available in a wide range of styles, from modern to traditional; and with no exposed pipework they deliver a sleek and clean look to any bathroom. The streamlined look is not only pleasing to the eye but easy to keep clean. The combined cistern/toilet bowl design makes them a good replacement for older toilets. Unlike a wall-mounted or back-to-wall toilet, where the cistern is hidden behind a wall (typically requiring extensive plumbing work), close coupled toilets can be easily retrofitted to take advantage of existing plumbing in older homes.
Close Coupled vs.
Back-to-Wall Toilets
Back-to-Wall and wall-hung toilets are becoming increasingly popular, particularly in newly built homes and businesses where designers are pushing for an ultra-modern look. These types of wall-mounted toilets are extremely compact, fitting flush against the wall and taking up very little space. The cistern will be hidden behind a wall or concealed by a piece of furniture. This creates a very modern and minimalist look, with a fair bit of sex appeal. However, because these types of units have a separate cistern, they typically require more extensive plumbing work. This can be easily planned for a new build but can be problematic for homeowners looking to simply replace an older toilet or remodel an existing bathroom suite.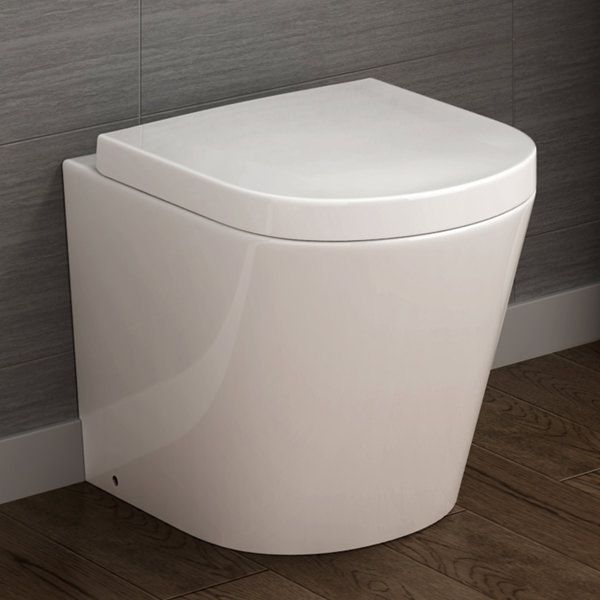 Choice of
Modern or Traditional
While all close coupled toilets share the same basic design characteristics, the overall appearance of the unit can vary. Traditional designs still hold some sway over the market, and manufacturers such as Duravit, Essential, and Ideal Standard offer a wide variety of stylish close coupled toilets that clearly reflect established trends. Subtle variations in seats, pan shapes, and cistern sizes offer homeowners and designers a healthy variety of options for finding a stylish toilet that will fit in well with most existing bathroom suites.
When it comes to modern trends in design and décor, contemporary designs from Twyford, Burlington, and Roca bring gentle sweeping lines and more subtle profiles to the close-coupled toilets pan and cistern combination. This trend towards tasteful minimalism extends to the toilet bowl itself, with many manufacturers offering a rim free pan design that is not only aesthetically forward-looking but easy to clean and maintain.
Twyford's
Rimfree Toilet
Contemporary aesthetics and modern design meet in Twyford's Rimfree toilets, bringing a new style and sensibility to the family WC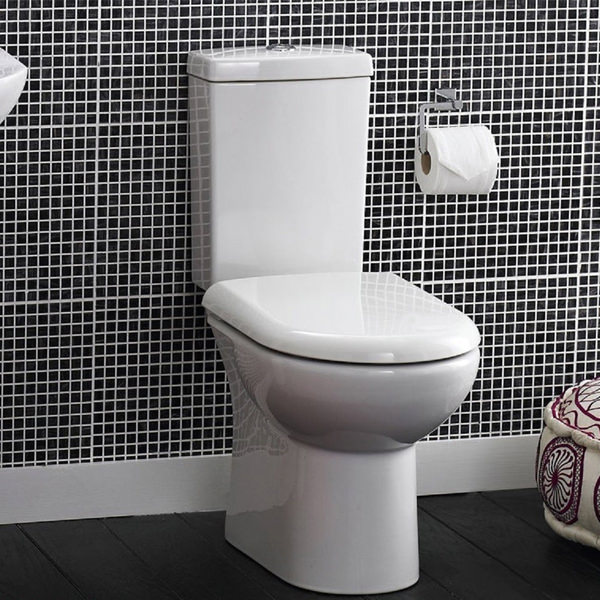 Short Projection
Toilets
Size is often an issue when it comes to choosing a new toilet. Close-coupled units are fairly compact. However, for those spaces that require even greater conservation of space, a short projection toilet may be the best solution. These units, much like other close coupled toilets, fit directly against the wall. However, short projection toilets have an even smaller footprint, with a much more minimal protrusion into the room in which they are installed. This makes them an ideal choice for en suites and cloakrooms or for installation into a recessed area of a larger bathroom.
Comfort
Height Options
When people shop for a new toilet, one of the things they often fail to consider is the height of the seat itself. Comfort height toilets are designed to be more comfortable and to provide a steadier and more secure seating position. As a general rule, a toilet that is designated as a comfort height unit will have a seat that is approximately two inches taller than a standard unit. This provides greater comfort for the user while making sitting down and standing up easier. Many leading toilet fixture manufacturers, including Tavistock, offer comfort height options within their close coupled toilet line.
---
Information on
Toilet Seats
For ensuring a pleasant start to your day, a relaxed early morning toilet session is essential, and a strong toilet seat will go a long way in achieving that contented feeling. However, the process of selecting the right toilet seat can be a little stressful. There are various things to consider before you zero-in on the right seat.
Different materials, Shapes,
& amenities
The seat shape and the materials used in its construction are the main things to consider while making the purchase decision. Toilet seats are essentially made of plastic or wood, but high-end seats come in other materials, making them costlier as compared to normal ones. Their low cost and proven durability make plastic toilet seats the preferred choice for most buyers. Thermoset is a modern material with a plastic polymer as the main ingredient that offers strong build quality and a pleasing appearance. Seats made of MDF don't dent or crack easily and are capable of weathering temperature fluctuations. For those who don't mind stretching their budget a bit, wooden seats are more appealing as they can be painted over and customized to match the colour scheme of their bathroom.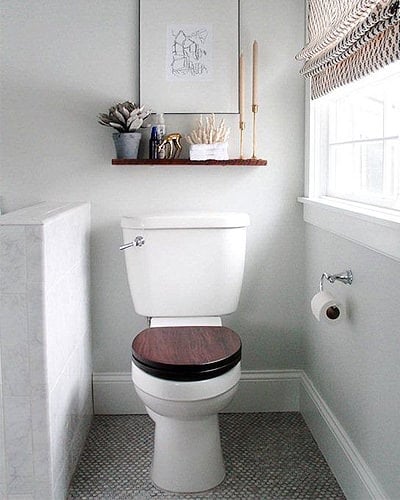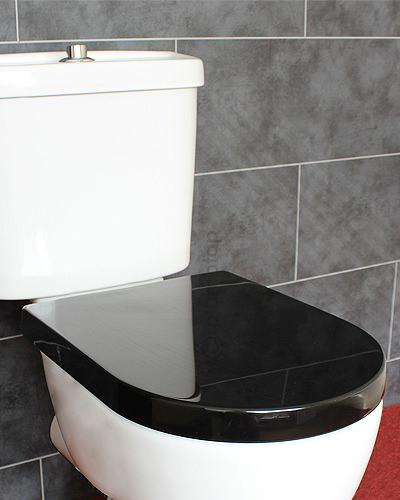 One should keep in mind that a wooden seat does not have exceptional strength, and the possibility of it cracking and splitting, earlier than its plastic counterpart is higher. Polypropylene seats are now also catching the fancy of shoppers. They are available in a wide range of colours to match the different decor and design schemes of bathrooms. For senior citizens who find getting up after every use challenging and those with a physical impairment, specialty seats provide comfort in those private moments. Sitting on a cold toilet seat for a long time in the winter months can be terribly inconvenient, which is where heated toilet seats come in by offering much needed warm comfort to users.
Which seat is right
for you?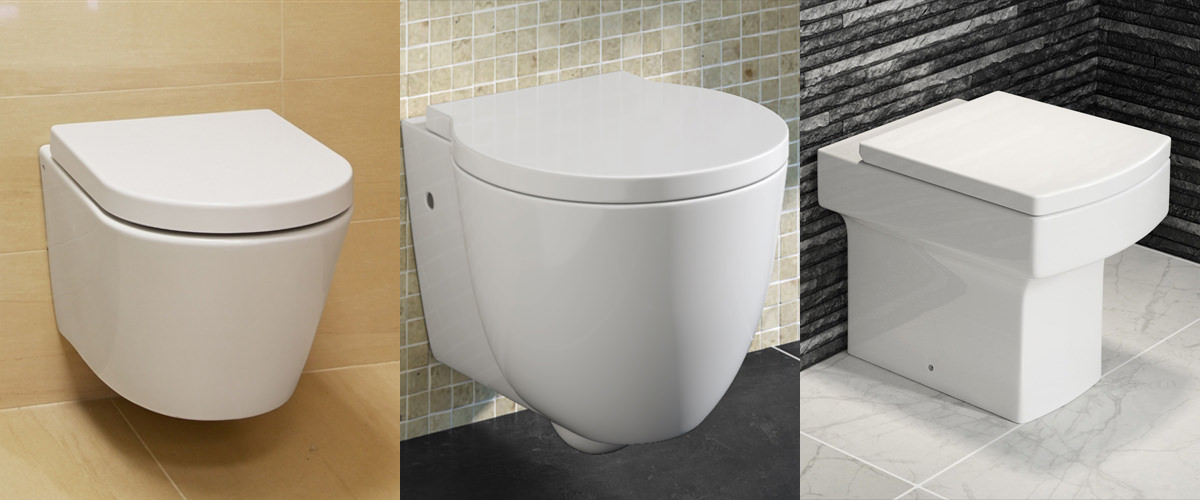 Your seat choice will depend entirely on whether the shape of your toilet bowl is round, oval or square. The toilet seat should match the contours of the WC pan, or it will lead to the overhang and slipping and sliding off the rim. Compatibility and Dimensions are vital factors to consider so that you get a seat that fits perfectly with the toilet bowl. If one dares to experiment and get a toilet seat shaped differently from that of the toilet bowl, they would be asking for help sooner rather than later! Thus to avoid any mishaps in the bathroom, it would be advisable to select a toilet seat that matches the toilet pan.
---
What are
WC Frames?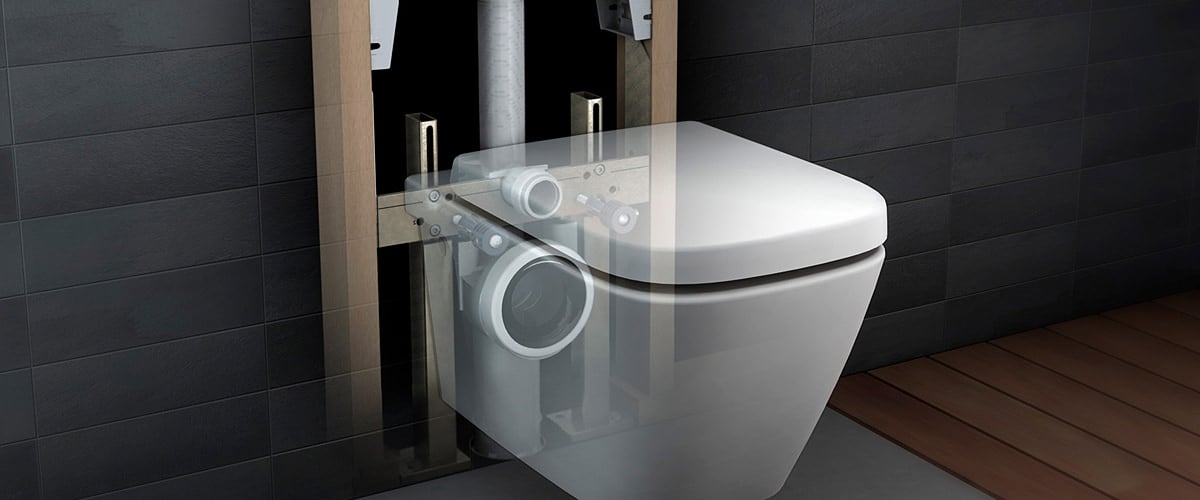 A WC frame fits inside the wall of your bathroom, allowing you to mount the toilet directly on the wall. This means that the cistern, pipes, and workings of the toilet are completely hidden from view. You simply see the toilet attached to the wall, and a button is mounted over the toilet, against the wall, to allow flushing.
What are the
Benefits?
WC frames do make a bathroom more aesthetically pleasing, though this isn't the only reason to have one. Wall mounting your toilet means that you get extra space in the bathroom itself, and will need less space to fit the toilet because the cistern will be inside the wall. A wall-mounted toilet is also great for low-pressure areas since the cistern size on a wall-mounted toilet tends to be smaller than traditional cisterns. This means that it will take less water, and therefore less time, to fill up the cistern. Plus, a smaller cistern is a good environmental choice, and will save money on water bills too.
What are the
Disadvantages?
There are a couple of downsides. Firstly, not all bathrooms can have wall-mounted toilets, since you'll require a strong wall with plenty of internal space. Secondly, because the inner workings of the toilet are hidden, fixing problems is more difficult, and will probably require the services of a plumber. However, most people find that the extra space and cleaner look of the bathroom are worth the risk of installation and maintenance problems.
---
Buying Guide For
Bidet
The development of the bidet can be traced back to 17th century France, where it was first introduced as a personal hygiene appliance to accompany the lowly chamber pot. Since then bidets have become standard fixtures in bathrooms throughout Europe and Japan, where they are as common as showers and basins. In Britain, the popularity of the bidet has waxed and waned, often being considered as something of a luxury item. That is beginning to change, however, and bidets are quickly becoming standard features of bathrooms throughout the country.
What is a
Bidet?
Although a standard bidet may look like a toilet without a seat, it is actually a sink or small tub. Intended as a personal hygiene appliance, the bidet's low mounted oval basin is designed to be used for washing the lower legs, genitalia, inner buttocks, and anus. The word 'bidet' is derived from the French for 'little pony,' a reference to the way in which one sits astride the appliance when it is in use.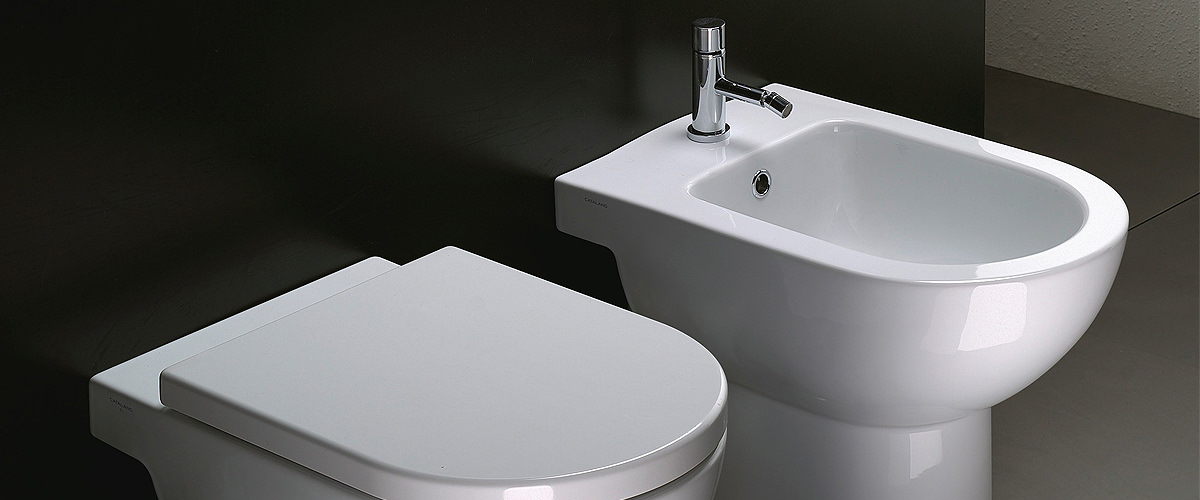 There are some distinct advantages to incorporating one into your bathroom.
Improved personal hygiene, even for the less mobile and elderly
Lower environmental impact due to a reduction in the use of toilet paper
Less household waste resulting in fewer plumbing problems (clogs, etc.)
Financial savings (homes with a bidet typically use less water, resulting in lower rates)
Types of
Bidet
There are a number of options when it comes to choosing the right bidet for your bathroom remodel. For those that are hampered by limited bathroom space, there are a variety of hand-held attachments and convertible bidet seats that can be used to turn a standard toilet into a functioning bidet. However, if you have the necessary room and you want to install a full-sized bidet, there are two basic choices – the standing bidet and the wall-mounted or wall-hung bidet.
Standing Bidets
As the name suggests, the standing bidet features a pedestal that supports the basin. These models are typically the size of a standard toilet and can be fitted into most mid-sized or larger bathrooms. Standing bidets come in a variety of models, allowing you to choose the height and projection that best suits your bathroom's design. At AQVA Bathrooms, we carry an extensive selection of standing bidets from Heritage, Burlington, and Imperial.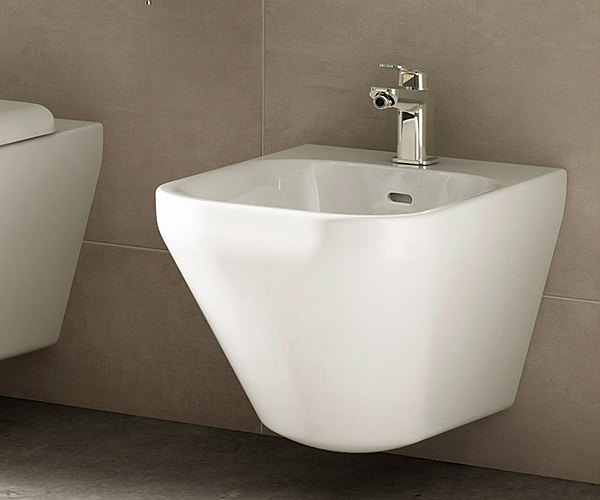 Wall-Mounted Bidets
Wall-mounted, or wall-hung, bidets feature a smaller overall profile than traditional standing models. These units are mounted directly to the wall, making for a compact installation where the pipework is concealed with the wall itself. Wall-mounted bidets are particularly well suited for smaller bathrooms where space may be at a premium. At AQVA Bathrooms we offer wide variety of wall-mounted models from manufacturers such as Duravit, Twyford, Roca and Ideal Standard.
Whether you choose a standing bidet or a wall-mounted model, you will want to consider the direction of the water spray. Most models come with two options, vertical spray or horizontal spray. Vertical spray bidets feature water delivery via a stream from a fixture mounted at the bottom of the pan. Horizontal spray bidets feature water delivery via a tap mounted on the top of the unit.
Installing a
Bidet
When it is time to install your new bidet, there are a few key points to consider. Traditionally, a bidet is placed next to the toilet, so it will be necessary to look at your bathroom's floor plan and determine if there is room for the unit. Make certain the wall and floor are square and plumb so as to ensure proper installation. Keep in mind you will need to have a plumber in to run the hot and cold water lines, as well as the drain, to meet the specifications of your new bidet.
DIY enthusiasts and anyone else considering the addition of a bidet to their existing bathroom will find the following videos informative. Taken together, they provide a good overview of the installation, from unboxing to final install, of a standard bidet.