Buying Guide to

Enclosures & Trays

With so many different options for shower enclosures available in the market, making the apt selection may not be easy. There is a multitude of choice about style, fit, materials and latest trendy features. Our buying guide will help you navigate through these factors and help you come up with decisions.
Size &
Layout
Your bathroom size and layout might limit your choices, or your personal style might dictate the correct size. Quadrant enclosures are corner showers that utilize two walls and gently curve to connect the two sides. Some people find these more visually appealing than an angular style, like the more common cubical. Like quadrants, shower cubicles also make use of two existing walls. Within the cubical category, you can choose between bi-fold, pivot, and sliding doors. While bi-fold and sliding doors are great for saving space, pivot doors are more traditional.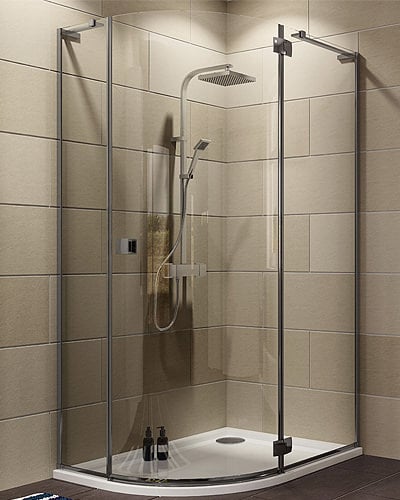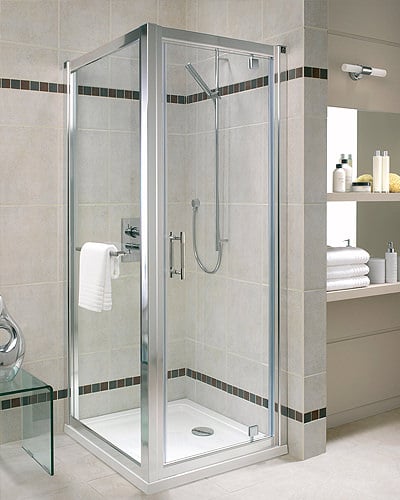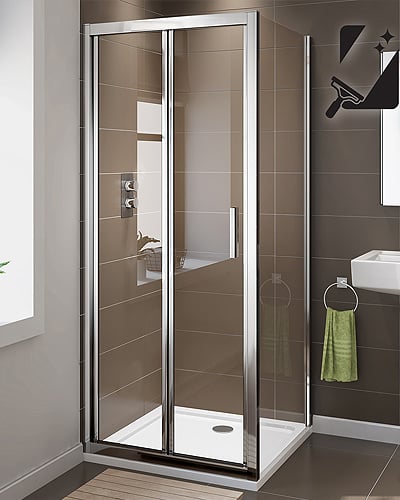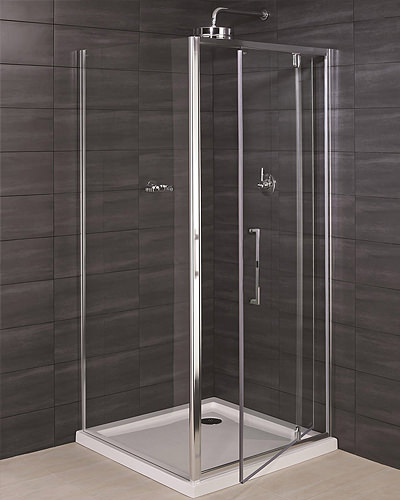 For those with a built-in bathtub/shower combination, a shower screen makes a functional and attractive upgrade to the shower curtain. More spacious bathrooms look beautiful with walk-in styles and steam cabinets that double as a shower. If you like the look of the quadrant shower enclosure and have an asymmetrical space, consider an offset quadrant. An offset quadrant enclosure is longer on one side than the other, giving a larger shower space than a standard quadrant style.
Finishes
Satin chrome finish enclosure can complement many styles of bathroom décor, but you can also choose enclosures with silver, white, aluminum, grey, and frameless details. Steam cabinets also come in black, dark brown, ebony, macassar, oak, walnut, and wenge. Whatever your décor and desired effect, you can achieve it with the beautiful finishing details of your shower enclosure. Aqva Bathrooms carry many different types of products in this category.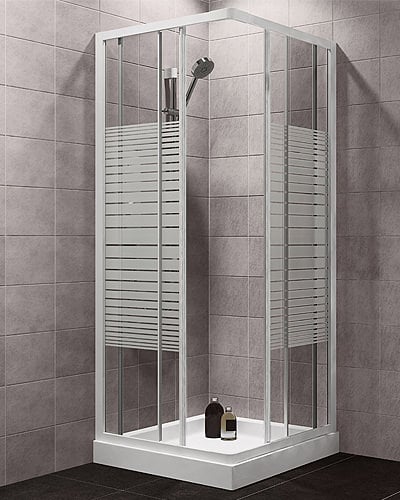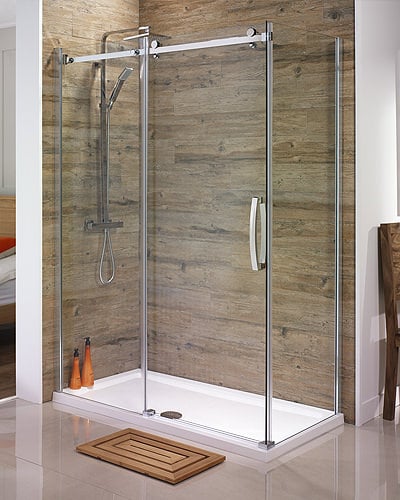 ---
What You Need to Know Before
Buying Any Shower Enclosure
Before purchasing any shower enclosure, there are a few key points to consider. While quadrant shower enclosures are smaller, and easier to install than their more traditional counterparts, there are still some basic guidelines that should be followed.
Space – Quadrant shower enclosures are designed to get the most out of a smaller bathroom's limited space, but the size of your bathroom will still have an impact on your choice of cabin. Consider height as well as depth when making your final decisions. The size of your bathroom will largely dictate whether you opt for a standard or offset quadrant enclosure.
Positioning – When it comes to quadrant enclosures the positioning of the unit comes down to a choice of corner. If you are replacing an existing shower, it is generally best practice to put your new cabin in the same place as the old. This will require less plumbing work, making the project easier and less costly overall.
Types of Glass – Toughened safety glass is recommended for all shower doors and walls. It is long lasting and easy to clean. 8mm or 10mm is standard, although, if cost is a driving concern 4mm or 6mm will serve nicely. Keep in mind that the frame of the new enclosure needs to be compatible with the thickness and type of glass you choose.
Tray or No Tray – In almost all cases a quadrant shower enclosure requires a tray. As a general rule of thumb, it is best to buy the enclosure and tray together to ensure a watertight fit that prevents leakage.
Left or Right-Hand Fitting – As you browse through AQVA's selection of quadrant shower enclosures you'll notice that they are typically referred to as "left-handed" or "right-handed." Once you have decided which corner will be home to your new shower, stand with your back to that corner. If the door is going to open on the left-hand side, then you will be looking to purchase a left-hand enclosure. If it needs to open to the right, you will be looking for a right-hand enclosure. Other options, such as twin doors or sliding doors, can also be considered. You should first take stock of any windows, doors or other obstructions that might impact your final decision.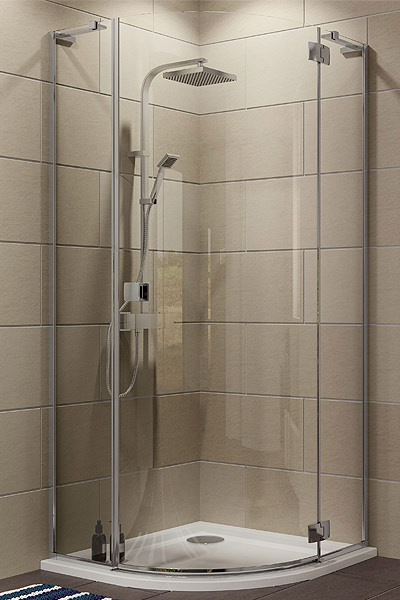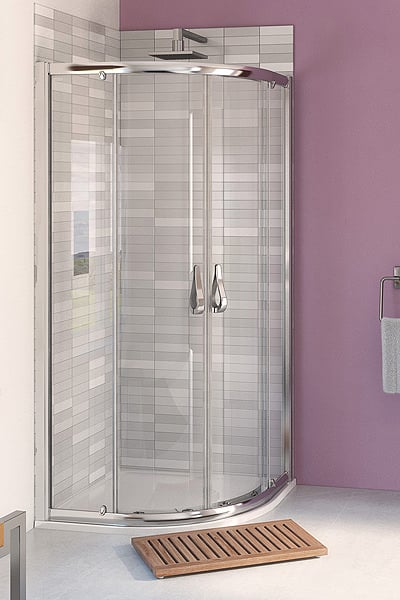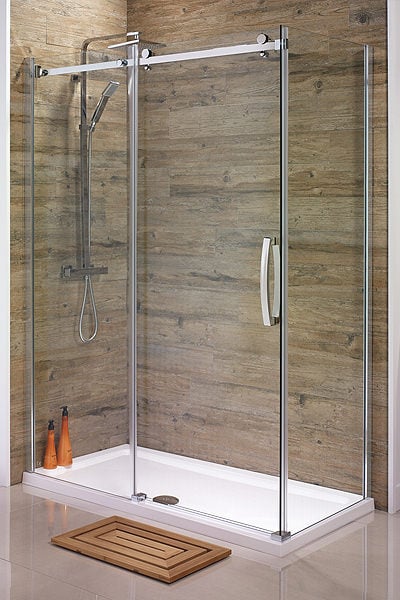 Offset or
Traditional?
Quadrant shower enclosures come in two basic types, traditional and offset. The traditional quadrant enclosure fits tightly into a corner and has a curved trap and frame. These are surprisingly compact, with interior dimensions 800mm x 800mm or 900mm x 900mm, and are a common choice for those with particularly small bathrooms. At AQVA we carry an extensive line of standard quadrant shower enclosures from top brands such as Showerlux, Aquadart, and Simpsons.
Offset quadrants have one side longer than the other, with interior dimensions typically ranging from 1200mm x 800mm or 1200mm x 900mm. While these types of units still fit nicely into a bathroom corner, they allow for a bit more space within the enclosure giving bathers more room to move around. Offset quadrants are available in a variety of styles, and we currently carry a diverse selection from manufacturers like Twyford, April, and Aqualux.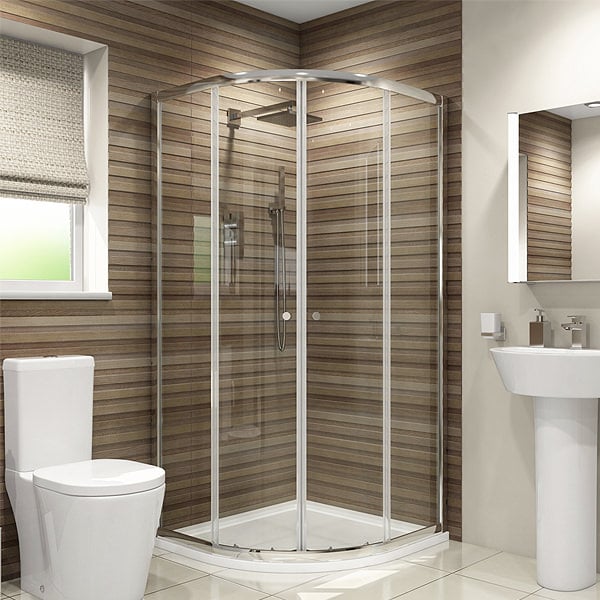 Installing Your
Shower Enclosure
Whether it is a DIY project or a full scale remodel, the installation of a new shower enclosure should be approached carefully and with an eye toward detail. Getting the installation right the first time will prevent any hassles down the line. The video below is a short primer that outlines some of the key features of installing a new shower enclosure and will guide you through some of the basic techniques to follow and pitfalls to avoid.
---
Shower Cubicles
Buying Guide
Unless you have a walk-in shower room, you are going to need to buy a shower cubicle when re-modeling your bathroom. Shower cubicles work as self-contained showering units, preventing water from getting onto floors and walls. The shower cubicle is a four-sided installation with a clean and hygienic presentation that ensures total privacy and a dry bathroom floor. There are a few things to consider, however, before making your purchase.
Style & Size
Firstly, the shower cubicle has to fit your bathroom. There are a variety of styles available from the traditional square and quarter circle models to rectangular styles. Make sure that your cubicle is spacious so you can have a comfortable showering space.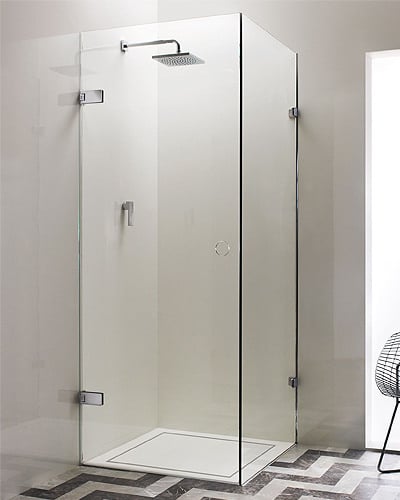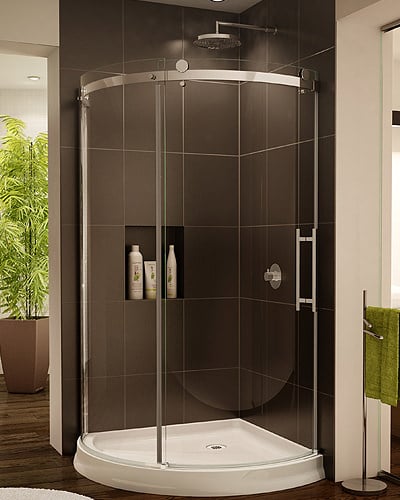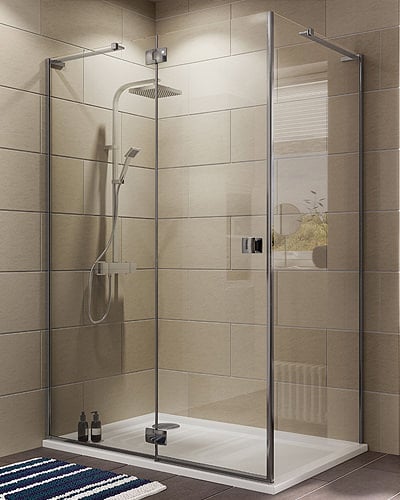 To Buy With Tray
or Without Tray
One can either buy a shower cubicle complete with a shower tray (to form the base or floor of the shower) or without one. In general, it is preferable to buy an enclosure with a tray, simply because you buy trays that are designed to fit the enclosure minimizing the risk of water seeping out of the shower and wetting the bathroom floor.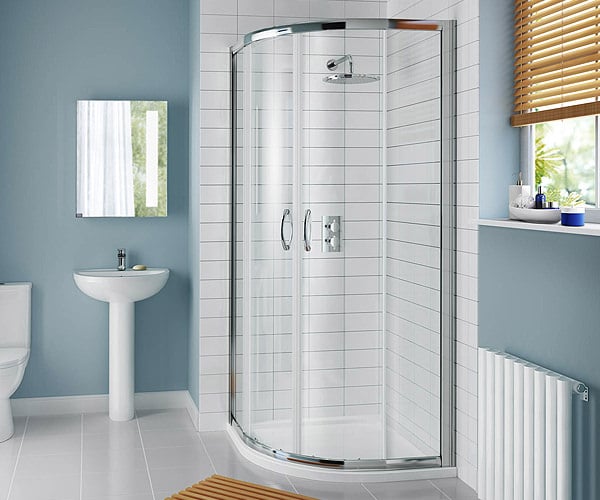 Glass
Older plastic enclosures are not so common anymore, because plastic does not stand the test of time, and quickly develops scratches and gets dirty. Modern enclosures tend to be made from tempered glass. Ensure that the glass is at least five millimeters thick, due to safety issues (you do not want the shower door to shatter). If possible, edged glass is better. Glass that has no material around the edges is liable to chip and break more easily.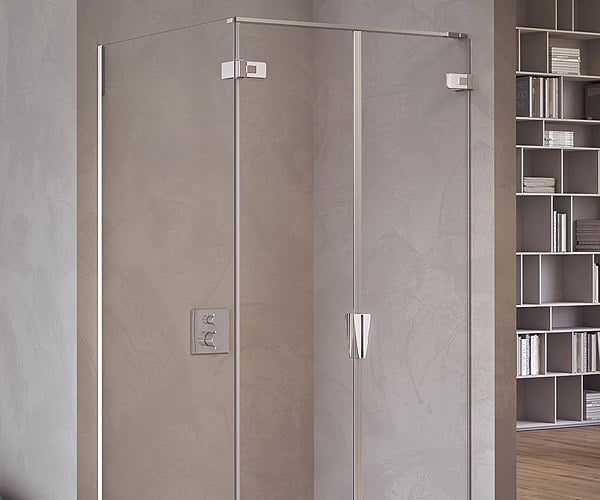 Doors
Since the door is the only part of the cubicle that moves, it is the part that undergoes the most stress. On traditional open-and-close doors, ensure that the hinges are solid and the door functions properly. Look for smooth action on sliding doors, and check the door runners at the bottom or top to make sure they are of good quality and will not break.
Aluminium
Some shower cubicles have aluminium framing. Check the quality of the material, before purchasing. Firstly ensure that it is aluminium and not a cheaper alternative. Also, make sure that it is solid aluminium and not aluminium painted over a cheaper metal. The framing of this cubicle is what supports and strengthens the structure. Metals other than aluminium, or aluminium that is too thin may lead to denting and buckling of the frame under pressure.
---
Buying Guide for
Steam Showers
A steam shower is an excellent, luxurious addition to any bathroom. They work as traditional showers as well as producing plenty of steam in an enclosure so one can get a spa-like treatment at home. They are designed to refresh and rejuvenate and are the equivalent of a wellness solution. They not only add beauty to your bathroom but also provide a completely new and innovative way to enhance your showering experience. But there are several things that one needs to consider before making this expensive purchase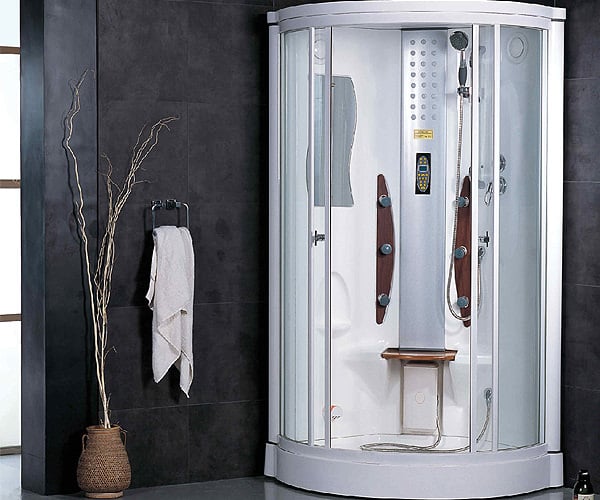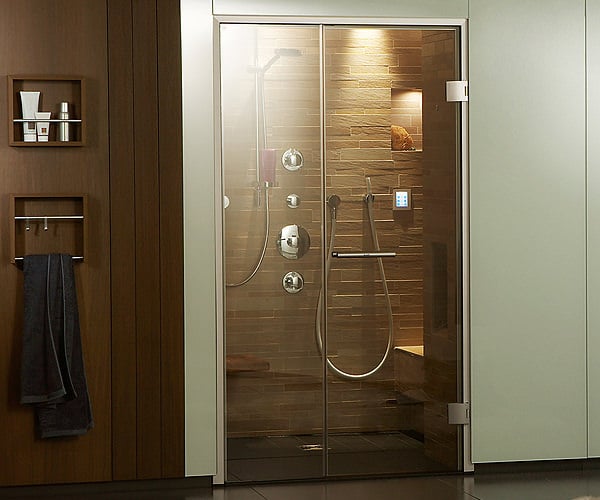 Modular or
Built-In
Modular steam showers come with everything one needs in a shower, including the enclosure, and can even be dismantled and taken with you when you move, to be set-up anew. Built-in shower rooms are more costly, and occupy more space, but function better and allow designing and customizing things to suit your preference.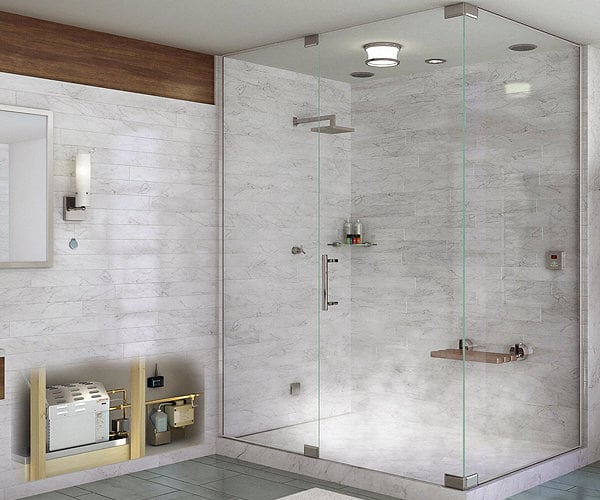 Electricity
Steam showers require a steam generator which comes in two forms, either 120 volts or 240 volts. A 120 volts generator is suitable for small enclosures, but bigger spaces need more powerful 240-volt models. However, be sure to check that your bathroom is wired for the correct voltage; one may have to consult an electrician.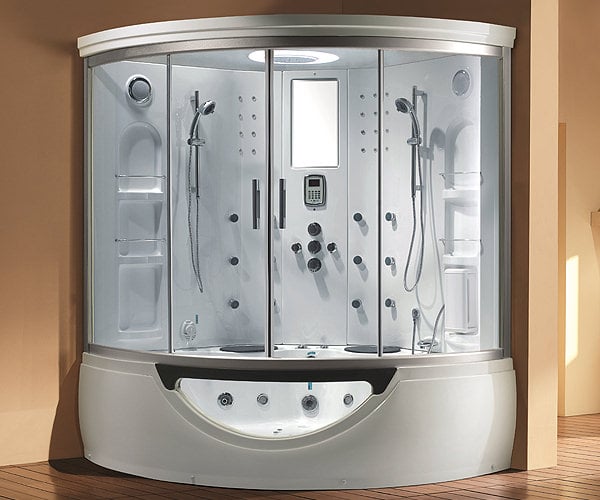 Somewhere to Sit
The whole point of a steam shower is to have a place to relax and enjoy the health benefits of a steam bath. If you are choosing a modular steam shower, make sure that it includes a place to sit comfortably and relax. Most models these days contain a seat, but do ensure that it is comfortable enough to sit on for extended periods of time.
Special
Features
Steam showers are relatively expensive and come with a number of distinctive features. Things to look out for are – a quick warm-up (which produces steam quickly, so you do not have to wait), aromatherapy (which allows scented oil to produce steam), and chroma therapy (which uses different kinds of lights and colours inside the shower, to make the experience even more relaxing while also creating a magnificent visual effect).
---
Buying Guide for
Shower Tray
A shower tray is an essential feature in your bathroom since it is designed to catch water and channel it towards the drain, keeping your floor from getting wet. Unless you have a built-in shower, a shower tray is an absolute necessity. With so many different makes and models on the market, choosing a shower tray can be confusing, unless one knows with certainty what one wants. There are a couple of things that one needs to take into account when making a purchase.
Shape &
Sizes
Traditionally, shower trays are square, which is a convenient shape to place about anywhere in the bathroom. The other common choice is quadrant, which is shaped like a quarter of a circle and fits only into corners. There are other options, with rectangular trays becoming increasingly common. Firstly, one needs to ensure that the tray is going to fit in your bathroom. The disadvantage of a rectangular tray is that unless you have an extremely powerful shower or two shower heads, the water spray often will not cover the whole area of the rectangle. This wastes space, but can also make your showering experience colder, since there will be more cold air in the cubicle with you. A newer tray is the "slim line" tray, which has a lower profile. The step up into a slim line tray is often only about five centimeters.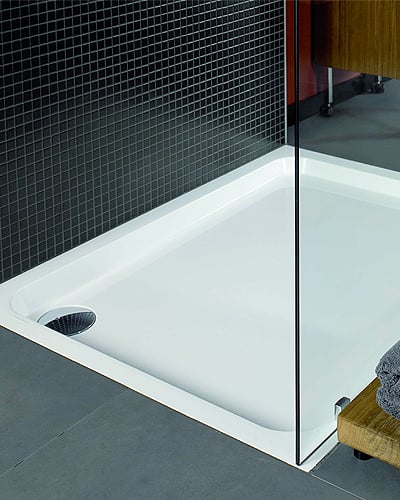 Material
One also needs to consider material. There are two kinds of materials used in shower trays. One is Stone Resin, which is made up of shards of stone and glue which is poured into a mould and then polished. This is quite slippery when wet, so stone resin trays usually have inbuilt anti-slip features, which can be difficult to clean. Acrylic is also a popular choice. Older acrylic models were known to be fragile and to split and break easily, but advances in technology mean, that modern acrylic is almost as hardy as stone resin.