Lighting is one of the fundamental segments of innovative home decor and design. Lighting can be fun; it can be practical or comforting. Whether used in the living room, bedroom or kitchen, its arrangement can touch upon multiple factors, based on desires and lifestyle. We have a list of some amazing lights and lamps that cover the entire gamut of emotion. Truly, designer, these take inspiration from nature or feelings inspired from nature and cast those to enhance any home decor. Some of these creations are intense and used to brighten up any room while others are subtle and create mystery and mood, enabling deep slumber.
Cloud Night

Light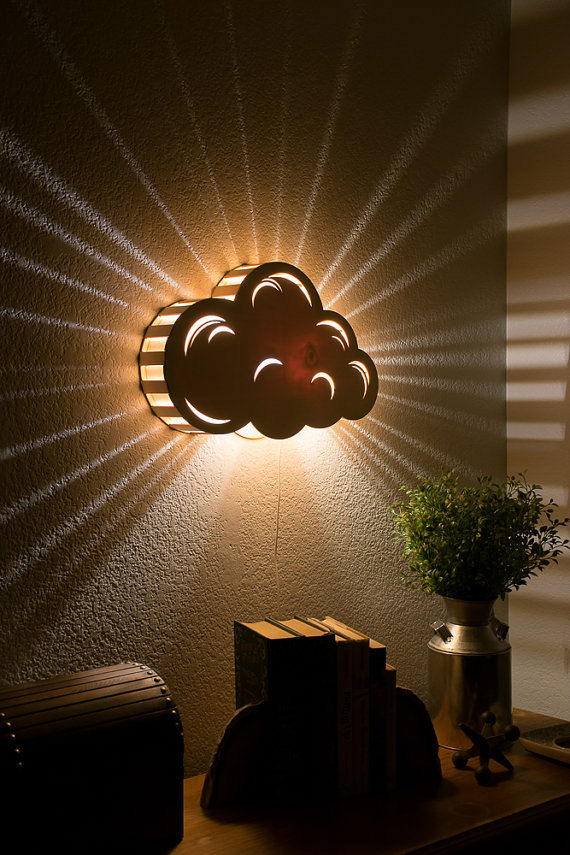 The wall mounted light is handcrafted into a cloud format and is ideally suited for kids or baby rooms. This wall-hanging beauty is realized from baltic birch plywood, perfected with a smooth finish. Its simple pattern and contemporary styling make it a fun addition to any room. Inspired by nature, this accent light updates the décor of the room while providing subdued, laser-cut light. The product comes in Bare Wood finish and includes adapters, LED or incandescent light bulbs for easy installation.
Butterfly

Wall Hanging Accent Light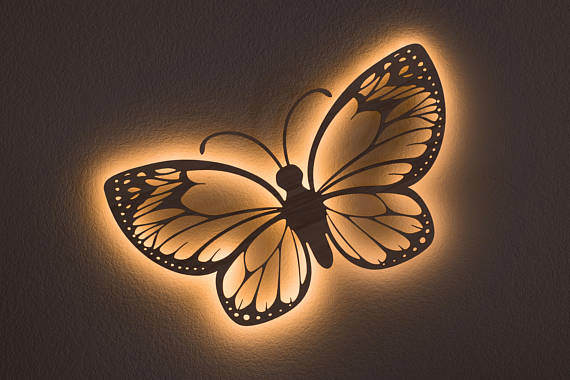 This specialized and trendy light is presented here as a charming butterfly form. The contemporary design is made of sturdy wood and takes inspiration from nature. The Bug themed light is educational as well as fun as a bedroom craft for children' nurseries. Handmade to perfection, it adds the desired glow of light through this delicately cut butterfly. This wall hung piece creates soft mood light in the evening.
Trio

Lt
These stunning décor lights are crafted out of high quality steel and display a contemporary geometric design. The format of these lights is rectangular that are stacked upon each other forming a delightful pattern. Crafted with simplicity and elegance, these will decorate your wall like no other. The light illuminates using 600 LED bulb to get the desired ambience by night. The charming TRIO can be controlled using the infrared remote control. Designed to become the focal point in your contemporary home, this light fixture is also energy saving and gives you up to 75 percent reduction on your energy bills.
Luna

Light
Luna lights bring the moon right into your homes, complete with the warm glow as we receive from the moon. This light offers the perfect illumination for premium spaces or wherever you are looking to make a unique statement. This magical design can be used to lighten up your favourite reading corner or craft a marvellous focal point above the dinner table. Let your imagination guide you to make your home pretty and perfect. Luna is made from glass fibre, and non-toxic latex with luminosity ranges from LUX1 to LUX5.
Jellyfish

Chandeliers
This design has been inspired by the wobbly creatures of the sea that are naturally bioluminescent. The brilliantly-realised form of jellyfish when crafted in glass, mirrored acrylic, mica and light come together to create a stunning and dynamic chandelier piece. These pendant lights come with two lighting circuits, one illuminates the body and glass tentacles with full-colour LEDs and the second one lights up the fibre optics. Simply perfect for the festive season!
Nautical Rope Pendant

Light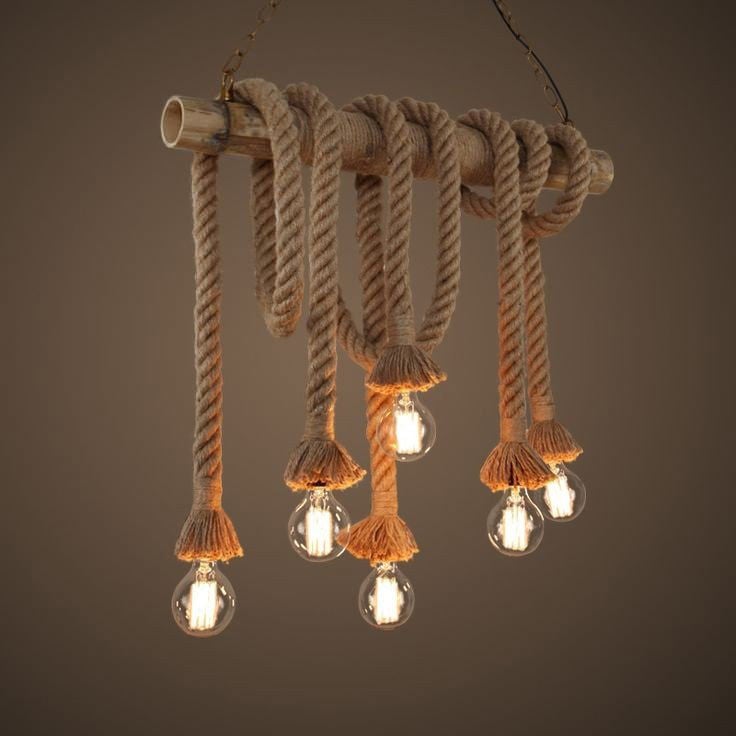 Pendant lights present a novel way to use light and as such are fixtures that are suspended from the ceiling. In the Nautical Rope lights, the suspenders are ropes that are entwined around a hollow bamboo-piece and present a very earthy look. Hand Knitted to perfection, one of the key materials used in the construction is wood. These beauties light up with LED Bulbs and can be used to create your dream ambience at the dining area, bedrooms or hotel rooms. Capable of spreading light over 15-30 square meters, these lights are covered by a two-year warranty.
Wonky Glass Wall

Sconce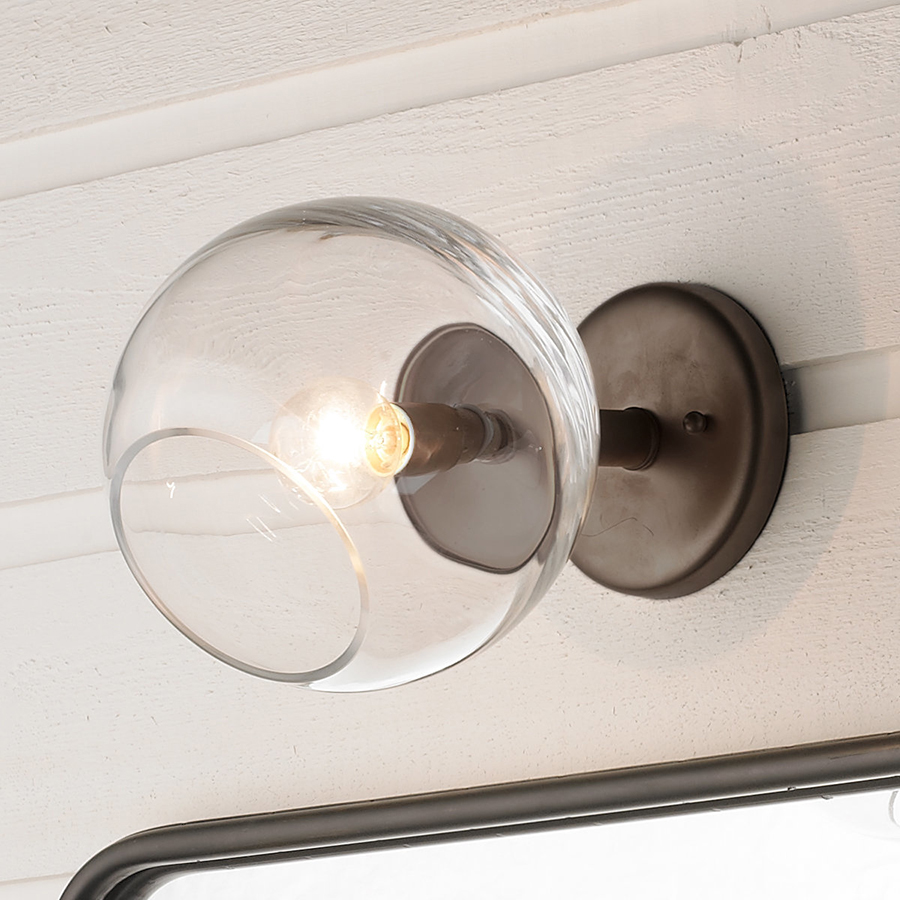 https://www.shadesoflight.com/products/young-house-love-wonky-glass-wall-sconce
The ambient light is an important component of a room's décor. Apart from the practical aspects of lighting up, lights also emit a welcoming glow and offer comfort. The type of ambient lighting used in a space influences that room's function and style that characterises its decor. This glass wall sconce is a magical wall hung light with an off-centre opening. Made from hand blown glass, its approach is modern resulting in a quirky yet sleek wall sconce light. You can choose from Matte Gold or Dark Bronze for the base.
Equilateral

Pendant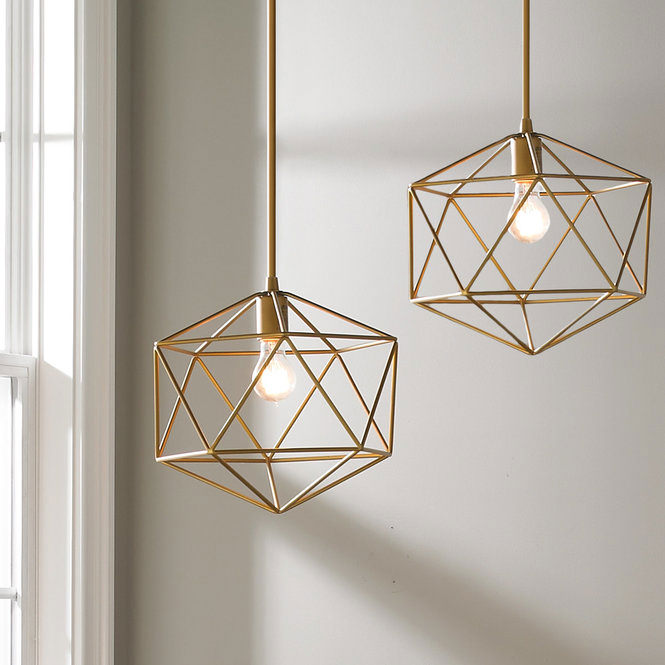 https://www.shadesoflight.com/products/young-house-love-equilateral-pendant
Are you looking for a minimalistic yet stylish light? The equilateral pendant light is an epitome of style and elegance, which will provide you with a designer look. Crafted in contemporary geometric pattern using metal rods, it features a stylish gold finish. This wall hung light is a perfect blend of all that you are seeking—form and function. The meticulous craftsmanship makes it an eye-catching and one of a kind addition to your beautiful home.
Geometric Diamond

Sconce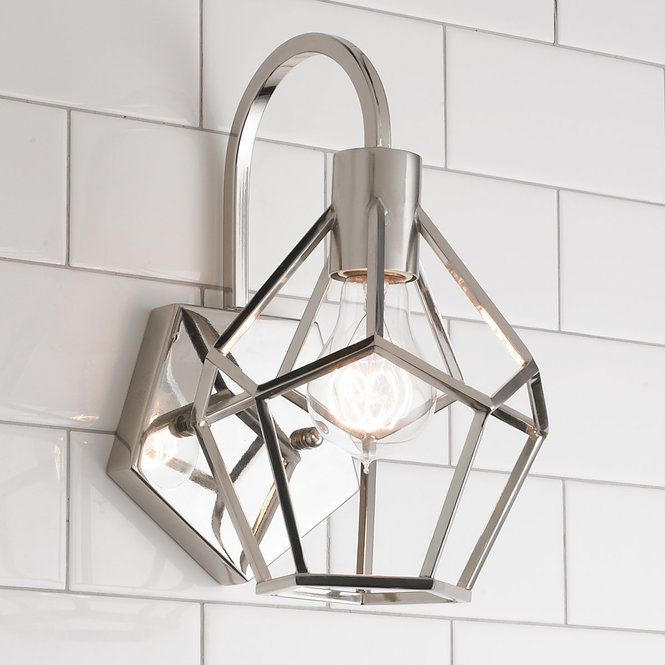 https://www.shadesoflight.com/products/young-house-love-geometric-diamond-sconce
Presenting a light that is superior in performance, with a vintage appearance and also sturdy! Eclipsing most others in the market is this metallic wonder, moulded from metal. Finished in high-quality chrome finish, this light will enhance the beauty of your home while spreading a warm glow. It comes with a very modern, geometric diamond shaped design that will perfectly complement any modern or even Victorian set-up. Select between dazzling chrome or rustic bronze and light up your life.
Geometric Diamond

Ceiling Light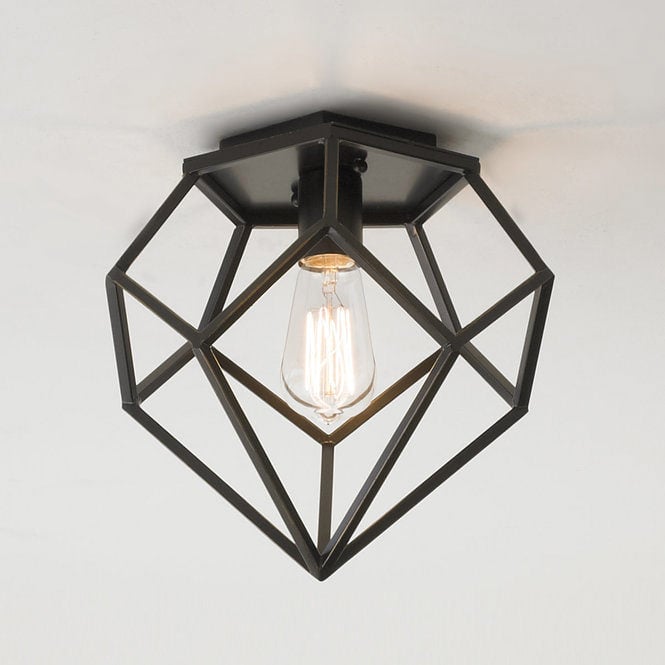 https://www.shadesoflight.com/products/young-house-love-geometric-diamond-ceiling-light
Be the proud possessor of this statement piece that will illuminate your home and hearts. Lights are integral to interior décor, and this Geometric Diamond shaped light is no exception that offers so much more. It offers a mix of modern and medieval with a retro style bulb in the centre. You can also choose to replace the bulb with an energy-efficient alternative. Fabricated from superior quality metal, and finished in bronze, this stunner is a must-have in modern home decoration.
Honeycomb Bubble

Pendant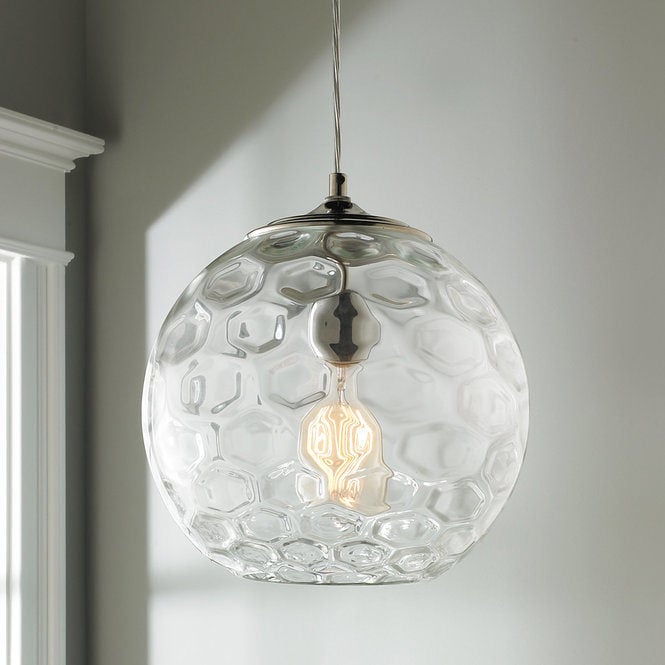 https://www.shadesoflight.com/products/young-house-love-honeycomb-bubble-pendant
Innovatively designed pendant light offers inimitable style in any space. The honeycomb format of this pendant light is nature-inspired while the bubble-like finish to the glass deviates from the usual. Exclusive and exquisite, this pendant light can be suspended from the ceiling above a kitchen sink or a dinner table. Crafted from translucent glass, moulded to perfection, it includes 9' of clear pendant cord and 5" round chrome canopy. Get it home today and spread the cheer!!
Mercury Glass Prism

Chandeliers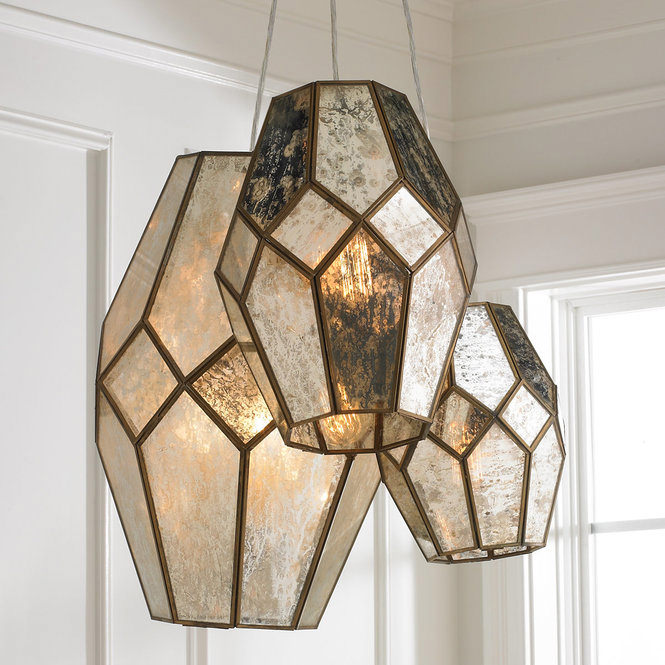 Geometric shapes offer rigid lines and clean finishes to any product. When it comes to lights, they enhance the style-quotient of the piece, giving it a very contemporary profile. This rustic chandelier is a combination of small and big diamond shapes of mercury glass, beautifully banded together. Here three different sized chandeliers create a charming cluster of light. Exclusively finished in bronze, these brilliant chandeliers can be integrated with both traditional and modern home decoration.
Oopsy Daisy

Pendant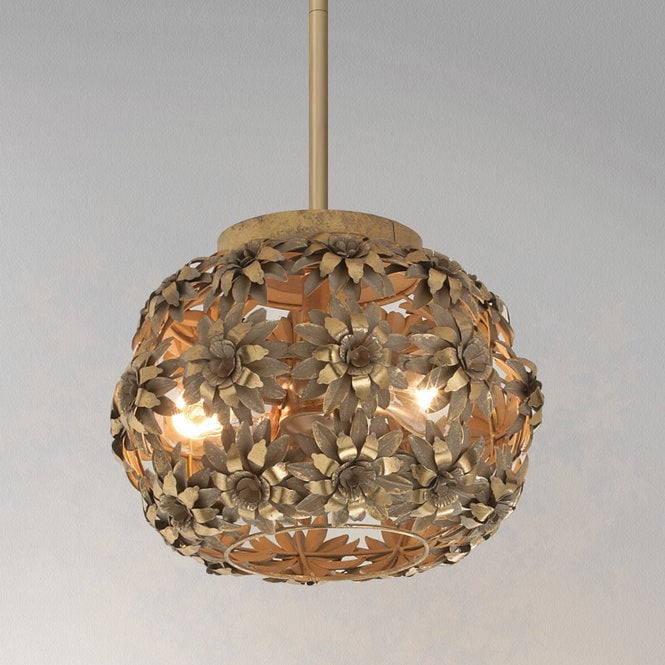 Bring luminescence with a touch of the outdoor garden, into the home, with this Oopsy Daisy pendant light. This excellently styled product is compactly designed with rows of metallic daisies in full bloom around the metallic base. Delivering maximum functionality, it will bring elegance and charm to any space and set new trends in fashion lighting. When you fancy floral, then don't miss a chance to bring this pendant light home. It comes in a gold metallic wash painted finish to instantly brighten your room.
Pil

Pendant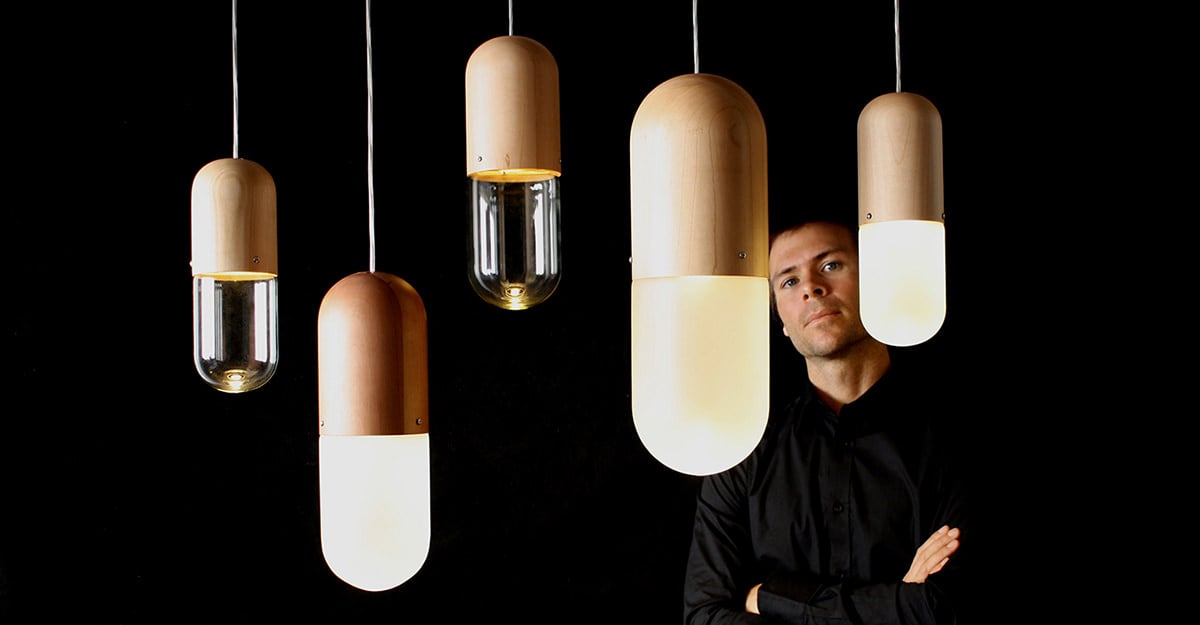 http://www.designtree.co.nz/products/lighting/pil-pendant
Trust designers to wow you with their designs and inspirations. Tim Wigmore surprises here with a light design, inspired by medicine. True to its name, the Pill is a pendant lamp and looks great in any kind of space, be it bedroom, bathroom, open atrium, or lounge. Presented in the capsule shape of a pill, it is sure to attract one and all. Its stylish form delightfully combines wood and blown glass, and meticulous craftsmanship with cutting-edge LED lighting technology to produce an inspiring sculptural piece.
Nautilus

Lampshade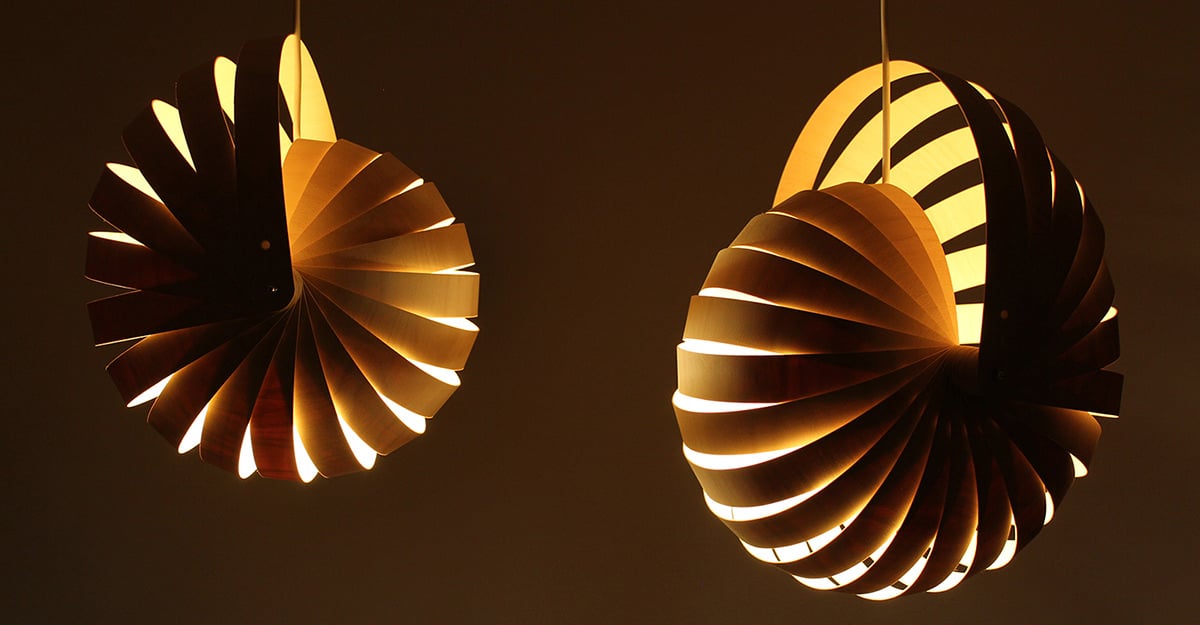 http://www.designtree.co.nz/products/lighting/nautilus-lampshade
Another replication of the marvels of the sea comes to you from designer Rebecca Asquith. Taking inspiration from a nautilus seashell is this kit-set Nautilus Lampshade that rolls back into itself to completely mimic the complex organic form of the nautilus shell. You can assemble it easily to create a stunning feature lampshade. Crafted from European Beech plywood, stainless steel and plastic, this piece will provide light and warmth for years.
Quin Pendant

Lamp
Enjoy exquisitely exhilarating sessions under the charmingly attractive glow of light of the Quin Pendant Lamp. This gorgeous creation is artistically designed to add to the alluring charm of any space. Inspired by nature, it is an expression of coming together of four different forms. Fluid and fanciful, it is fabricated from quality nylon for enhanced durability and includes a halogen lamp. Finished in glowing 3D format, it reflects light wonderfully and lights up the surroundings.
Sound Reactive Smart Cloud

Light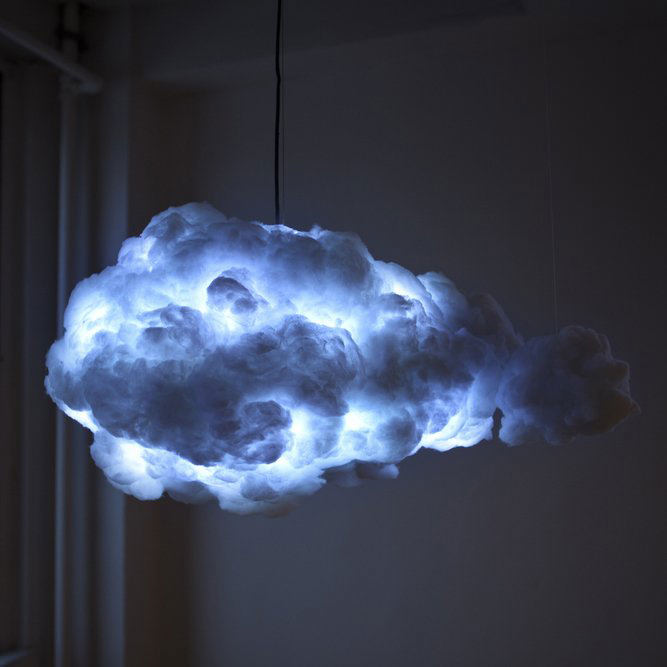 Nature is a masterful teacher indeed!! Are you poised to raise your room décor with nature-inspired sights and sounds to achieve new levels of style? Then you must take a look at the Cloud light. The Smart Cloud is an interactive speaker and lamp designed to mimic a thunderstorm in both sound and light. Fabricated from hypoallergenic polyester fibre, it has a stormy look, embedded Bluetooth speaker system and thunder sounds. Steal the thunder from the sky and bring it home
ClayLight Boomerang XL

Chandelier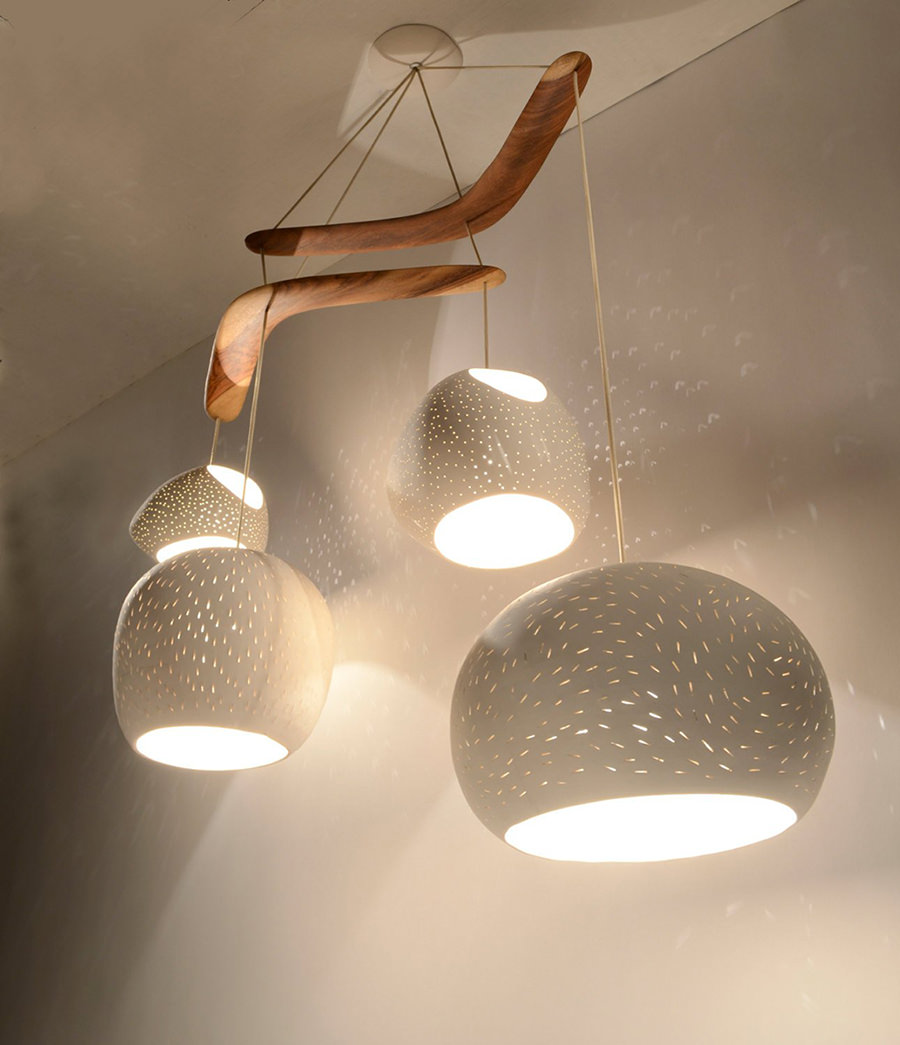 The Claylight Boomerang Chandelier is so stunning that it will etch its presence in the memories of homeowners who are seeking a high quality and alluringly attractive product. The innovative design makes use of 4 large ceramic perforated light shades that hang from two Australian brigalow wood boomerangs. The resulting dance of lights, textures and shapes is just awe-inspiring. This Chandelier is supplied with four dimmable light bulbs that are more efficient than regular incandescent ones.
6 wheels Pendant

light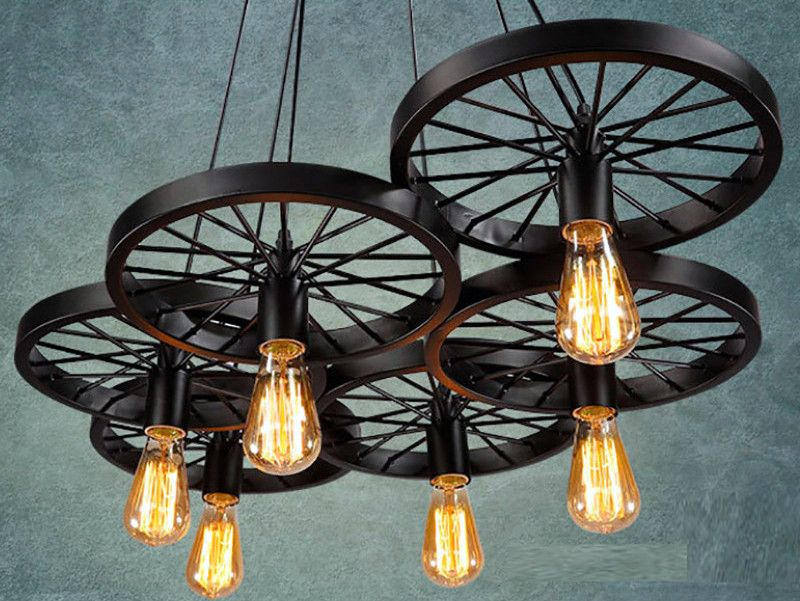 Light designs work towards offering comfort, combined with cosiness and calm, in the home. This pendant light excels in quality and attractiveness and features an ingenious coming together of 6 wheels with bulbs in the centre. The wheels and the spokes are crafted in metal and carry a black, antique finish. It has a rustic look that will update any traditional or heritage-inspired décor. The big incandescent bulbs add grandeur.
Kitchen chandelier

Light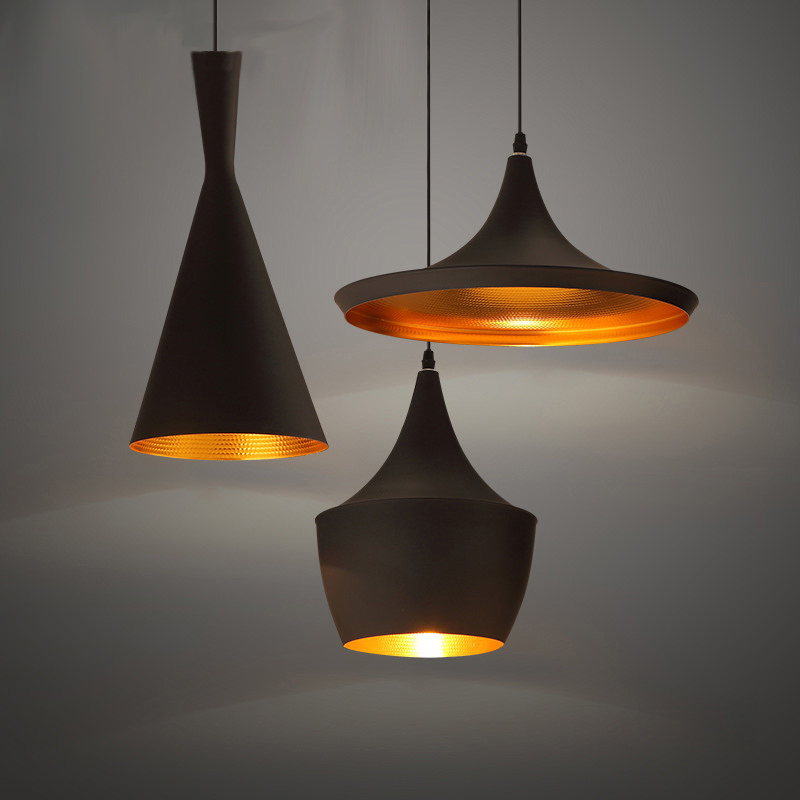 https://www.etsy.com/in-en/listing/278064822/pendant-lighting-pendant-light-fixture
Get pleasant and enjoyable glow in the kitchen area, with this 3-in-1 chandelier light. This attractive, new-age light is a breathtaking combination of 3 shades, with different formats. The plafond of these stylish lights is made of metal. Solid, minimalistic approach will make this light perfect for decoration of any café, bar, restaurant or home. Finished in excellent black fixtures that give this very chic and modern appeal, they also come in white and gold.
Spore Lamp

Laser Cut Pendant Lamp
Designed to beautify a space, the Spore Lamp will provide lighting par excellence. This lamp is created with 159 separate interlocked pieces, each with 1/4" thickness. The material used is Birch Plywood, with attractive finishes. The Spore Lamp was created using algorithmic modelling & parametric design for an eco-friendly outcome. The lamp is entirely cut and crafted using laser cutting machines, and the pattern has an inherent organic quality to it.
3 Light Sphere

Pendant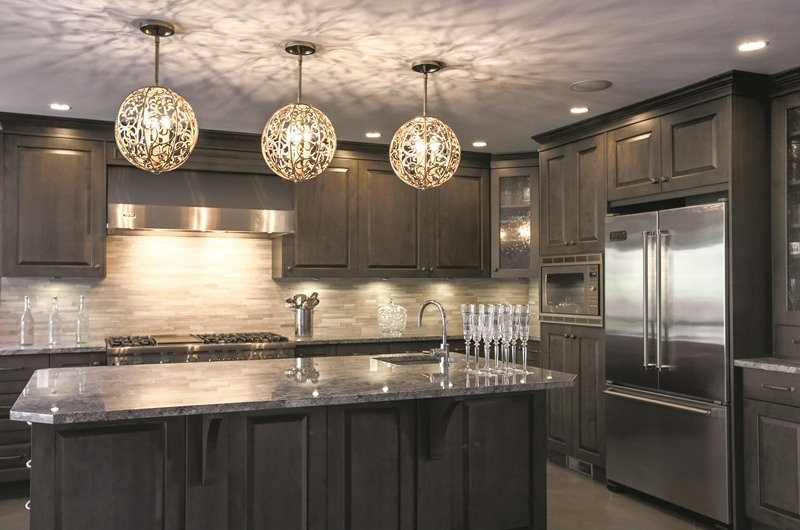 https://www.oberoi-brothers.co.uk/
These spherical lights are stylishly designed to add allure and elegance to your space. In harmony with the other fixtures inside a modern setting, they also operate efficiently. Crafted from superior quality metal, it will add style to your home for years to come. Its delicately curved intricate carving has unmistakably Arabic influences, rendering a strikingly modern light with a classic blend. Featuring laser cut scroll work, the Arabesque pendant is hand finished in a soft Silver Leaf Patina.
Designer Smoked Glass

Round Ceiling Light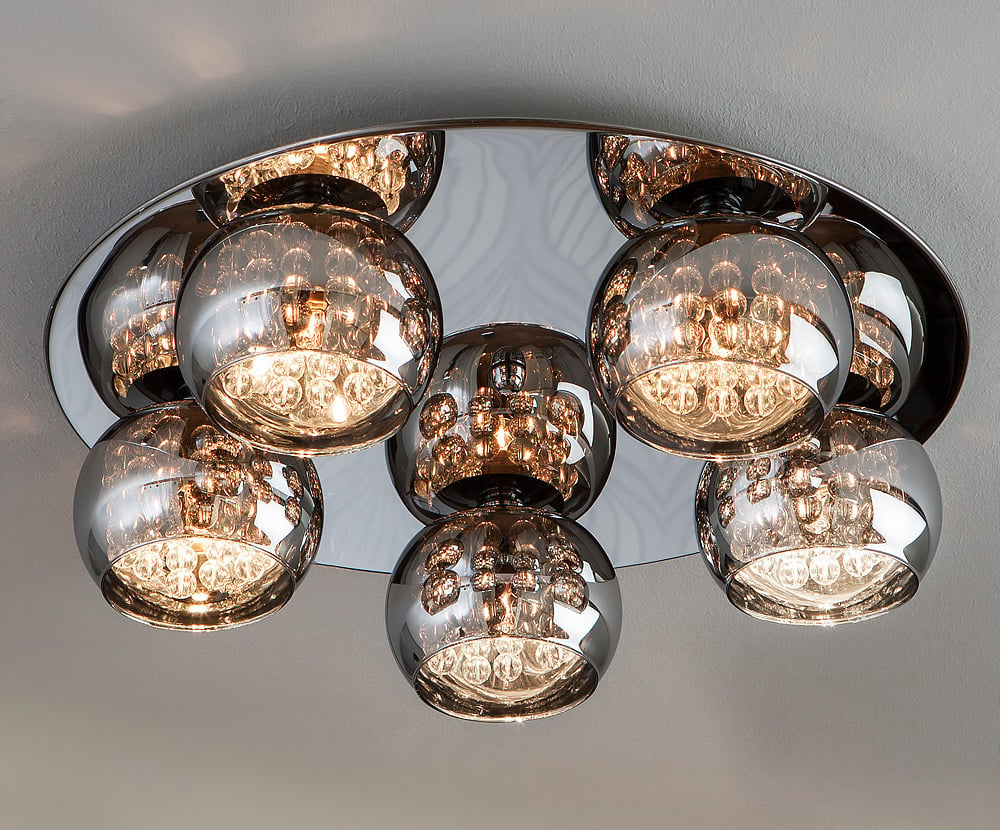 Light is an essential element used to brighten up any space and also tends to become the centrepiece of the place. It must, therefore not only be elegant and pretty but also spread a warm glow and create a cosy ambience. Designed to perfection, this opulent Round Ceiling Light does all this and more. Five beautifully designed glass spheres are attached to a sleek steel circular ceiling fixture. The profile showcases a combination of rich, smoky glass and shimmering crystal beads that are utterly gorgeous to look at while also producing a warm, sumptuous light.
Contemporary Steel Swarovski

Crystal Ceiling Light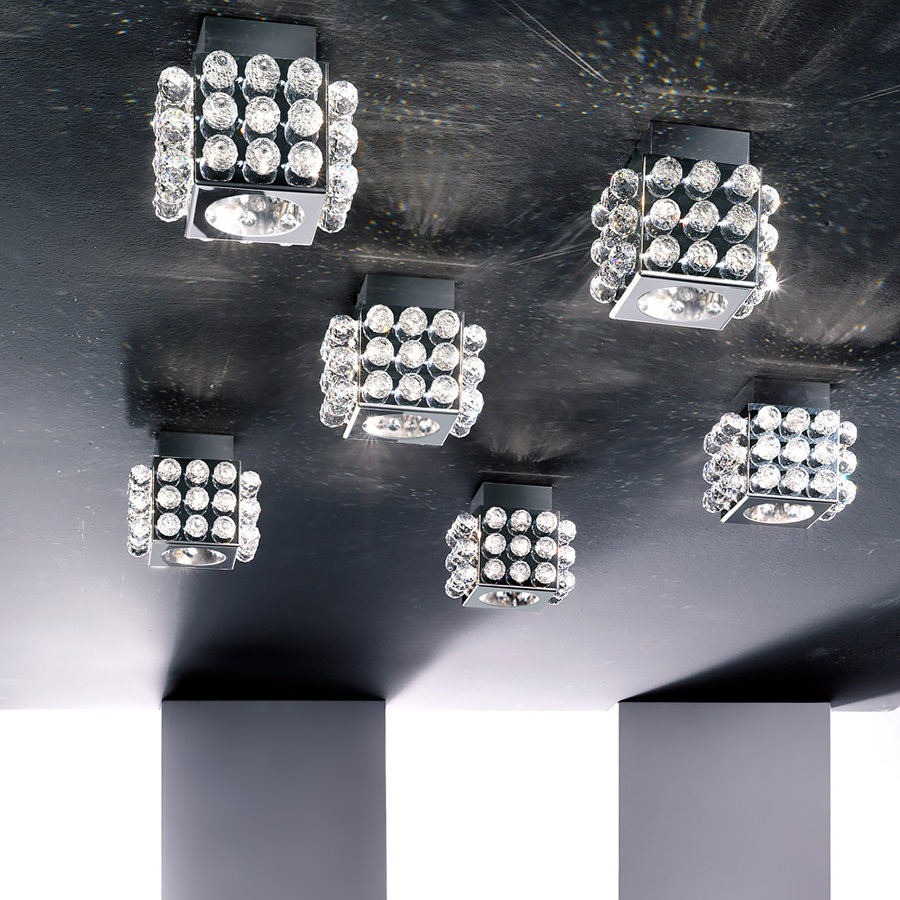 One look at this Crystal studded wonder is sufficient to steal your heart away. This enthralling and alluring creation has been manufactured with an eye on style as well as operational efficiency. This light is fabricated from modern steel and studded with Swarovski Crystals to bring you a contemporary ceiling light. It showcases a polished stainless steel cubed design decorated with Swarovski crystal faceted spheres. Spread light with this gorgeous creation from the latest contemporary collection of lights.
Peeling Wall

Light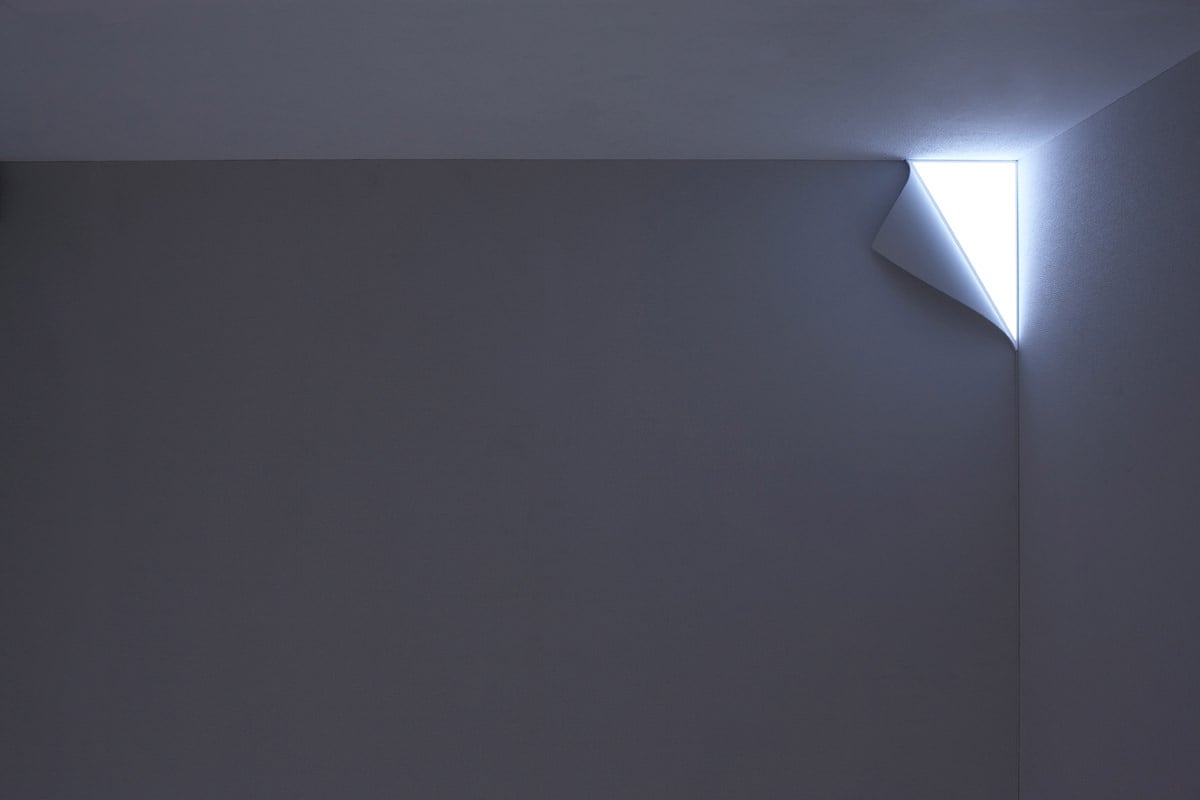 https://www.thisiswhyimbroke.com/peeling-wall-light/
When you are looking for a contemporary wall light that will simply stun one and all, check out the Peeling Wall light. The light looks like a piece of your wall is being ripped away to reveal a different world, mysterious and enthralling. OLED is used to make the light source as thin as possible, and the electric cable is left to stay along a corner of walls so that it doesn't stand out. One of the finest designs in recent times, the OLED light will lend an aura of grandeur to the room, living, dining or any other.
Sixlite

Lampshade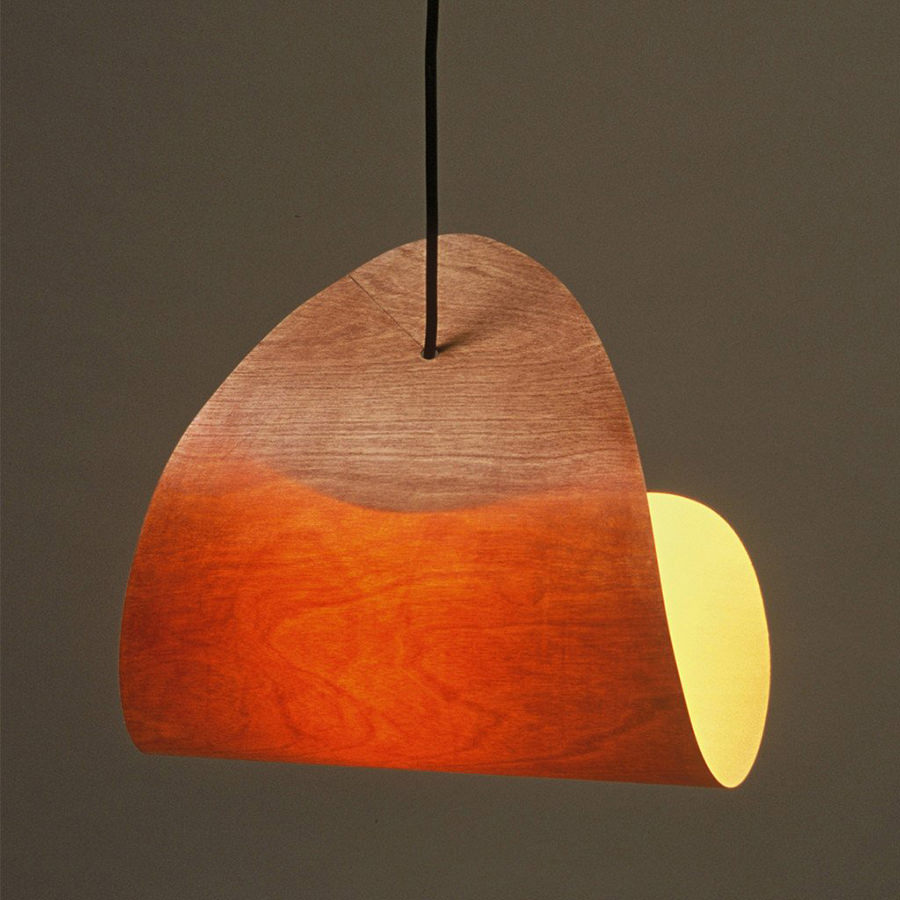 Are you looking for a tap that is an epitome of style and elegance, which will demand attention in any interior? Then take a look at this simple yet striking lampshade introduced in a contemporary avatar. The format is rigid yet fluid, cleverly achieved by rolling and slotting the shade onto the lighting cable. This product is crafted from natural wood, and some knots and naturally occurring blemishes may be visible. Such a natural look adds to the organic beauty of this shade that will shine bright wherever you install it.
Pitch

Pendant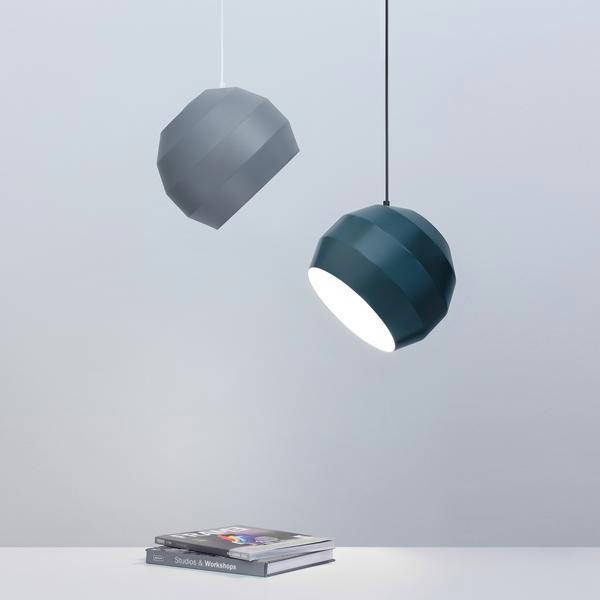 Every homeowner wants to be the proud possessor of a décor that is the envy of the neighbourhood. You can achieve the distinction of having enviously attractive interiors by gadgets and fixtures that are inherently unique. The Pitch pendant light is an epitome of grace and charm, simple yet stylish. The Pitch Pendant lamp is handcrafted by some of the finest craftsmen and showcases a banded, spun aluminium shade positioned on an internal dome, with a movable outer shade to guide light in any direction you desire. The bands on the outer shade create tonal strips of colour; you can either use this piece single or hand them in clusters for an enhanced effect.
Mati C18

pendants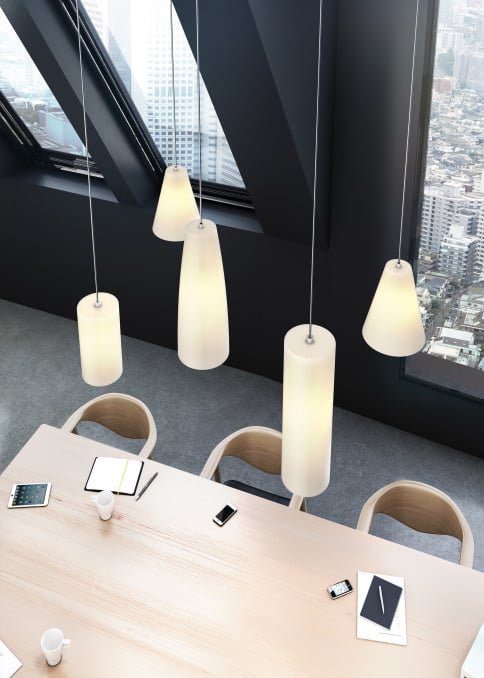 The Mati C18 cylindrical pendant light by LBL Lighting will enthrall and excite you with its presence. Subtle enough for use in any setting in the home, it is constructed from high quality hand blown glass. Use single or in a combination of two or three over a kitchen island, in the bedroom, or cluster them in multiple lights over a dining room table or in spaces that need additional light. You can improve its energy-efficiency by using LED bulbs. These modern beauties come with Satin Nickel finish with a choice or either Etched White glass or Smoked glass, are damp-rated and dimmable.
PH Artichoke

Light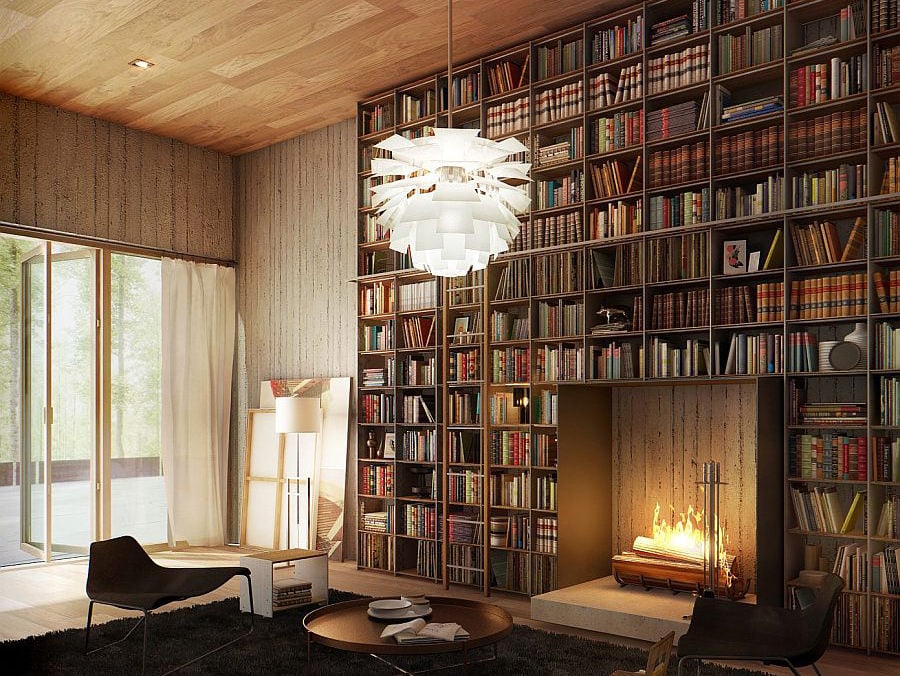 Convert your home into a room of style and grandeur by using unique, one-of-a-kind illumination piece. Designed to add allure and glamour to the surroundings, this PH Artichoke light keeps water temperature at the desired level. The PH Artichoke is a glare-free 360-degree luminaire constructed using 72 square leaves. The closely arranged pattern shields the light source, and also redirects and reflects it onto the underlying leaves, creating a distinct illumination. Leaves are meticulously crafted from laser cut stainless steel or die cut steel or copper. Top shade is made from white, spun steel set upon a high-lustre, chrome plated, and laser cut steel framework. With copper or stainless steel, brushed and lacquered finish, it will create a dramatic setting.
Tam Tam

Light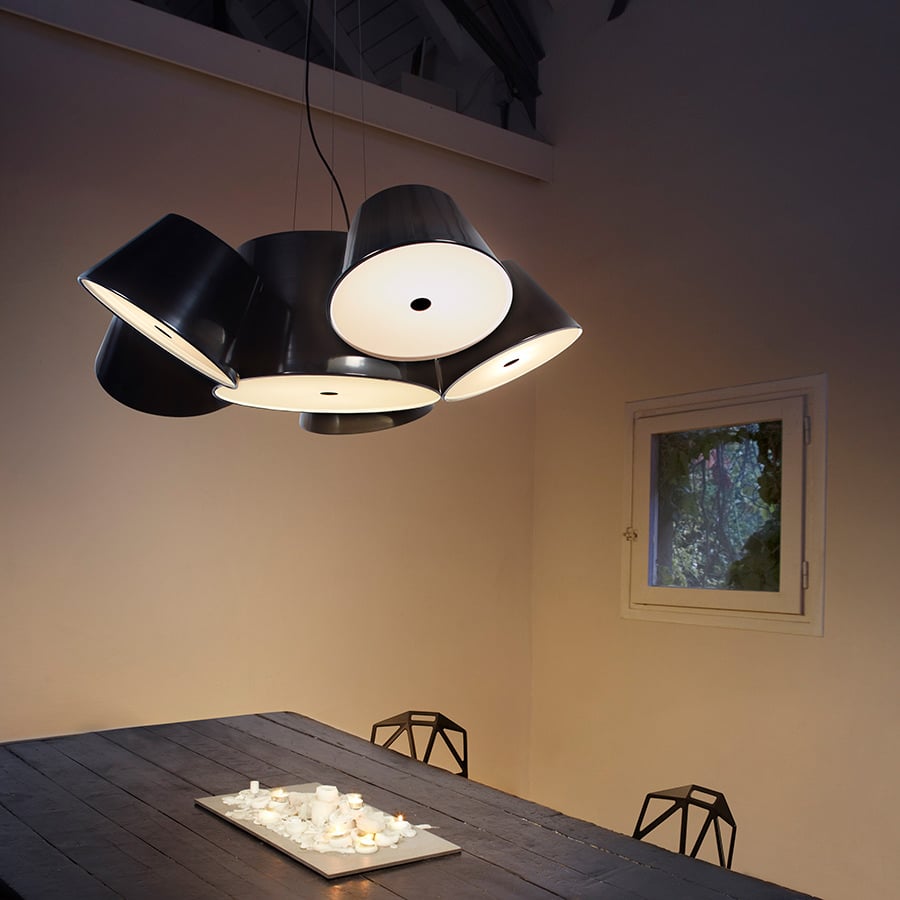 Enjoy an exciting and dreamy ambience with the Tam Tam light, which is a delightful cluster of shades. This light can be viewed from different perceptive; they sometimes look like a bunch of grapes or group of drums or anything that you can imagine, they become. The repetitive use of the lampshade, emitting light in different directions, creates a stylish, modern body of organized chaos. Each piece showcases a large central shade to which other satellite shades are attached. These rotate through 360º using a swivel mechanism and give your home an air of exclusivity.
Le Klint

Joker Pendant Lamp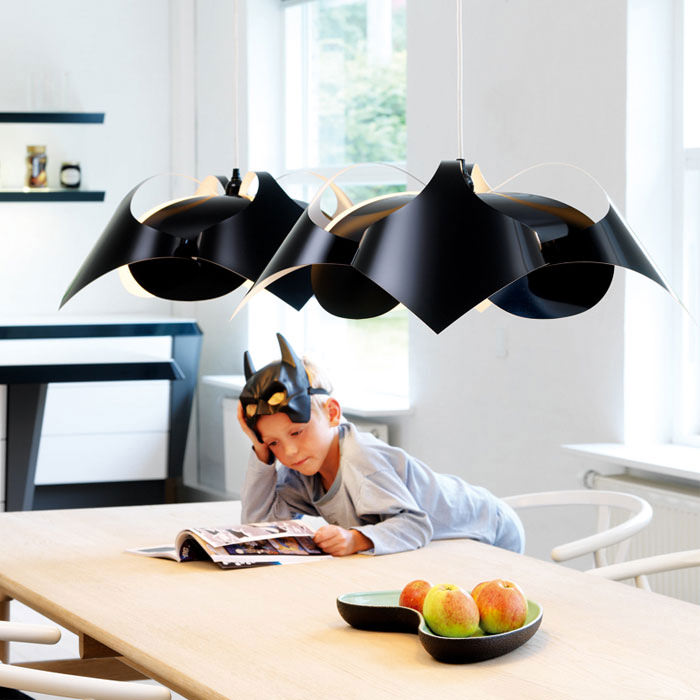 Be the proud possessor of this unique pendant Lamp designed for those who seek the thrill of the extraordinary. This light pendant is a simple piece, assembled by hand, and folds out like a beautiful flower sculpture, whether in use or not. The Joker was created by Christian R'der in 1970 where it won 1st prize at the Scandinavian Lighting fair. The Joker is now available in white-on-white, blue, orange, petrol blue, red, yellow, green and black. Fabricated from superior quality materials, the attractive light will update any modern setting with elan.
Emily

Group of Five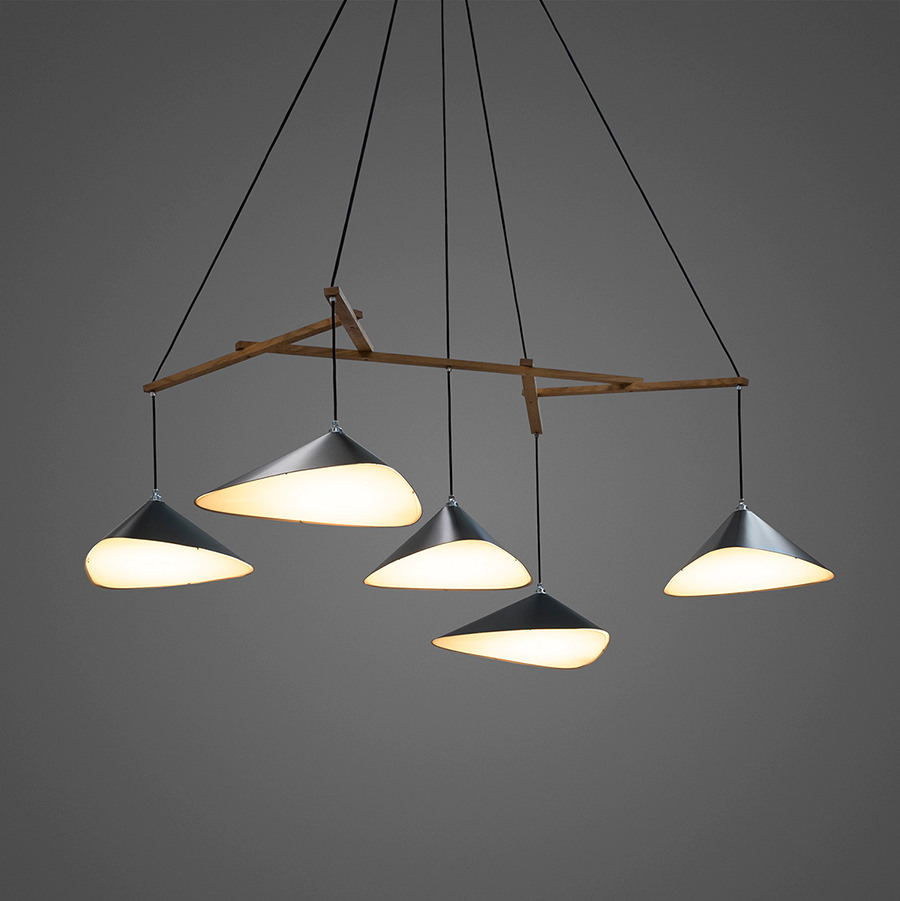 Designers are always looking to create hi-end products of timeless beauty, now introduce the brilliant Emily pendant lamps. This series of elegant pendant lamps with shades are handmade using sheet steel and spray painted in a semi-matte finish. Emily denotes the delectable partnership of 5 shades covered with frosted plexiglass for a beautiful, diffused light. Made from sheet steel that is wet painted and attached through a textile cable that comes in many different colours, this statement piece exudes glitter and glitz in any room.
Sparks

large pendant (polished)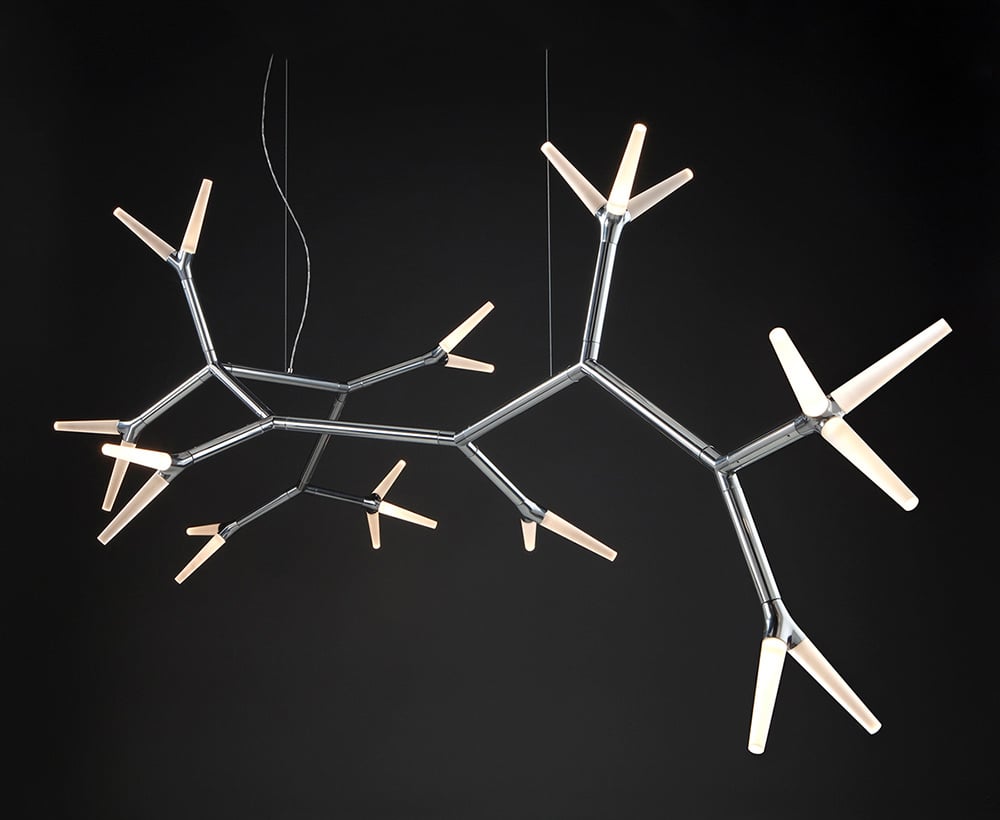 Designed to make any room the centre of attraction, the Sparks large pendant light is an epitome of beauty and on-trend fashion. The wall-hung light is a modular lighting system with three different modules that can be rearranged into various configurations to form a three-dimensional structure. Use it mounted on a wall, the ceiling or as a pendant lamp with wires as seen in the image. Crafted from best quality polished aluminium, it will brighten any home with contemporary fervour.
Diva

pendant
https://www.northernlighting.no/product/diva-pendant/
This space showcases just how wonderfully splashes of light can break the drab monotony of the twilight. Ideal partner in any modern or traditional setting, this Diva pendant light brings in splashes of warmth with use of organic materials for a lovely effect. Designed by Peter Natedal & Thomas Kalvatn Egset, this lamp can be either pendant or floor standing. The shade is made from Oak or Walnut wood and laminated plywood while the body is durable steel. This wonderful light is just what a cold room needs for much-desired warmth and character.
Diva

Floor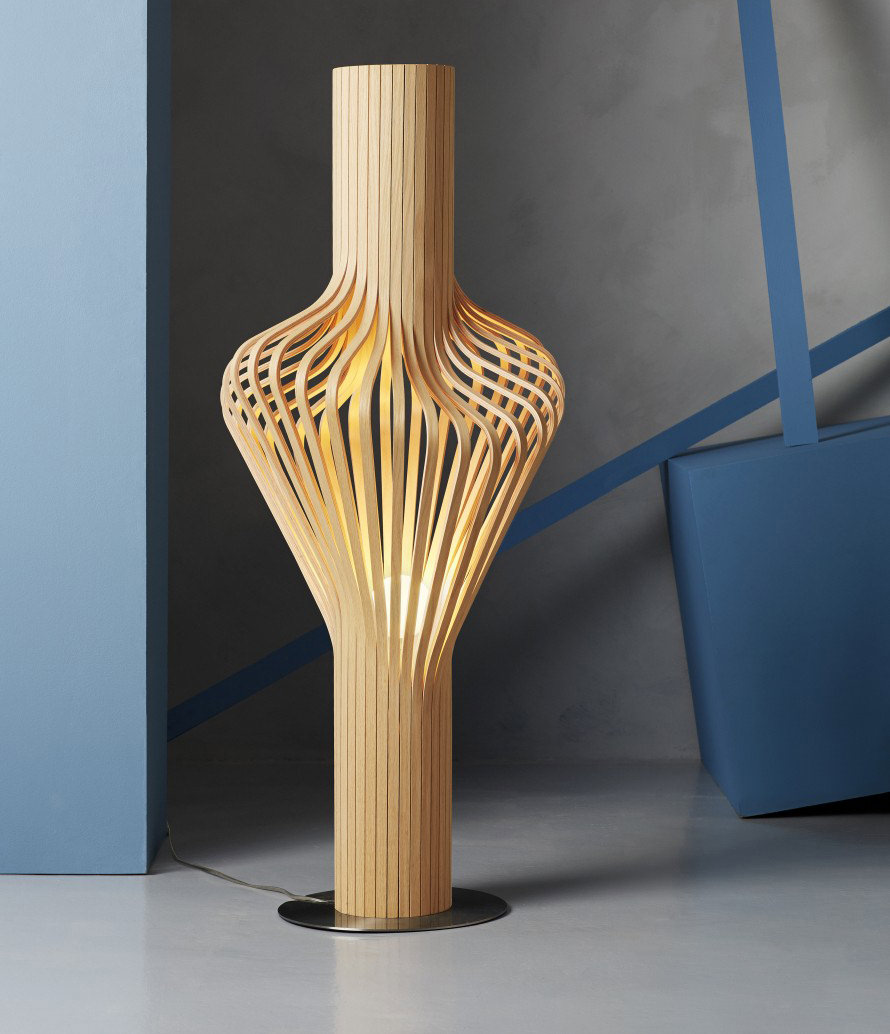 https://www.northernlighting.no/product/diva-floor/
Another version of the Diva pendant lamp is the floor model. Ideally suited for modern or traditional settings, this Diva pendant light brings in splashes of warmth with use of organic materials for a lovely effect. Designed by Peter Natedal & Thomas Kalvatn Egset, this lamp reflects light in a subdued and warm stream to create a touching ambience. The shade is made from Oak or Walnut wood and laminated plywood while the body is durable steel. This wonderful light brings much-desired warmth into any room and charm to any home.
Scheisse

Pendant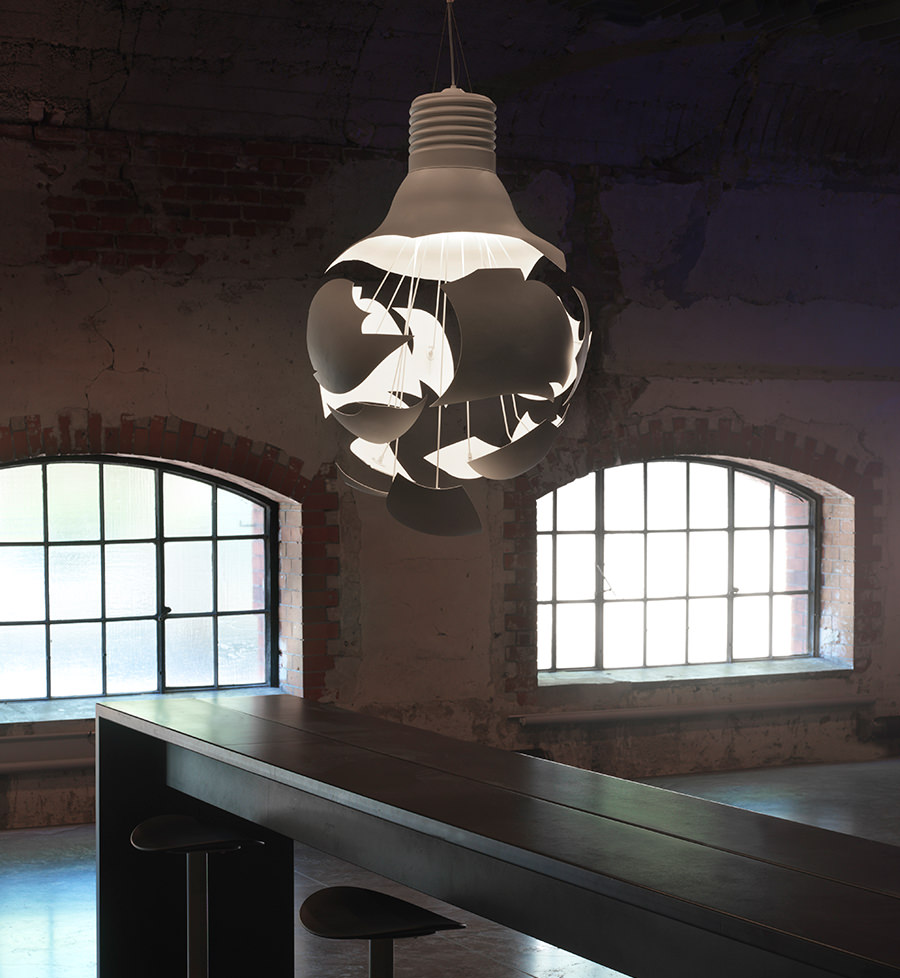 https://www.northernlighting.no/product/scheisse/
All elements of this pendant lamp come together to carve a striking design that will impact any space. Carved in a light bulb form, the shade is crafted from shards of aluminium that have a unique format of the bulb exploding into pieces. Every piece is kept in place by a metal rod and on both sides to reflect the light and project it downward. Inspired by the traditional incandescent light bulb, Scheisse is a fabulous work of a genius mind that will blow away any competition. Certain to gather lots of compliments from neighbours and friends.
Octo

4240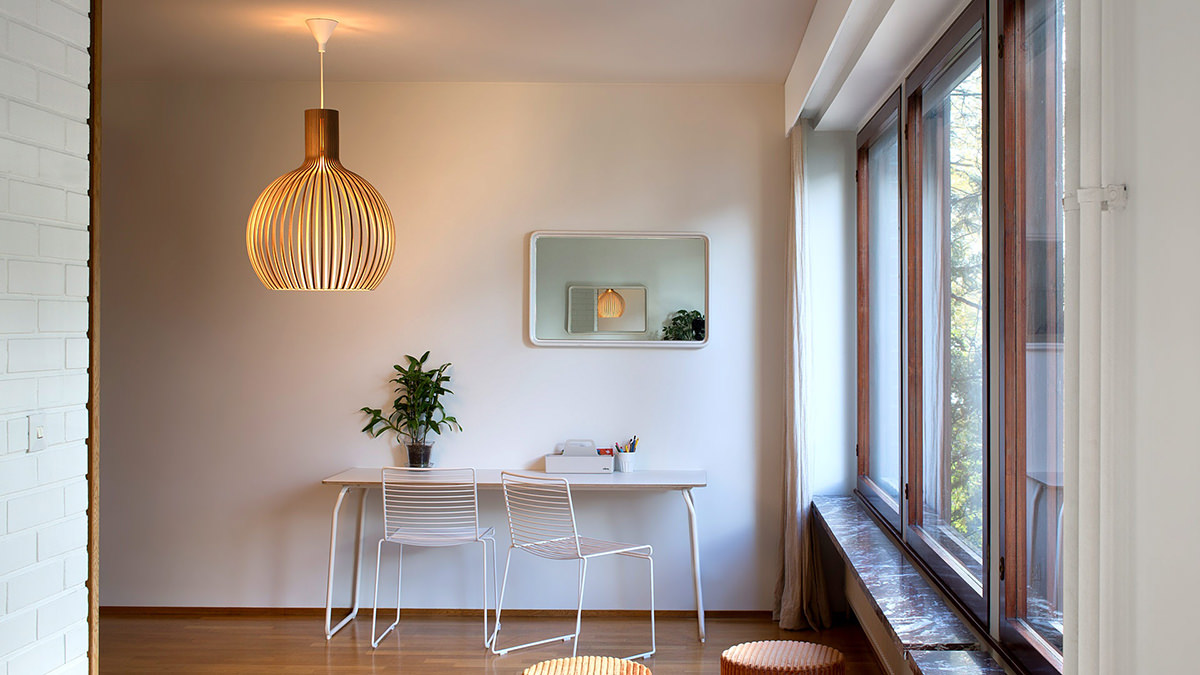 Get ready for sheer convenience and comfort offered by this highly attractive presentation. The Octo 4242 light is a dome-shaped wonder, featuring vertically striped design for enhanced effect. The Light is handmade by skilled craftsmen using PEFC-certified form-pressed birch. The wood provides a soft luminosity for atmosphere and natural appeal. The light is attachable to a DALI system with a separate, compatible mains dimmable driver. It is presented in exclusive finishes and will make a statement wherever placed.
Puncto

4203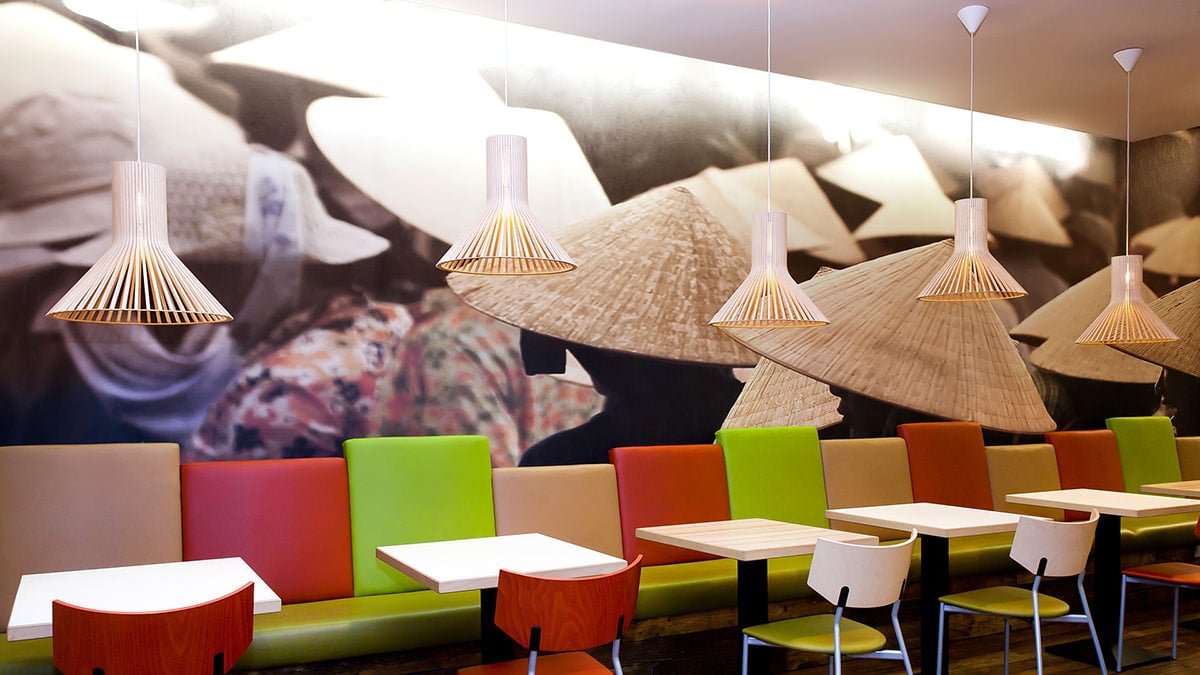 Introduce latest Scandinavian design in your bathroom in the form of acclaimed Secto Design lamps. An eye-catching and alluring member of the collection is the Puncto. Designed to spread light over a wide area, the Puncto also has a pleasant design carved in lightweight Scandinavian wood. Sprucing up most décor from restaurants and homes to office dining areas, this charmer includes a LED bulb. It won't take very nicely to use of halogen, mirror or 12V bulbs as the shades may get damaged due to overheating. However, it can be used with a DALI system compatible with mains dimmable driver.
Aspiro

8000
Bring a revolutionary evolution in your home décor with use of this latest lighting fixture available in the market. Aptly named Aspiro, the attractive spiral shaped overhead light will not only provide you with memorably pleasant light but will also add to the grace of the decor. This playful pendant light uses the latest LED technology and is made from superior quality Birchwood for a rustic, natural appearance. Can be kept clean with a simple wipe with wet cloth.
Kontro

6000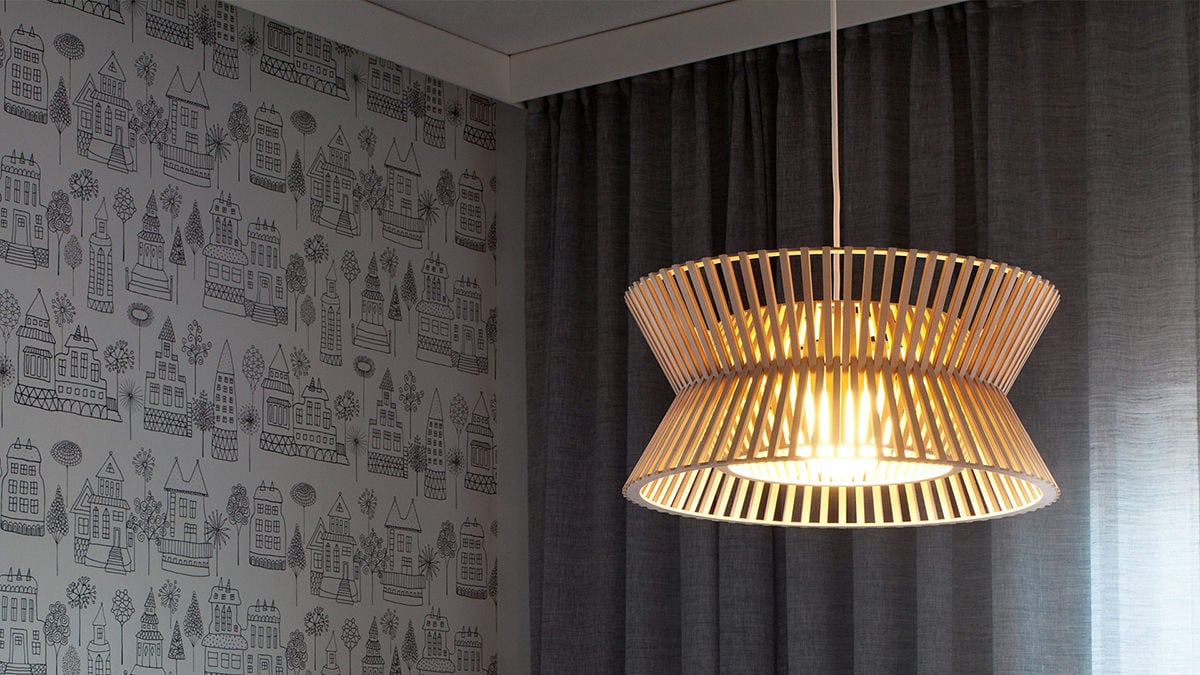 Kontro 6000 is a perfect contemporary designer work inspired by a standard chandelier, carved from Birchwood. Crafted to perfection with a wicker basket like pattern, it spreads light both upwards and downwards and also reflects it indirectly through the ceiling. Smart, elegant and stylish would aptly sum up its earthy look while also being high on efficiency. It can be attached to a Dali system with a separate, compatible mains dimmable driver. Easy to maintain, this will spread goodness wherever you switch it on.