Redesigning or remodeling that bathroom? Baths, showers, sinks, and toilets aren't the only thing to think about, you're going to need to consider bathroom furniture too! We're here to give you some help though and tell you about some of the issues you're going to need to think about when choosing furniture for your new bathroom.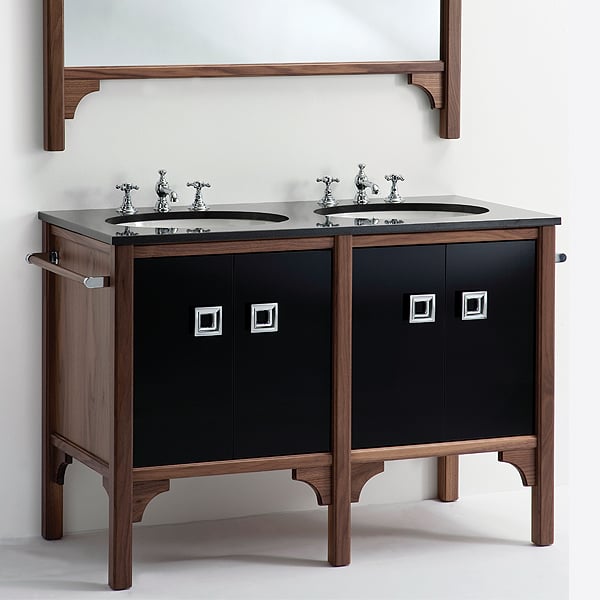 What is
Bathroom Furniture?
When designing a bathroom the primary concern for most of us is the fixtures of that room, the bathroom suite, tub, sink and toilet that you want. Just as with any other room in your house though, you'll also need to consider furniture, and in the modern bathroom, this can be anything from storage cupboards and units to chairs, shelves, and even accessories. This means that you're going to want to consider many different options depending on what style of bathroom you're looking at having.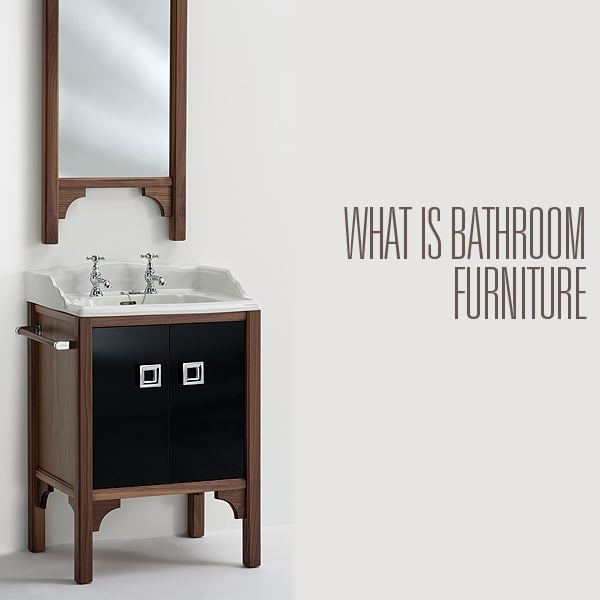 Why Consider
Bathroom Furniture?
There are a couple of issues at stake here. The first is that of storage. Just as with many other rooms in your home, and maybe even more so, you'll need to think about storage. The truth is that bathrooms have a lot of things that need to be stored. Think about extra towels, toilet paper, spare cosmetics and toiletries, you're going to need somewhere to put all of those things in your bathroom.
The key to a clean, tidy, relaxing and uncluttered bathroom is simply storage, and that means keeping cupboard space in mind when designing your room, as well as other furniture storage options.
The second issue is simply that of style. In the modern bathroom really anything goes. A bathroom is no longer simply a place to wash and go. Many people find that having a pleasant space with beautiful decoration and even relaxation areas such as chairs where you can sit and wait for your bath to run is a calming and important addition to their home.
What
Options

are There?

If you go bathroom furniture shopping you'll be amazed at the kinds of choices that you have these days. Traditionally, bathroom storage and furniture have been limited to fitted units that generally go under the sink, but nowadays there are plenty of other fitted cupboard choices. You can go with wall cabinets, corner cabinets, or even cabinets that fit around a toilet, giving you plenty of space to hide away all your bathroom accoutrements.

Aside from traditional solutions though, you'll find more and more modern storage methods. Shelving, both wall shelving, and freestanding shelving is a popular choice with many customers. Even free-standing furniture, tallboys, cabinets and cupboards, will be available for you to choose from.
What are the
Pros and Cons

of Such Options?

When you're choosing your bathroom storage solution your decision really only comes down to one factor, and that's how much space your room has. Fitted units tend to be the ideal solution for smaller rooms since they use space (such as under the sink) that would not be utilised otherwise. Similarly, wall solutions such as wall cabinets or wall shelving are good for bathrooms with limited space.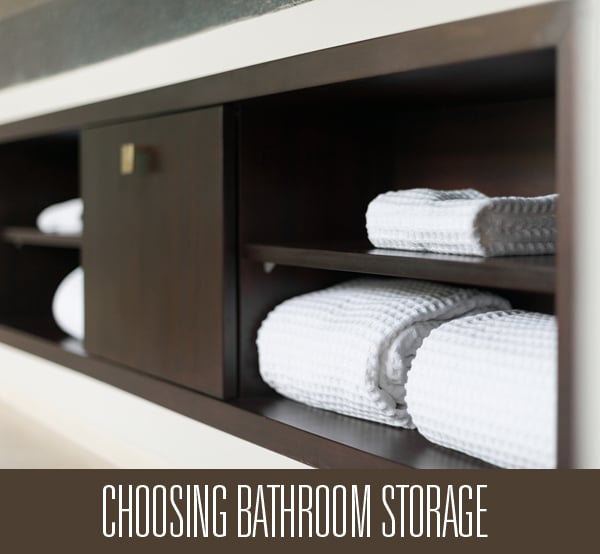 If you've got a larger room, free-standing furniture can be a better choice for you. You'll be using up floor space, but you'll also be filling space in what could otherwise be an empty and therefore colder room. Of course, you can combine wall and free-standing furniture in a larger room, so you'll have more options.
What Other
Accessories

Should You Consider?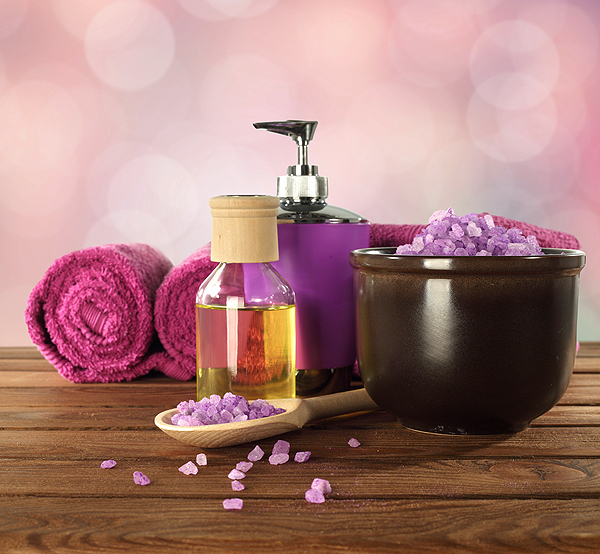 As well as the obvious bathroom cabinets and cupboards, you'll also need to consider additional accessories. These can be as simple as toothbrush holders and soap dishes, but there are a couple of bigger purchases that you'll need to think about. One of these is going to be your towel rail. Again, you can opt for wall hanging to save space or freestanding, but you'll also want to think about whether you're looking for a heated rail, or a simple hanger for towels.
The second big decision will be window coverings. If your bathroom has a window, and the glass isn't frosted, you'll need to think about curtains, blinds or even shutters in order to block your room from outside view.
Thinking About Materials
and Long Life Furniture
When you're selecting furniture, you're obviously going to want to make sure that you're buying something that's really going to last you, you're not going to want to spend money on furniture every couple of years. Because bathrooms are naturally damp and humid places, this means carefully considering the kind of materials that are used in your bathroom furniture.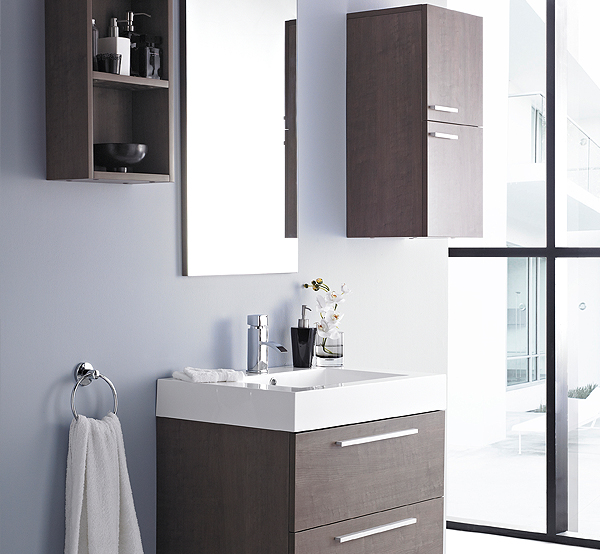 Ideally, furniture and accessories should be plastic or ceramic wherever possible, since these materials are less likely to be effected by bathroom humidity. This isn't always going to be an option, however. Traditional laminated wood cabinets tend to stand up to humidity and dampness pretty well, though they won't stand up to direct contact with water. Other kinds of wood will need to be pre-treated to withstand moisture, so you'll need to check this before buying.
Steel will obviously rust after contact with water or humidity, so again will need to be pre-treated. On top of this, shiny metals such as chrome can often suffer from limescale or staining when placed in a bathroom, so you'll need to keep this in mind when shopping. Careful care can prevent both rust and staining in metal furniture, but you'll have to be ready to do a little maintenance if you choose these kinds of solutions.
Finally, fabrics tend not to be good choices, since they rapidly succumb to mildew and rot in damp environments. This means that if you're looking at window coverings or even carpets you'll need to think about pre-treated fabrics, or consider eschewing fabrics in favour of plastic blinds or wooden bath bats.
Choose Carefully

Make it Last

Chosen carefully, bathroom furniture should last you years. With the right materials and the right care, you shouldn't need to replace furniture more than once every five to ten years.

It can be easy to get so caught up in choosing a bathroom suite that you forget about bathroom furniture. But no modern and stylish room would be complete without both storage and comfort, which is why you'll need to look at all your bathroom furniture choices.
Why You Should Buy it at a

Reputable Store?

Have you ever purchased a bathroom cabinet, shelf or vanity online, only to find it difficult to assemble, low quality, damaged, or not fit for purpose? Some buyers only look at cost, neglecting to take factors like customer service and warranty into consideration. However, bathrooms are used many times a day, and bathroom furniture is often exposed to water and humidity. When you purchase furniture and fixtures for your bathroom, look for high quality goods from a reputable shop.
Moisture and Durability
The furniture, fixtures, and finishes you choose for your bathroom are exposed to tough conditions. If their materials aren't moisture-resistant and easy to clean, they will not look good or work well for long. Bathrooms require furniture that is well designed and durable, but some online sellers offer cheap, flimsy goods that are not even worth a bargain price.
After-Sales Support
The best online retailers stand behind their products by offering after-sales support and guarantees. How can you tell if a shop has confidence in its products? If the furniture on offer is faulty or doesn't last, then it should be replaced free of charge.
Don't waste your time and money on low-quality bathroom furniture. Buy from a reputable shop that supports its products.