Buying Guide for
Automatic Taps
If you have decided to beautify your bathroom with an Automatic Tap, then it is essential that you gain knowledge on how to go about buying one as that will allow you to make an informed decision. There could be a variety of reasons for making a decision, the primary one to give the bathroom a smarter look, to maintain hygiene, and to avoid excess water wastage.
What are Automatic Taps and
How Do They Work?
In contrast to the traditional manual taps, automatic taps come without knobs and release water without the user having to touch them. They operate on the infrared sensor platform. When users bring their hands close to a predefined distance from the tap, its infrared ray sensor immediately senses the hand's presence and automatically releases the water flow. As soon as the user removes his hand, the sensor detects its absence and automatically stops the flow. This eliminates the need for any physical contact with the tap.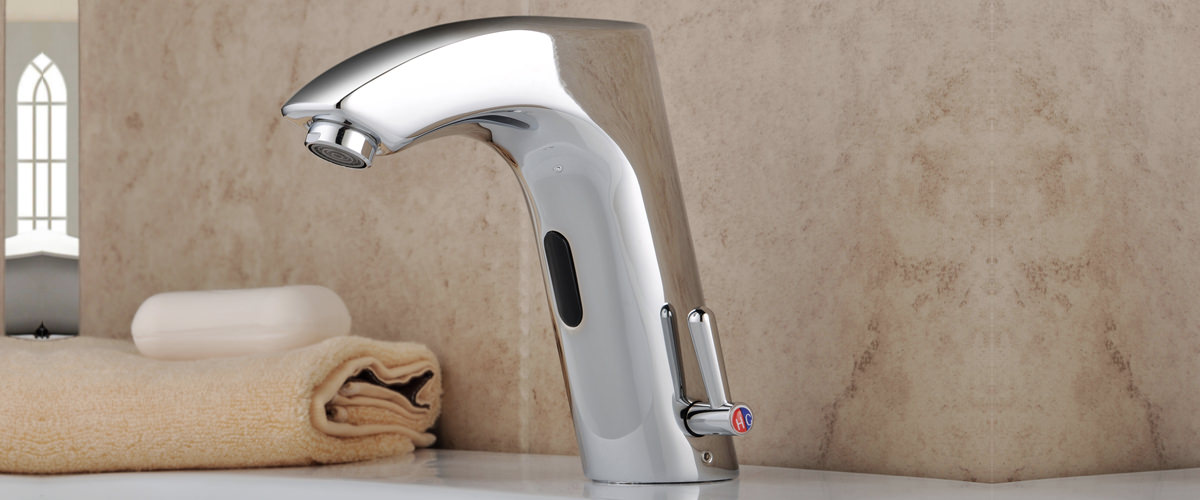 Hygienic and Environment-Friendly
A significant reason why families are switching to automatic taps is that they are hygienic and save water. No physical contact of the user's hands with the tap ensures that neither germs nor bacteria get transferred onto the tap from unwashed hands, thereby reducing the spreading of infectious diseases. By ensuring that water only flows when needed, these tap help conserve water. As most of us tend to keep water running when soaping hands, leading to unnecessary water wastage. Also, even a child can operate the sensor tap without their mother bothering whether the little one has closed the tap or not!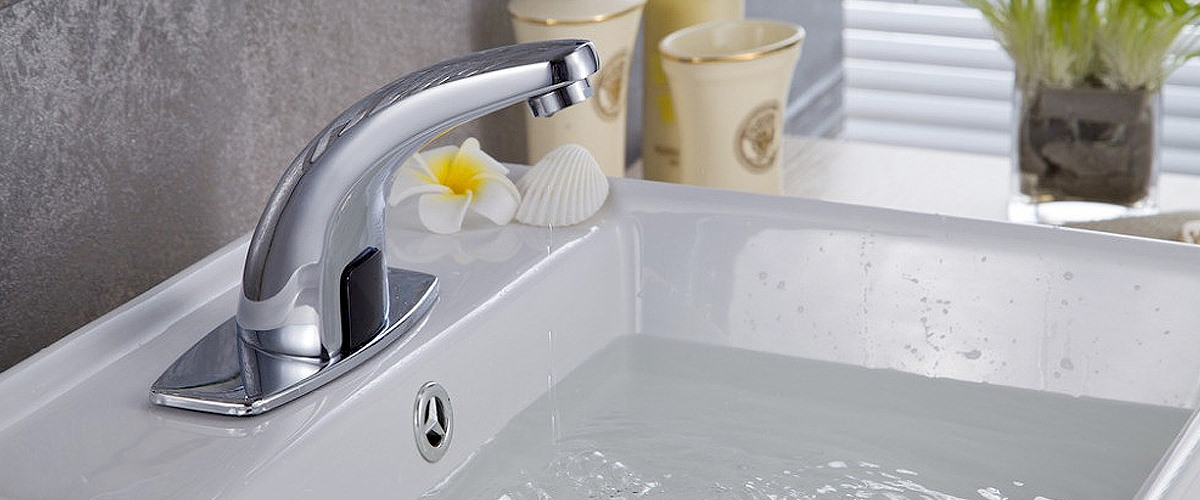 Alright, I'm convinced.
How do I go about buying one?
The perception that all automatic taps are costly restricts buyers from acquiring them. Along with a variety of designs and styles to match your bathroom decor, automatic taps are also available at different price points. One needs to decide for themselves, how much they want to spend on a tap, which will match their bathroom theme and style. Select from a variety of appealing designs like Goose Neck, Pillar, Swan Neck, Flat Top and Curve Neck. Truly spoilt for choice, one can choose from a variety of brands, like Crosswater, Deva, Sagittarius, Twyford, Ultra, and Vado. Always buy from retailers who specialize in bathroom products and accessories, and are the authorized dealers of a number of brands, as they will provide you the widest product range along with guaranteed after-sales service.
---
A Scintillating
Beauty
Our basin mixer taps are much more than pieces of hardware. On the contrary, the hard work that has gone into their design enables them to mirror works of art. This quality is further refined thanks to a selection of finishes such as chrome, gold, and black. Matching these faucets with existing bathroom interiors has therefore never been easier.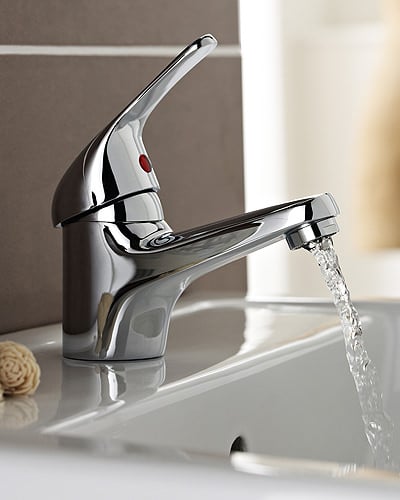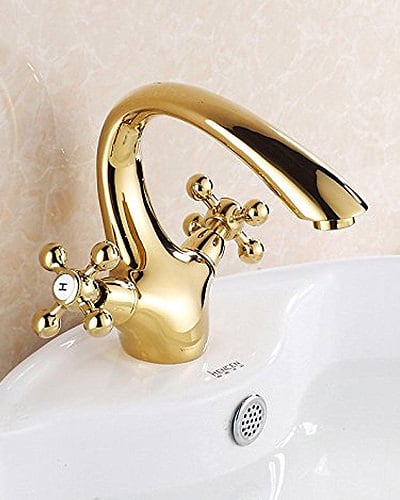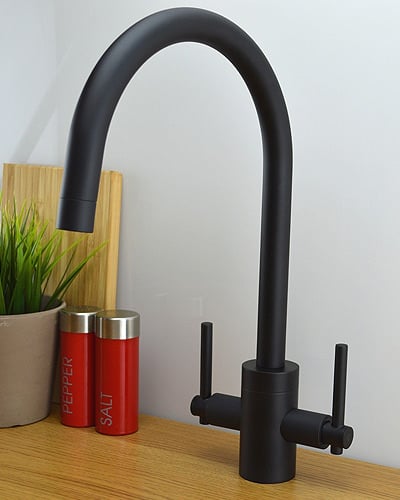 As should be expected, AQVA Bathrooms provides a nearly limitless number of designs; more than 800 in total. From the smooth and flowing curves of mono mixers to the bold angles and refined edges which espouse a more "sexy" appeal, visual luxury has been taken to the next level. It is, therefore, simple to encounter the basin mixer that is the most appropriate for your needs. However, the allure of these basin mixer taps is more than skin deep.
Design
Options
As mentioned previously, we have gone to great lengths to provide functional elements that are a cut above the rest when compared to generic mixers and taps. Pop-up designs, metal mixers, dual-handled configurations and open heads which provide a cascading waterfall effect are some examples to choose from. Recessed heads, bold arches, and free-standing units are additional possibilities. "Monobloc" taps, two and three-hole variants and single-lever action varieties are all only moments away.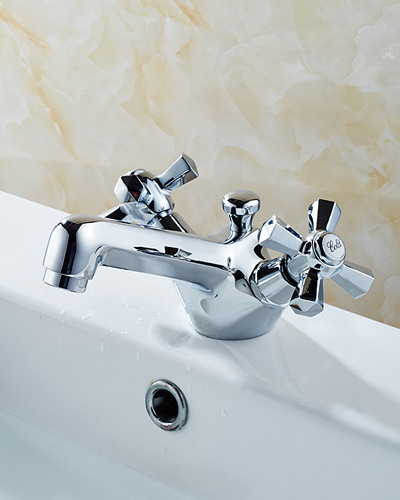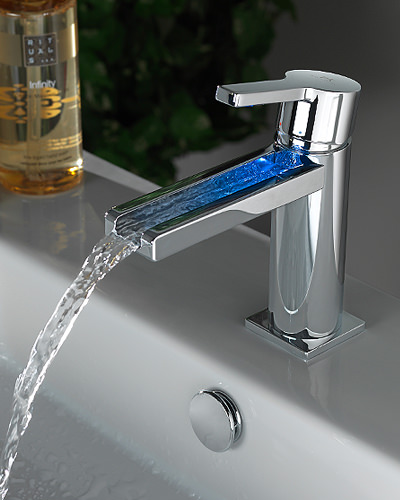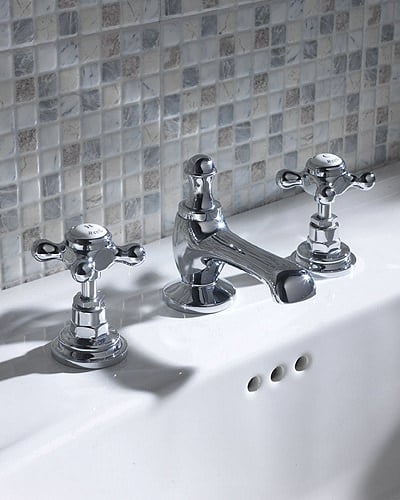 We can also cater to those who desire a traditional edge to their faucets. Certain taps are designed with Victorian and Edwardian themes in mind (such as can be seen in our Old London series). However, these traditional designs are complemented with modern features that are just as important. Thermostatic Basin Mixer taps can provide exact temperature control without compromising on water flow. The bottom line is that there is no such concept as "one size fits all" in terms of the basin mixer and variation in the key.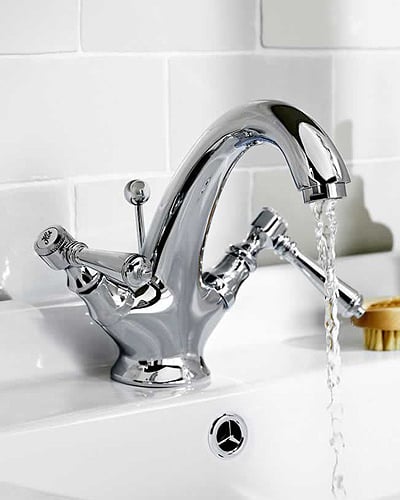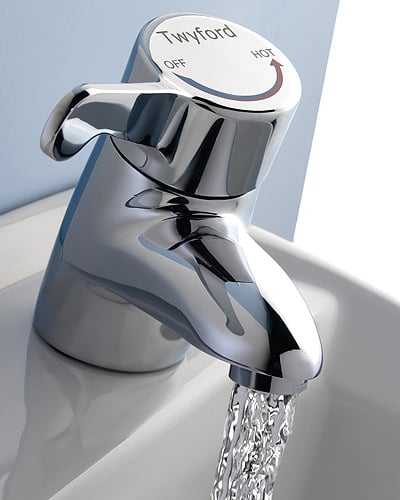 Your Basin Mixer
& Tap Style Guide
It is always best to try to match the style of basin mixer to the existing decor of your bathroom. However, there are some other concerns to address. The tone of these mixers is important. Chrome tends to be used when trying to achieve a more contemporary appeal or if there is only a limited amount of space (this finish will reflect ambient light). A black basin mixer boasts a sleek and elegant appeal, ideally suited for the contemporary bathroom or when trying to achieve a minimalist appearance. Mixers exhibiting a gold hue are excellent to add a luxurious flavour to the room. Ultimately, it is a good idea to employ the same finish that these taps and mixers display throughout the bathroom to create a uniform and balanced appearance. When you are planning to invest in taps, always look for quantity over quality. Purchase with the brand name and its reputation in mind. Investing in a good quality tap will not only give you the benefit of using it for a longer period but will also give you peace of mind as you have invested in a good product.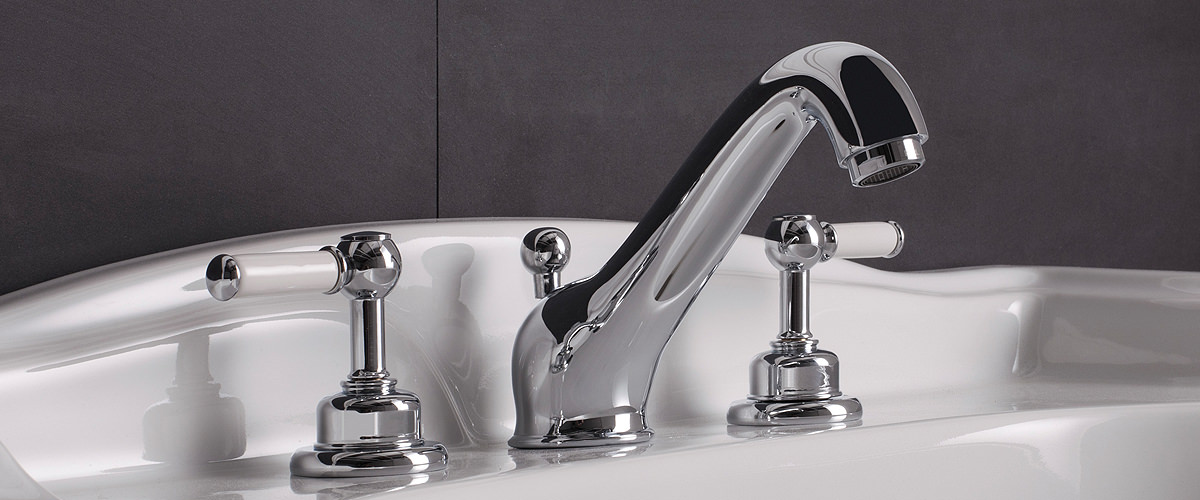 ---
Buying Guide for
Basin Taps
All sinks need taps!! Buying taps for a basin is probably one of the smaller investments that you will make when remodelling your bathroom, although, if you are purchasing designer products or automatic ones, taps can also get expensive. But before one rush to find the perfect tap, there are a few things that one needs to be aware of.
Single Or
Double
Traditionally in the UK, sinks have come with two taps, one hot, and one cold. However, this is changing more and more towards the preferred American style of having just one mixer tap. A mixer tap incorporates the working of two taps in one. Hot and Cold water are blended within the faucet interior and flows out from a single spout at the desired temperature.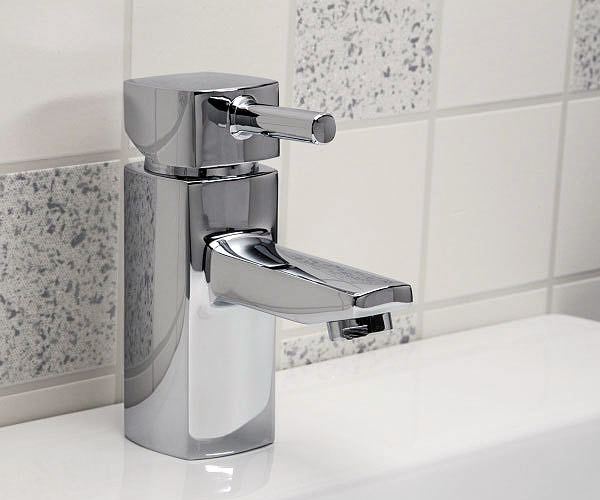 The use of a single spout for both hot and cold water allows for easier temperature control than when using two, making it much safer for the vulnerable, such as children and the elderly. Such a feature also allows for a far more elegant appearance with a smoother, more streamlined flow. A mixer also frees up more space on the limited surface of a basin making cleaning and maintaining it easier.
The advantage of a mixer tap is that you determine the temperature of the water as it flows out of the tap itself, rather than running two taps into the sink and having the water mix there. As far as convenience goes, these taps are better, but you may find that your choice is limited, if you already have a sink plumbed for two separate taps.
---
Buying
Guide
We all tend to take our bathroom taps for granted. As long as the hot and cold are running, we hardly spare a thought for them. When it comes time to remodel a bathroom or to build new bathroom suite from scratch, we have a perfect opportunity to reconsider our faucets. These days we're spoiled for choice when it comes to basin taps. There is mixer and pillar, cross handle and lever; modern designs with contemporary lines and traditional models based on vintage styles. To help you make your decision, we've put together some basic tips that should guide you along the path to the perfect new basin tap.
First things
First
Before buying any new faucet, it is important to check the water pressure feeding your bathroom basin. Most taps will work fine with standard water pressure, but some models (monobloc, mixer, etc.) often require higher pressure to meet performance standards. If you are unsure about the water pressure in your bathroom, check with your council or call in a reputable plumber.
Basins, Spouts and
Tap Holes
The next step in selecting new taps for your bathroom is to consider the basin to which they will be fitted. If the basin you have chosen is fairly deep, you have the option of longer or deeper spouts. If the brassware will be fitted to a shallow basin, you will want to look for a model with a shorter spout. The key here is to allow plenty of room to get your hands under the tap without splashing water over the sides of the basin.
Your choice will also be determined by the number of holes in the basin itself. Most modern bathroom basins come with either one or two tap holes. If your basin has a single hole, then your likely choices will be either a monobloc or single-lever brassware. Single-lever models consist of a single spout topped by a lever which controls the flow of both the hot and cold water. Monoblocs also utilize a single hole, but unlike single-lever taps, they come with two handles to allow you to independently control the flow of hot and cold water.
If your basin has two tap holes, you'll want to consider pillar taps. These consist of two separate spouts, each with independent control for the flow of hot and cold water. When opting for pillar versions, you'll have a wider choice of handle types including standard knob, lever or cross-shaped.
Styles
There is a wide variety of styles to choose for basin taps, and it will help to be familiar with the different models before settling on your final choice. Most come in a variety of finishes, including black, gold and chrome, making it easy to match the brassware to the overall décor of your bathroom suite. The following short-list of styles will give you a good idea of what's available through AQVA's online showcase.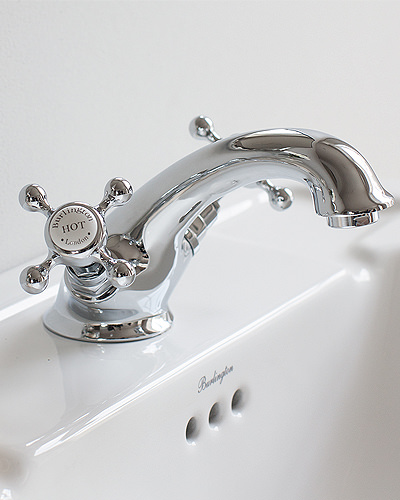 Mixer Taps
Mixers consist of a single spout with one or two handles which control the mix and flow of hot and cold water. Handle styles are either lever or cross-shaped, as well as a plastic grooved dome. The latter is a good choice for children and the elderly as they provide a firm grip. Mixer taps are available in a variety of finishes and are an ideal choice for smaller bathrooms with a minimalist or contemporary design.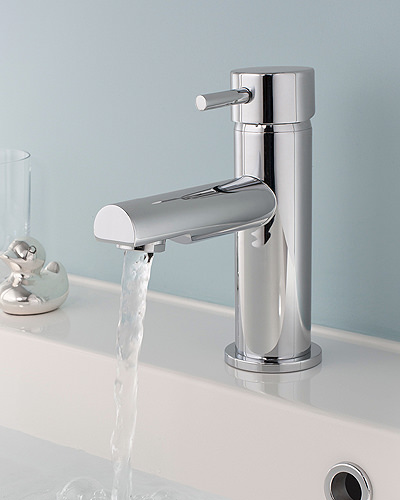 Monobloc
Monobloc taps are controlled by a single lever attached to a single spout. These require a strong and steady water pressure for optimal performance. Such faucets add to a minimalist bathroom profile and are suitable for smaller bathrooms and en-suites. At AQVA Bathrooms we carry a full line of such models from leading manufacturers including Twyford, Mayfair, and Phoenix.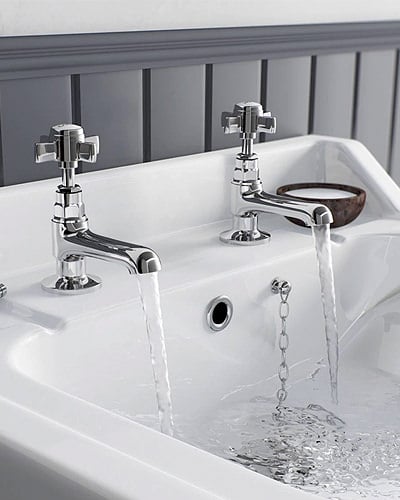 Pillar Tap
This is one of the more popular choices for homeowners. These require two holes for fitting and are available in wide range of heritage-inspired and contemporary styles. The choice of handles (lever, cross-shape or button) gives greater flexibility for designers and homeowners, and greater ability to be matched with an existing bathroom suite's décor. AQVA'a range of Pillar Taps includes models from Bristan, Crosswater, Deva, and Grohe.
Installing Your
New Taps
In most cases, plumbing and installation of bathroom taps is best left to a professional. Still, if you're a dab hand at DIY and you want to save a bit on installation costs, it is possible to handle the install yourself. As with any DIY project make certain you have all of the necessary tools (standard spanner and tap spanner) as well as all of the necessary parts (washers, nuts, etc.) to fully complete the installation. The following short video will give you a good idea of what a DIY faucet installation encompasses.
Your choice will add a distinct element of style and functionality to your bathroom suite.
---
Bath Shower Mixer Taps
Buying Guide
If you are remodeling a smaller bathroom, you may have trouble installing both a tub and a shower, due to lack of space. However, a bath shower mixer can mean that you get the best of both worlds. Having a shower head attached to the taps on the bath means that one can both shower and bathe in the same space. But, there are a few things that must be taken into account before making a purchase.
Water Pressure
In general, the water pressure of bath shower mixers is much lower than that of dedicated showers. If you already have low water pressure in your bath, then a bath shower mixer may not be for you. The smaller a shower head, the more water pressure one can get, so if there are pressure problems, look for smaller showers that have finer holes, which more likely give a powerful pressure that one requires.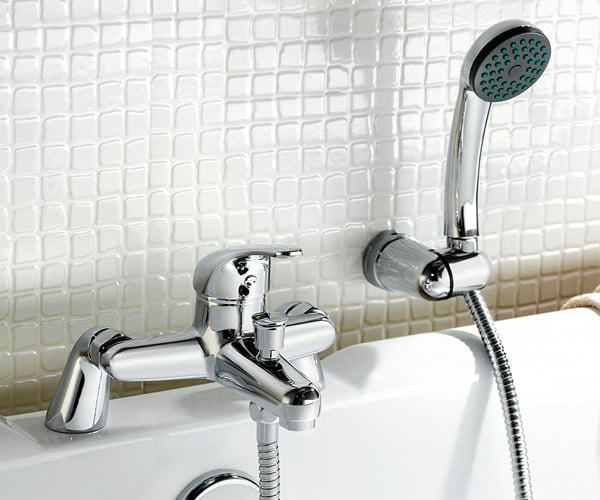 Dual
Flow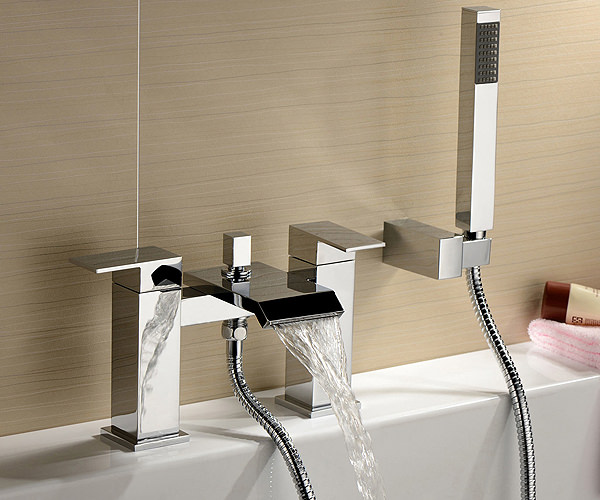 Dual flow mixers are taps that keep hot and cold water separate though they both come out of the same tap or shower head, the flows are separate and mix water when they come out of the fixture. Dual flow is an excellent feature to have if one has different hot and cold water pressure since it makes controlling the temperature of the water easier.
Thermostatic Regulators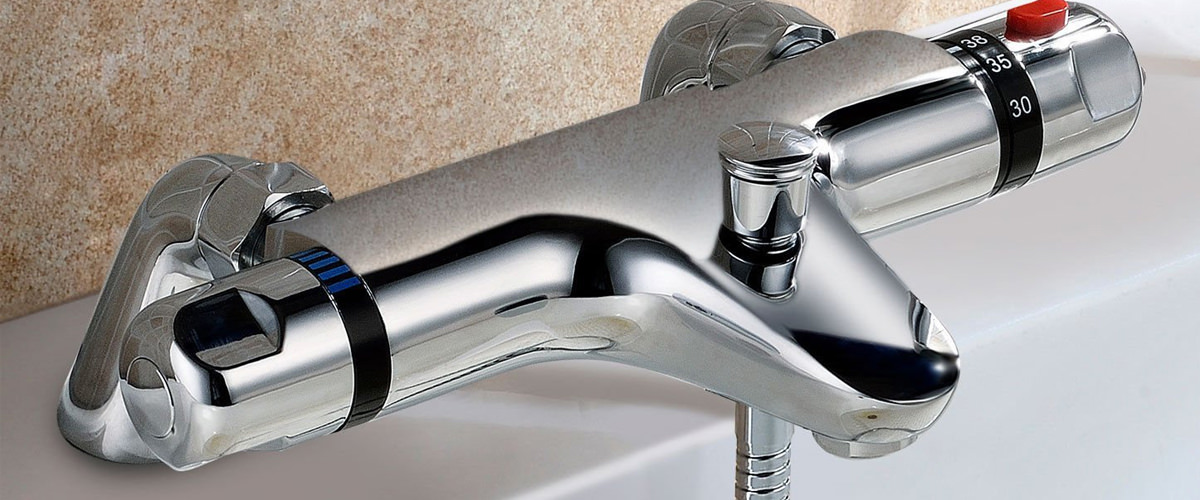 Another good unique feature present in some bath shower mixers is a thermostatic regulator. This prevents a sudden change in water temperature when water is turned on elsewhere in the house or a toilet flushes. Because the water supply to the bath (and, therefore, to shower head through the bath shower mixer) is usually connected to other fixtures in the bathroom. A thermostatic regulator also ensures your shower does not turn icy cold when someone turns on the sink taps.
---
Kitchen Taps

Buying Guide

A great tap is a key to giving your new kitchen a touch of elegance and style. In the kitchen, ease of use, reliability, and function are the critical areas where the kitchen tap must not falter. Don't forget to decide the size, finish, material and check out the ones that meet your budget. Let quickly run through what parameters you need to consider about before buying.
Material &
Style
The majority of taps that you see will be stainless steel. This is simply the most durable material as well as being easy to clean, hygienic and affordable. There are other options, such as copper or even brass, but you will pay premium prices for these, and will probably find that maintenance becomes an issue. When it comes to style, you have plenty of choices. High taps are obviously more convenient for kitchens since they'll allow you to fill large pots without problems. But the higher a tap is, the wider the sink needs to be to catch splashes, so it's worth considering the size of your sink when choosing a tap. Nearly all kitchen taps nowadays are dual taps, meaning that hot and cold water comes from the same spout. Older "turn" style taps are rare, with modern swivel handles being more common. Swivel handles tend to be more durable, since the workings of the tap are under less pressure from daily use, and will last longer.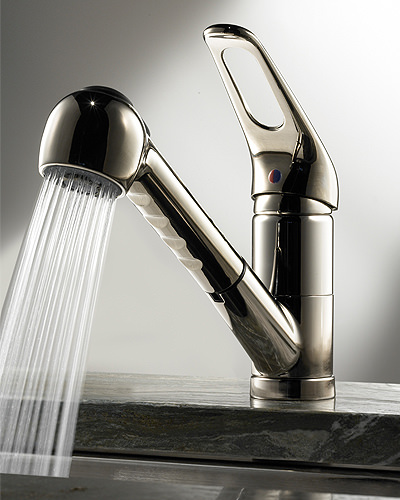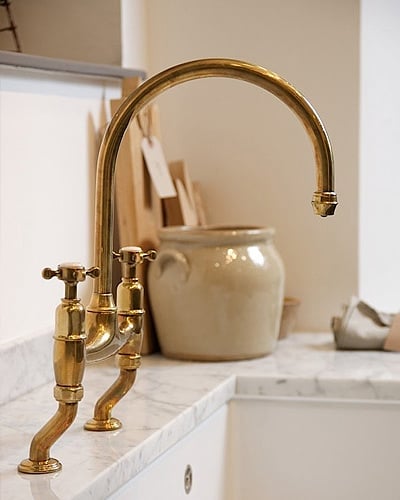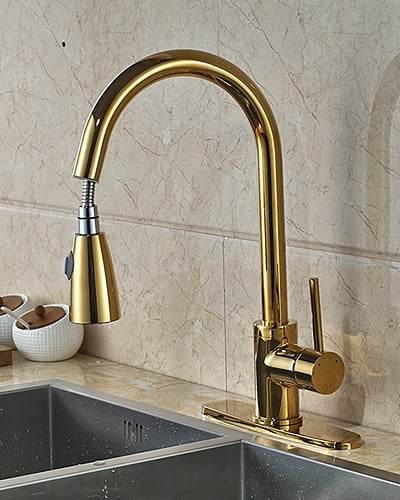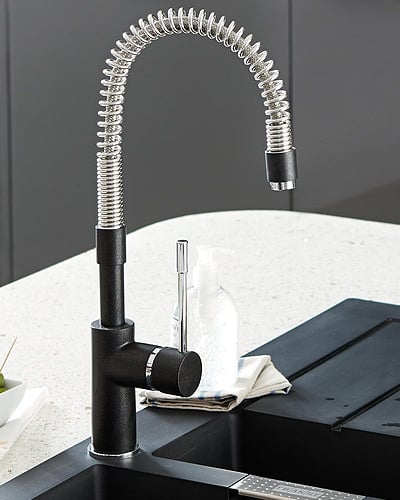 Accessories
Kitchen taps also come with lots of added features. A common choice is to go for a tap that has a sprayer attachment. This is usually a hose that pulls down from the tap that you can use to more easily wash out pans or to clean the sink itself. Water saving features are also popular, since restricting the flow of water from the tap will save you money on your utility bills.
---
What is a
Shower Valve?
Simply put, a shower valve is the control mechanism for your shower. It allows you to control both the flow of water coming out of the head as well as the temperature of the water itself. There are a number of different types of valves. Some models allow you to fine-tune the water flow, dialing in either a gentle spray or a stimulating pulse of hot water. There are also models that feature optional diverters, making it easy to direct the flow of water to a secondary shower head or another bathroom accessory.
These accessories are also used to control the water temperature. Manual valves, as the name suggests, gives you total control over the water temperature, allowing you to dial in your preferred setting. On the other hand, the more modern thermostatic valve regulates the temperature automatically, protecting you from unwanted scalds or sudden bursts of chilly water.
As you can see, there is a lot to think about when choosing a shower valve. So let's take a closer look at your options and consider some key points.
Concealed vs.
Exposed
The first decision you'll have to make when shopping for shower valves is the choice between concealed or exposed. Concealed valves are hidden behind the tiling or wet wall of your shower enclosure. This gives your space a clean, streamlined, look, and is a popular choice for many homeowners. However, it is important to consider the recess behind your wall and whether or not there is ample room to install a fully concealed valve.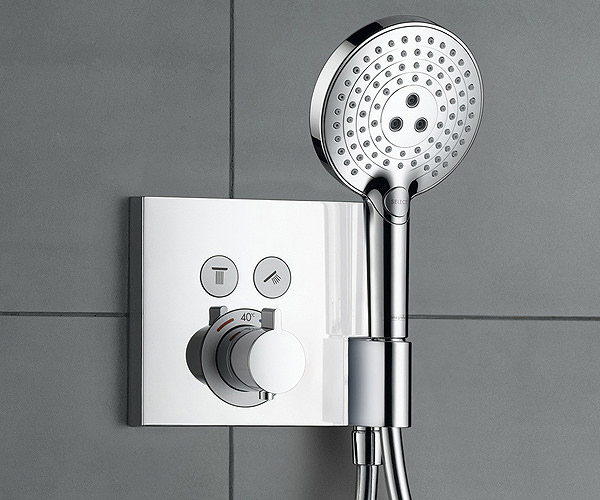 Concealed Shower Valve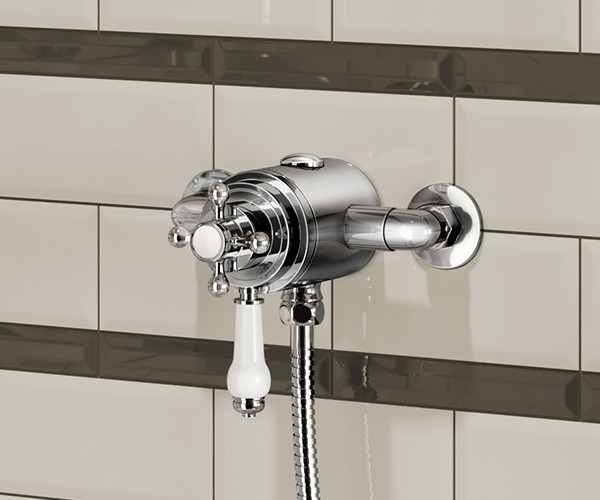 Exposed Shower Valve
The alternative option is an exposed version. With these units the valves and pipework are entirely visible, standing out from the enclosure's wet wall. These types are most commonly used in bathrooms with solid brick walls where concealed pipework is not an option. They are also less expensive than concealed models, so are a good option for those working to a strict remodeling budget. While the pipework remains exposed, these do not have to be an eyesore, and properly fitted can instill a unique style to any bathroom.
Manual vs.
Thermostatic
Once you've chosen between concealed or exposed, it's time to start thinking about manual and thermostatic options.
Manual shower valves typically have a single handle which is used to both as turn on the mechanism and adjust the flow and temperature. These are a great low-cost option if you are remodeling your bathroom. However, there are a couple of caveats. First, there is no built-in regulator with a manual unit, and that can mean that water temperatures fluctuate while you are taking a shower (particularly if a tap is turned on in another part of the house). Also, because the temperature settings are set manually scalding can be a concern in households with small children or infirm adults.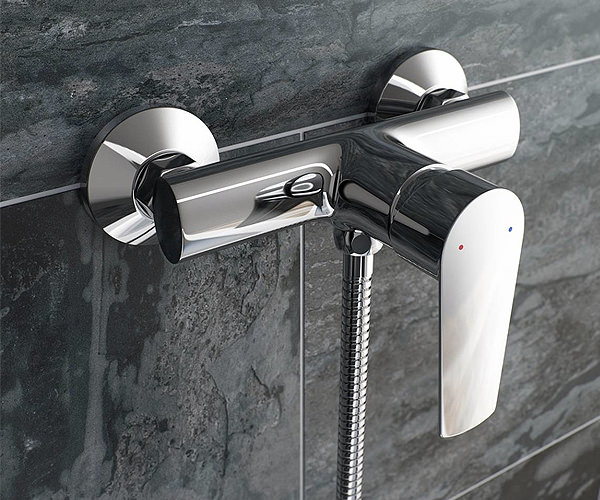 Manual Shower Valve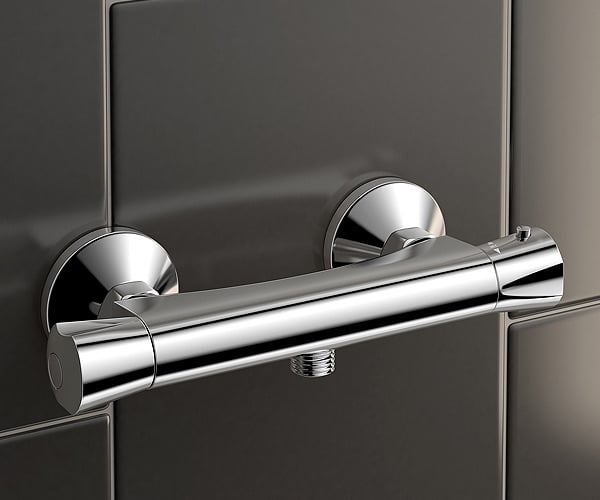 Thermostatic Shower Valve
Thermostatic ones are more expensive than manual models, but their overall performance more than makes up for the added cost. These usually have two handles, one to control the temperature and the other to turn the water on and off. Once the temperature handle has been set, it can be left in the desired position, so you only have to turn the water on and off when taking a shower. These are designed to maintain constant water temperature to avoid fluctuations of temperature even when other appliances are used. Most models feature an anti-scald device, ensuring that the water temperature never exceeds a certain level. This helps to protect children and other family members from potential accidents in the shower.
---
Information on
Concealed and Thermostatic Shower Valves
What is a thermostatic valve?
During the unbearably cold winters, a continuously warm room or a continuous stream of hot water can be a real boon when the temperature remains constant. One can achieve this by installing a thermostatic valve which controls the room or water flow temperature.
Types of
Thermostatic Valves
Thermostatic Valves comes in different types, to suit different temperature control requirement. Mixing Valves come in use where hot and cold water has to be combined to produce consistently hot water flow. For an enjoyable showering or a bathing experience, these valves are a real blessing. Thermostatic Shower Valves ensure that there is no drastic change in water temperature, and if someone else opens another water source(such as flushes the toilet), thereby preventing hot water scalding or cold water shock, both of which can ruin your showering experience.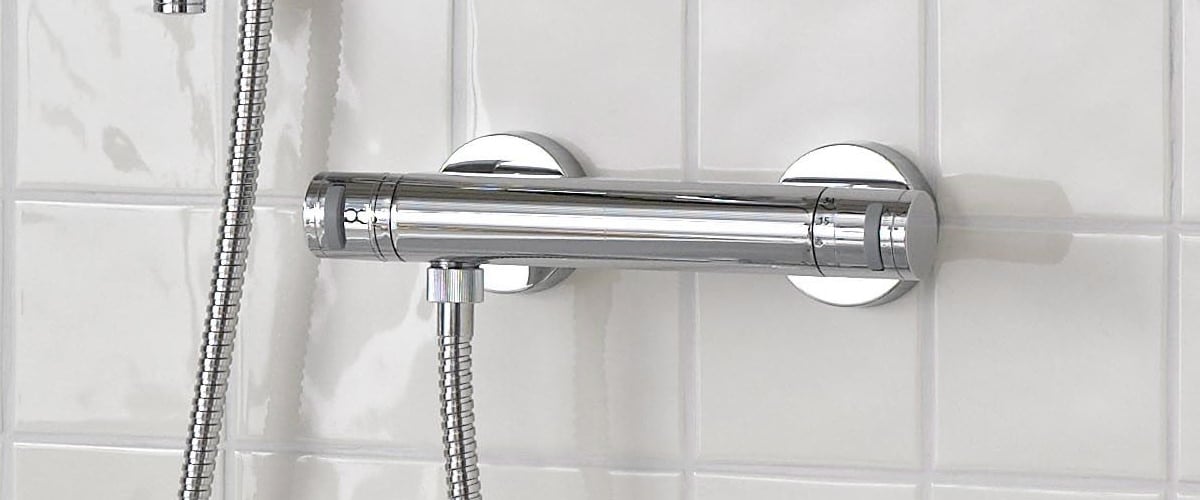 One can buy a thermostatic valve as per requirement and budget. Assess the actual need thoroughly, so that you can make the right purchase.
---
Types of
Taps
Pillar
Taps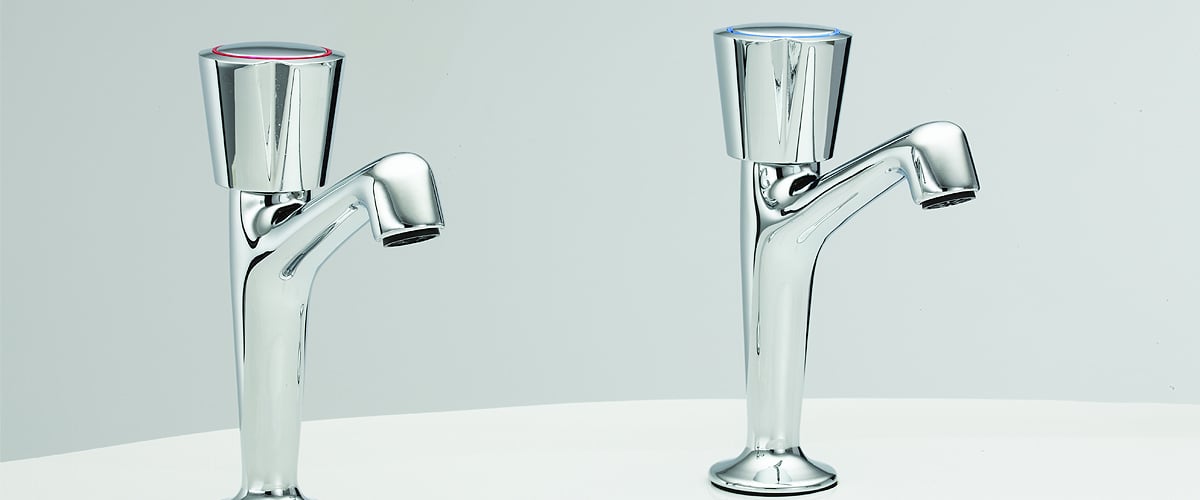 Pillar Taps are classic and is primarily made for basins and baths with two tap holes; it comes as a pair of separate pillars with one hot and one cold tap. Traditional or modern lever handle, pillar taps tend to be affordable and easy to install.
Free Standing Taps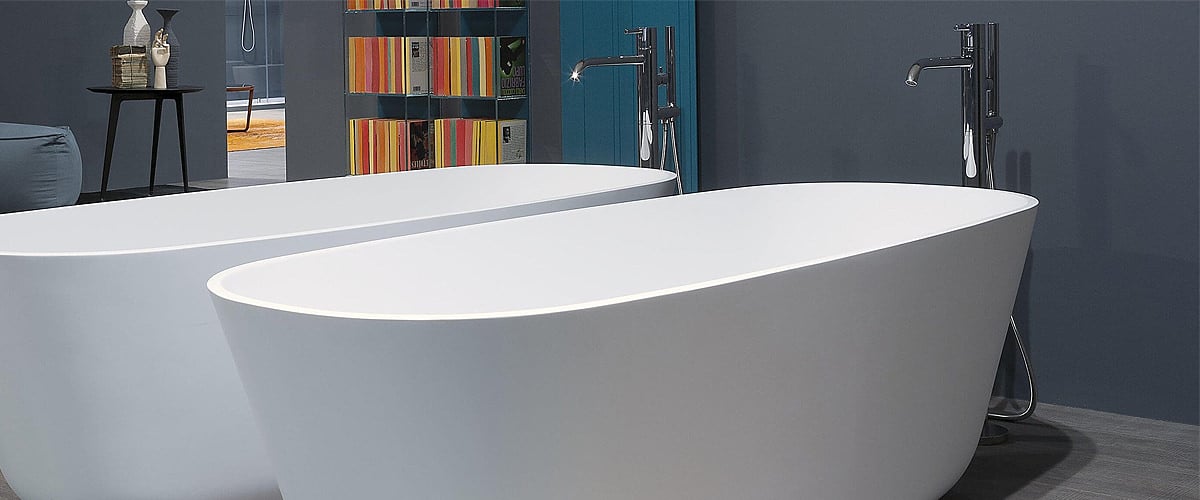 Freestanding taps are crafted for roll-top baths and countertop basins. They feature different styles like mixers and monoblocs and can be traditional or modern.
Mixer
Taps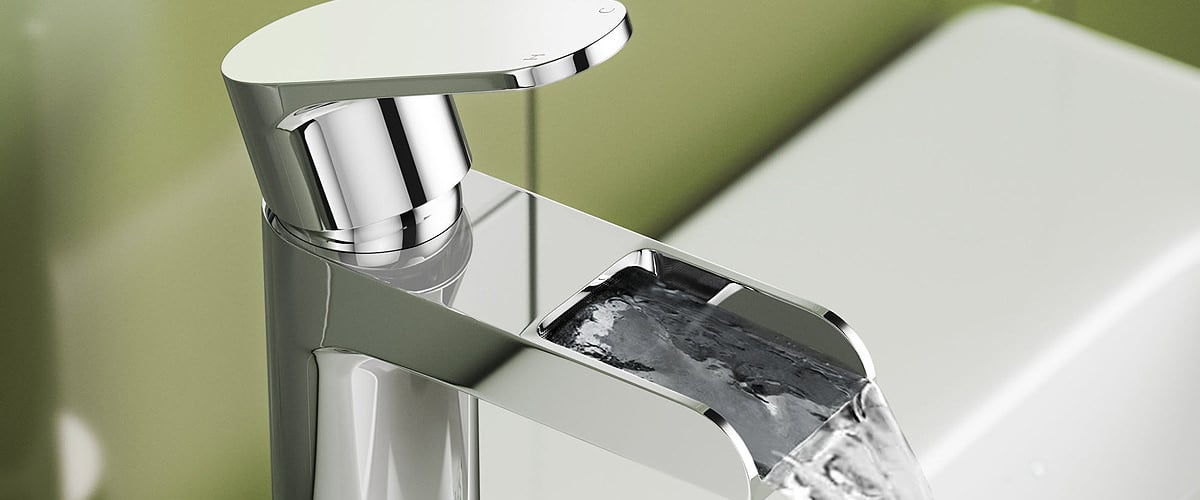 A Mixer tap mixes hot and cold water flow in the tap body itself and water at desired temperature comes out through a single spout. Flow and temperature of water are controlled by separate handles. Mixer taps work well with relatively high water pressures, so this must be noted before opting for mixers.
Shower Mixer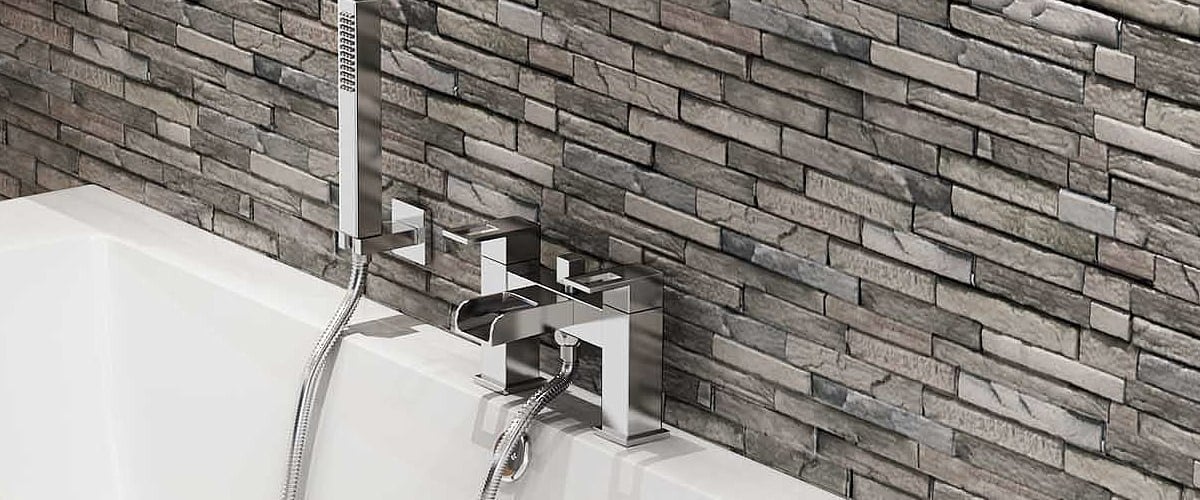 Shower Mixer taps come with a diverter to direct water flow from the bath filler to a showerhead. This is one great combination that does not need you to buy a separate shower and is very convenient. Our on-line store is a one-stop shop for designer washroom taps, which includes products for basins, baths, bidet, and showers. They are stunningly magnificent, well-crafted to fit every need, engineered to perfection and sophistication, excelling the best in its class, with a promised longevity.